Senior Member
Join Date: May 2007
Posts: 1,829
Submit Photo: 0
Photo Submissions 13 Times in 13 Posts
to groom or not to groom
---
i've heard grooming your dog to a puppy cut is not good for the dog in the summer time. that removing their long hair prevents them from staying cool in the hot humid summer days. what do you think?
Linda
Join Date: Nov 2008
Location: Eastern North Carolina
Posts: 5,409
Submit Photo: 73
Photo Submissions 24 Times in 22 Posts
You do what you feel comfort with....Are you willing to deal with all the grooming that comes with long hair and summer times weeds, sticks, stickers, grass, and whatever decides to stick to the fur balls.

Remember these dogs were suppose to be inside dogs being pampered and not running and playing outside with all the stuff out there!

Dexter will be in a shorter/longer version groom this summer....comfort for me and Dexter to get a break from grooming and letting Dexter be a dog so he can run around and play.

Jack's hair is laying down flat, so his hair will stay for now....his hair is at least 2 inches long. Dexter hair poofs out!!!!

Anyway, that is my say on the topic. What does everyone else say?
---
Dexter & Jack
"One Hav is NOT enough to enjoy the RLH skills!"
Anna-Mari
Join Date: May 2010
Location: Finland
Posts: 24
Submit Photo: 0
Photo Submissions 0 Times in 0 Posts
I am wondering the same exact thing! Although the weather in Finland will rarely be too warm... I am more thinking of will her hair grow enough for next winter if I cut it short now. I think it will.

I have reserved a groomer for cutting, I just don't know when is the time. We have one groomer coming to nearby town about twice a month. She can do only 2-3 dogs a day after her day job, she doesn't live there on that town.... (If she comes on sat it will be 4 dogs) We are the fifth in line.
Senior Member
Join Date: Sep 2009
Location: Paris, TN
Posts: 2,496
Submit Photo: 6
Photo Submissions 10 Times in 10 Posts
I personally think that the long hair will keep them cooler in the summer. Remember these dogs are from the tropics and evolved their coat to keep them cool. When they run, the long outter hair tends to fly and fan them, also any breeze and it will move with the breeze. I believe that is why their hair is so fine, it will catch the wind. I broke down and had Rosie in a puppy cut in March; but am letting it grow back. She will play outside all day if I let her and so far the heat hasn't bothered her. Unlike in the house with the air on--expecially at night. She tends to get in the covers or under them as if she is too cool. And where did it say that these little dogs had be "house dogs"? I would imagine that their native Cuba was not air-conditioned as the whole of the US was not as late as the 1980's. I know because we lived with window fans and whole house fans. Yet, these dogs are an old breed that has been rescued from extinction. How did they survive in the old days. I read that after the Cuban Revolution, many were turned out on the streets in Cuba. Also, I read that in Cuba the dogs are bathed in cold water in the summer and in the winter the water is room temperture.

Also rescued from extinction is not correct--there are still Havanese in Cuba; but they are not the same as our American dogs.
Senior Member
Join Date: Feb 2007
Posts: 4,302
Submit Photo: 1
Photo Submissions 4 Times in 3 Posts
I think you have it long or short whichever makes you happy! Either way if the dog is too warm you need to provide some shade!

I personally feel the coat protects them from the sun and also think it offers protection to their eyes from the glare of the sun.

Linda, I believe they were actually used to herd chickens as well as being companions so not so sure they were pampered all that much.
Kubrick & Hitchcock's Mom
Join Date: Apr 2007
Location: New York, NY
Posts: 7,774
Submit Photo: 1
Photo Submissions 33 Times in 24 Posts
Christy, actually I believe they were used to herd chickens only after the aristocracy was demolished in Cuba... I'm pretty sure they were exclusively companion dogs prior to that. I could be wrong, though!

In either case, I do think that cutting your pup down will cause him to get warmer, not cooler as people expect. However, you can always cut him down and just make sure he doesn't get too warm, like Christy mentions above. Which is what you should do for all your pups, long or short!
---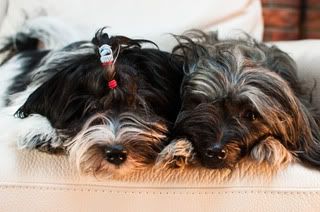 Visit
my blog

-----
Check out my
photos
-----
Photography (pets, people, weddings) -
TripleC Photography
Roscoe and Stella's Mom
Join Date: Dec 2009
Location: Miami, FL
Posts: 1,203
Submit Photo: 6
Photo Submissions 3 Times in 3 Posts
Let's not forget that even if they were totally pampered, inside only dogs, there was no air conditioning in Cuba! (and there still isn't in most places, but that's another story...)

I keep my pups in long coat, I live in Miami. It's hot and humid as heck here, and I think it keeps Roscoe cooler. There is another Hav that we often see on our walks, and she is always panting like crazy and trying to find a cool spot in the shade. Roscoe doesn't seem as bothered by the heat.

Their double coat is designed to keep them cool in the summer and warm in the winter.
---
Natalie - Roscoe and Stella's mom, Maddie's part-time mom
"Whoever said you can't buy happiness forgot about little puppies." - Gene Hill
Senior Member
Join Date: May 2007
Posts: 1,829
Submit Photo: 0
Photo Submissions 13 Times in 13 Posts
hmmm, interesting. i have always had him in a puppy cut and then a really short puppy cut for the summer. i don't have an issue brushing him daily it's always been more about what's best for him. maybe i will grow his hair out now........he's never been in a long coat ever!
Katie
Join Date: Sep 2006
Location: Rocklin, CA
Posts: 2,217
Submit Photo: 1
Photo Submissions 18 Times in 14 Posts
I can tell you that Heidi in full coat pants much more than Daisy in a short cut when we are outside playing-
And I just buzzed off my 9 yr old sons hair (it was pretty long) and he said he is SO much cooler now!!
---
Katie
www.MopTopHavanese.com
Paws.....and reflect on what life has given you~
Senior Member
Join Date: Sep 2009
Location: Paris, TN
Posts: 2,496
Submit Photo: 6
Photo Submissions 10 Times in 10 Posts
Dogs like humans get accustomed to their environment. If they are always in air-conditioning, they began to feel the heat outside--no matter their coat. As to human hair, I have never had long hair; but I always wear a hat in the summer to keep the top of my head cooler. Rosie is through the blowing coat thing so her hair is no longer matting and hopefully she will never go through that stage again.
Posting Rules

You may not post new threads

You may not post replies

You may not post attachments

You may not edit your posts

---

HTML code is Off

---