Kipling in a box
---
So today is my 15th wedding anniversary. Just for fun I took our official wedding album out to have a look. It's kept in a nice sturdy box.
…someone thought it would make a nice bed...
box.jpg
---
Sylvia and Kipling
Senior Member
Join Date: Jan 2008
Location: Cajun Country
Posts: 2,876
Submit Photo: 23
Photo Submissions 6 Times in 5 Posts
Lol...he looks like a stuffed animal. Too cute!
---
Kim, Santos & Brew
Senior Member
Join Date: Jan 2007
Location: Toronto, ON, Canada!
Posts: 4,155
Submit Photo: 0
Photo Submissions 16 Times in 6 Posts
Hahahahah.. thats funny!

Ryan
---
He is SOOOO CUTE! I LOVE Kipling! Havs do the funniest things
HAPPY 15th anniversary! My dh and I just made 14 years on June 1st!
---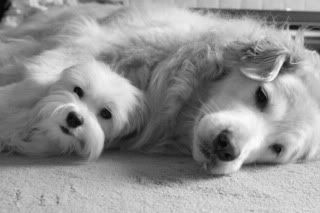 Nicole, Izzo and Cassie's Mom. I'm also Vinny's big sister
Thank you! And congrats on 14 years. For us it keeps getting better. My DH asked me if I ever imagined 15 years ago I'd be woken up by two great kids and this adorable dog. I never would have thought we'd ever have a dog. And now Kipling makes us all smile and laugh every single day.

I love this box picture because I didn't see him do this. I had my back to him and when I turned around he was just huddled in there looking so pleased with himself. They really are so funny.

Did you see his attempt to be Izzo in black and white in the body language thread?
---
Sylvia and Kipling
Senior Member
Join Date: Apr 2009
Location: York, PA
Posts: 687
Submit Photo: 3
Photo Submissions 3 Times in 3 Posts
It is so wonderful to hear of a marriage growing stronger after 15 years. WTG! and Best Wishes for your next 15 years together.
---
Holly & Murphy
Senior Member
Join Date: Apr 2007
Location: SF area
Posts: 6,425
Submit Photo: 63
Photo Submissions 62 Times in 48 Posts
Congratulations!
PS---just send Kipling in the box to me at my address
---
Sally,((Oliver)) Comet and Pennie too!
The best things in life are not things!
OMG that is the cutest picture! LOVE it!!!

Congrats on your anniversary. That is awesome!

So....not to derail the thread, but how on earth did you do it? We're at 2.5, and I'm seriously at my wit's end. I thought I came into this with an open mind, but things definitely do not seem to be what I signed up for!!!
Allison, owned by Sydney
Join Date: Mar 2010
Location: Toronto, Canada
Posts: 170
Submit Photo: 0
Photo Nominations 1 Time in 1 Post
What a goof! I love it!
---
Allison & Sydney
What a great picture, so sweet. We just celebrated 40 years Saturday, it has all gone by so fast. I would do it all over again in a heart beat.
---
The love you give = the love you recieve. Izzabell Angelita who owns Joyce and Jay
Posting Rules

You may not post new threads

You may not post replies

You may not post attachments

You may not edit your posts

---

HTML code is Off

---