Member
Join Date: Sep 2010
Location: Montreal
Posts: 43
Submit Photo: 0
Photo Submissions 0 Times in 0 Posts
Grooming??
---
Selphie, my havanese, is 2 months and half almost 3 months next week, everyday I take her out for a walk and play with her in the park, but she comes home smelling bad, the question is, what is the best way to have her clean and without smelling bad?

the vet recommended me to only wash her every 2-3 months, it seems to me a long time, and i just took her first shower last week and she already smells bad!

Also, i bought a perfume at a pet store but that doesn't eliminate the bad odor!
Senior Member
Join Date: Apr 2007
Location: Long Island, New York
Posts: 8,941
Submit Photo: 3
Photo Submissions 41 Times in 25 Posts
There's no way to keep a puppy clean for 2-3 months, without bathing. I used to do Ruby every week to ten days. Just don't use a drying shampoo. I use either IOD or Tropiclean or PlumSilky.

Welcome to you and your adorable puppy.
---
<b>Just Milo and me, and . . . </b>Bailey makes three . . . until Ruby said, "hey, what about me?"
Geri, Milo, Bailey and HRH Princess Ruby Tuesday
If you're thinking of getting a puppy, click here
http://www.photoshow.com/watch/YK8AH4rw
Senior Member
Join Date: Sep 2010
Posts: 5,278
Submit Photo: 0
Photo Submissions 36 Times in 36 Posts
same here, I bath Tillie every week-10 days.
I am wondering if she is not quite 3 months, if she is fully immunized? if she isn't, she probably shouldn't be out at a park too much, just to be safe.
I'm not sure why she would come home smelling bad... is she playing with stinky dogs? getting into yucky stuff??
Hopefully you can bath her and figure out how to help her be stink free!
Flynn of Sir Winston fame
Join Date: Jan 2008
Location: Helen, Georgia
Posts: 2,745
Submit Photo: 22
Photo Submissions 9 Times in 9 Posts
I am with Geri, my dog is a male, and seems to get the urine on himself when he lifts his leg...I do hear you can use a damp wash cloth, but I guess it depends upon how dirty she is really getting and where the odor is coming from?
---
Sir Winston sez "Non Basta Una Vita."

Flynn, lady-in-waiting to Sir Winston and Lady Mia
Senior Member
Join Date: Aug 2009
Location: North Carolina
Posts: 3,335
Submit Photo: 4
Photo Submissions 13 Times in 13 Posts
Your dog should not smell after playing unless you mean that outdoor smell and that should go away in an hour or so. 2 to 3 months is far too long for a house foo foo. I bath my dogs every week and not with a drying shampoo. You should consider every month. Welcome, we really do need more pictures
---
Robbie, Boo Boo, Yogi, and Misty's human.
Poohkey miss you, monkey.
Linda
Join Date: Mar 2010
Location: Southwest Washington
Posts: 3,646
Submit Photo: 0
Photo Submissions 22 Times in 21 Posts
What kind of smell?? We didn't bathe Augie all that often when he was small, probably every 4-6 weeks. But, I guess, now that I think about it, at that age he wasn't going for walks or going to parks as he did not have all of his immunizations. But even now that he is two years old, he doesn't come back stinky after his walks or playing in the park. Even when he hasn't had a bath for 4-6 weeks, he doesn't smell.....maybe I have lost my sense of smell in my old age??
We are trying Plum Silky now - he smells like a berry. I agree that I think 2-3 months is a bit long to go without a bath. You can keep them brushed and combed out easier with less breakage to the hair when they are kept clean.
---
Linda, Augie & Finn's Mom
Member
Join Date: Sep 2010
Location: Montreal
Posts: 43
Submit Photo: 0
Photo Submissions 0 Times in 0 Posts
thanks everyone!
she doesnt really smell very very bad, but i just dont like that "dog smell" and yes she plays with other dogs in the park, and she has her shots already, i dont know if the smell comes from playing with other dogs or maybe because i took her out this week on rainy days and i dont know if its because she played in wet glass?
the vet had said that taking her a shower too often wasn't good for her skin because taking a shower too often removes the skin shield they have to protect them, and that it was better to wash her every 2-3 months, but since i take her out she gets smelly faster, I was thinking to shower her once a month because i really love it when Selphie smells good
here are some photos of Selphie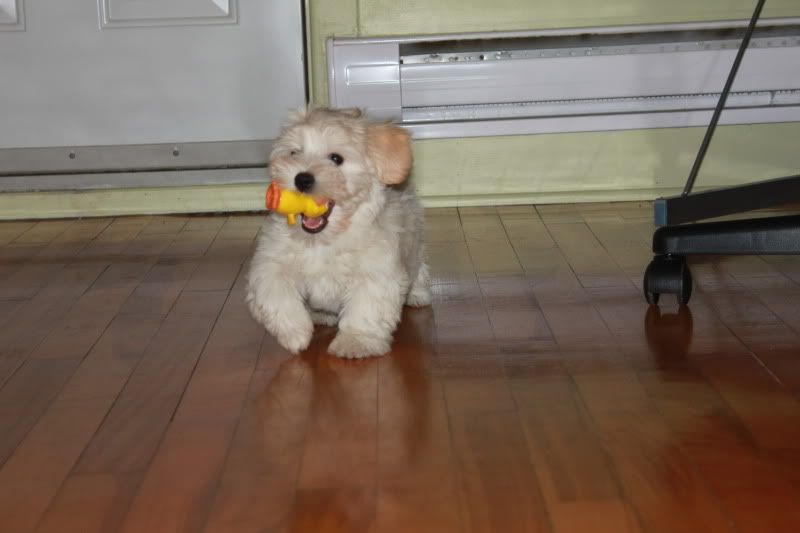 ---
Last edited by clari86; 11-19-2010 at

08:37 PM

. Reason: photos link didnt work
Senior Member
Join Date: Jul 2008
Location: SE Georgia
Posts: 4,515
Submit Photo: 0
Photo Submissions 12 Times in 12 Posts
Selphi is adorable! Welcome to the forum both of you!

I give Abby a bath every two weeks but she doesn't go out except to do her business or for short walks. She is in our backyard when she is outside and she does get what I call the "outsidey" smell but it does go away quickly. I really think dogs that don't shed and are inside pets really do need to be bathed more often.
---
Kathie, Abby & McGee's Mom
Member
Join Date: Sep 2010
Location: Montreal
Posts: 43
Submit Photo: 0
Photo Submissions 0 Times in 0 Posts
awww thanks! she really is adorable, i love her!!!
Member
Join Date: Sep 2010
Location: Long Island, NY
Posts: 76
Submit Photo: 0
Photo Nominations 1 Time in 1 Post
I bathe Maggie once a week, she gets so dirty looking by the week mark I find!! I use this emu oil shampoo and a cream rinse. SHe isn't too dry as far as I know. The vet said I can bathe her once a week as long as I use cream rinse. I also brush her daily after spraying a doggie moisturizing detangler on her.
---
Maggie's Mom
Posting Rules

You may not post new threads

You may not post replies

You may not post attachments

You may not edit your posts

---

HTML code is Off

---