Nala's "Lookbook"
---
I love the traditonal full coat hav or a long puppy cut. Our active lifestyle really makes shorter haircuts more practical. Nala has had a lot of different looks so I thought I would put some of them all in one place. Even though I prefer the longer hair Nala seems very happy when she has a new short cut. She is not super energetic and when her fur is long she looks like she is shuffling around and when it's short she seems more lively. She is turning 5 this year!
---
nala's mom
A few more that I couldn't fit in. Her newest cut (on the bench) was dramatic-they really trimmed her chin off! I was very specefic about not cutting her bangs, ears or the hair on the bridge of her nose...I guess I forgot to mention the chin! Her legs are very short, which is great for the snow and mud. You can't see it but the fur is pretty long on her back.
---
nala's mom
Julie
Join Date: Jul 2009
Location: New Jersey
Posts: 1,441
Submit Photo: 1
Photo Submissions 7 Times in 7 Posts
Aww, Nala is really cute. I love the long hair look too but in Piper's case, her cottony coat is a matting machine. Luckily they look super cute with puppy cuts as well.

Great pictures!
---
Julie, Piper and Riley
My little dog - a heartbeat at my feet. ~Edith Wharton
I love that last picture on the first post, where she is looking in the camera, she looks so happy!
Senior Member
Join Date: Oct 2010
Location: West Linn Oregon
Posts: 4,845
Submit Photo: 21
Photo Submissions 40 Times in 40 Posts
Those are great pictures of Nala. Who are her friends in the pictures?
---
Maddie at 5mo old
Evelyn
Join Date: Apr 2010
Location: Chicago burbs
Posts: 4,652
Submit Photo: 4
Photo Submissions 30 Times in 28 Posts
awww... she looks so sweet in all the haircuts! ( Love that bench by the way LOL)
---
Senior Member
Join Date: Apr 2007
Location: Long Island, New York
Posts: 8,941
Submit Photo: 3
Photo Submissions 41 Times in 25 Posts
She's such a pretty girl no matter what. Short hair, long hair, her beauty shines through.
---
<b>Just Milo and me, and . . . </b>Bailey makes three . . . until Ruby said, "hey, what about me?"
Geri, Milo, Bailey and HRH Princess Ruby Tuesday
If you're thinking of getting a puppy, click here
http://www.photoshow.com/watch/YK8AH4rw
Linda
Join Date: Mar 2010
Location: Southwest Washington
Posts: 3,646
Submit Photo: 0
Photo Submissions 22 Times in 21 Posts
Nala is a doll - no matter what length her hair is! Is that a plaid harness she is wearing? I LIKE it!
I would love to be able to see what Augie looks like with short hair - without actually cutting it!
- haven't figured out how to do that yet!
---
Linda, Augie & Finn's Mom
I love Nala, short hair, long hair and even if she had NO hair
---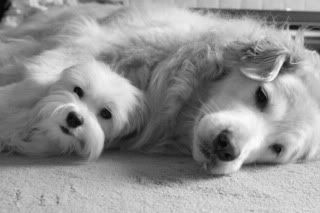 Nicole, Izzo and Cassie's Mom. I'm also Vinny's big sister
Gigi
Join Date: Feb 2010
Location: Eastbourne by the sea England.
Posts: 2,468
Submit Photo: 2
Photo Submissions 21 Times in 19 Posts
Lovely photos of Nala.The last pic in the first group of pics, Nala looks very appealing .One of the many fun things about Havs is that you can get so many dramatically different looks just with a slightly different hair cut.
---
Posting Rules

You may not post new threads

You may not post replies

You may not post attachments

You may not edit your posts

---

HTML code is Off

---