Junior Member
Join Date: Apr 2011
Posts: 20
Submit Photo: 0
Photo Submissions 0 Times in 0 Posts
Update on my puppy search
---
Hi,
Just wanted to update those who were such a help on my puppy search. Answering questions and providing sightful, helpful, information!
Anyway on June 7 a friend of mine contacted me to say that they knew someone who had a Shih Tzu/mix puppy who needed a home. The owners were not able to take care of her and she needed Vet care.
I made no promises to take the little one in but did agree to meet with them. There were two puppies but the owners refused to let the little boy go and since I was not paying money I had no leverage. I left my phone number and said that if they needed to rehome the boy to let me know. Missy Mae came home with me that day.
She went the very next day to the Vet where I was told she had ear mites, a yeast infection and a bacterial infection. $131 dollars later we left the Vets office. I was told that she was 13 weeks old and she weighed 6.5 lbs.
Two weeks later the owners called and said that they could not take care of little boy so I meet them again with my cousin. She fell in love (who can resist a puppy) and named him Maverick. The next day he was taken to the Vet and again we were told he had ear mites and a bacterial infection.
They are both eating Wellness Puppy 5 mix and doing well. Missy Mae's ears are red and itchy again so she is going back to the Vet tomorrow to see what is going on with her. We might need to change her to a differrent food, like Duck and Potatoes. Maverick's ears look much better but he is going in too for a re-check!
Here are some pictures of them.
Missy Mae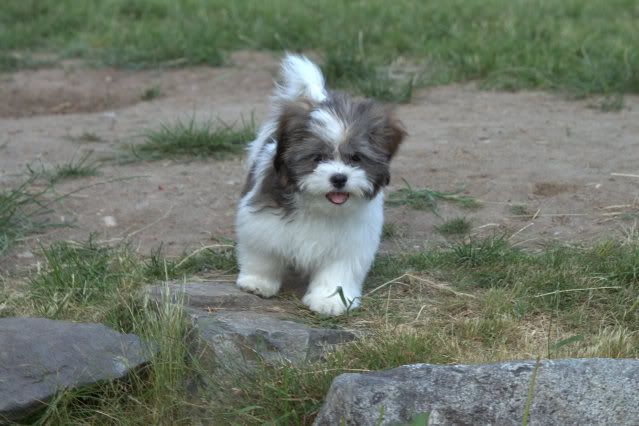 Maverick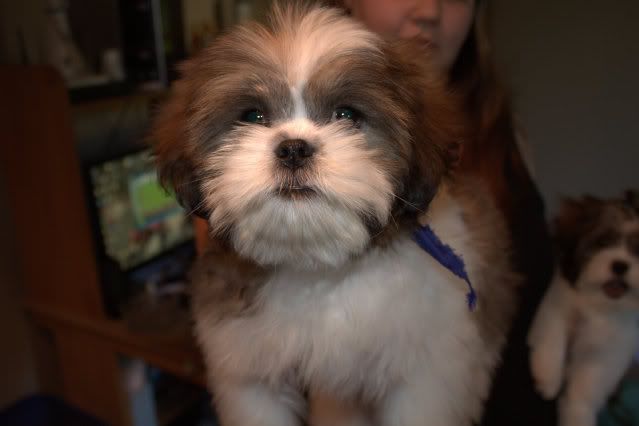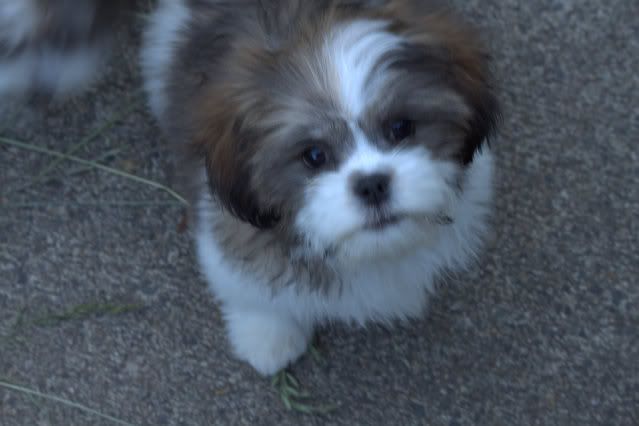 Maverick on the left, Missy Mae on the right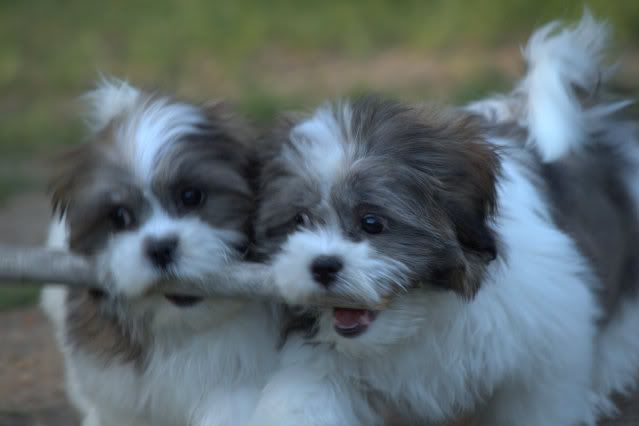 They did great on the 4th and slept, out on my deck, through the fireworks. Missy Mae however let us know the "evil" train was coming. Every time the train whistle would blow (it was 2 miles from my house) she would bark and howl.
Senior Member
Join Date: Sep 2010
Posts: 5,278
Submit Photo: 0
Photo Submissions 36 Times in 36 Posts
awwwww, congratulations!!!
---
Tammy and Tillie
Senior Member
Join Date: Feb 2009
Location: POWELL, TN
Posts: 1,056
Submit Photo: 0
Photo Submissions 6 Times in 6 Posts
Very cute. So glad they have a good home with you.
---
Becky C
and Rae's too!
Join Date: Oct 2009
Location: Illinois
Posts: 210
Submit Photo: 11
Photo Nominations 1 Time in 1 Post
Oh my, how cute they both are and how lucky they are to have found you. Good luck!
---
Kim
Jax and Maddux
Metrowest, MA
Join Date: Jun 2009
Location: Massachusetts
Posts: 24,540
Submit Photo: 8
Photo Submissions 336 Times in 334 Posts
Julie
Join Date: Jul 2009
Location: New Jersey
Posts: 1,441
Submit Photo: 1
Photo Submissions 7 Times in 7 Posts
Congratulations, they're adorable. It sounds like they both needed a good home and you and your cousin will provide that for them. How nice that they will still get to grow up together
---
Julie, Piper and Riley
My little dog - a heartbeat at my feet. ~Edith Wharton
New to Havanese's
Join Date: May 2011
Location: Washington, dc
Posts: 127
Submit Photo: 8
Photo Submissions 0 Times in 0 Posts
They are so cute!!!! Love their markings
Senior Member
Join Date: Apr 2007
Location: Long Island, New York
Posts: 8,941
Submit Photo: 3
Photo Submissions 41 Times in 25 Posts
They're adorable andd lucky indeed. Have fun with your unexpected bundle of joy.
---
<b>Just Milo and me, and . . . </b>Bailey makes three . . . until Ruby said, "hey, what about me?"
Geri, Milo, Bailey and HRH Princess Ruby Tuesday
If you're thinking of getting a puppy, click here
http://www.photoshow.com/watch/YK8AH4rw
Gucci's mom
Join Date: Feb 2007
Location: Virginia Beach, VA
Posts: 9,378
Submit Photo: 1
Photo Submissions 12 Times in 11 Posts
Congratulations! They are cute as can be!!

Kara
---
Super Moderator
click to join us: Havanese Forum on Facebook
Joe Cool!
Join Date: Aug 2010
Location: Metrowest Massachusetts
Posts: 2,059
Submit Photo: 0
Photo Submissions 9 Times in 9 Posts
Posting Rules

You may not post new threads

You may not post replies

You may not post attachments

You may not edit your posts

---

HTML code is Off

---