Jasper is...
---
...THE WORST DOG EVER!
I'm kidding...mostly.
I was coming to the site to post about how "bad" he is sometimes and ask for some tips. Well, I click on the site and it gives me an error message, so I think it must be down for some reason....but then nothing will work. I get a sick feeling in my stomach and look down at my feet and Jasper is happily munching on the internet cord! (I spent 45 minutes carefully connecting the bare wires and taping it with electrical tape so it would work again) We are lucky that it wasn't something that could really hurt him!
He chews on everything! I've always had bigger dogs and I thought they would have been worse chewers. Nope! Jasper will chew on cords, baby spoons (poor baby girl only has 2 left), zippers on clothes, the clothes themselves (with a special penchant for my underwear), water bottles, the couch, the christmas tree... The only thing safe in the house are the dog toys!
Also, he's very shy with new people and situations. When it's just us (me, my husband, and the kids) Jasper is a goofy happy puppy. As soon as someone else comes into the house he's a different dog. He won't come near anyone (including me) and he just rans around nervous and crouches down. It's crazy because he plays with a hyper 3 year old all day but when a calm quiet adult comes over, he's terrified. He doesn't like to go anywhere either. When I put his leash on him he'll just lay down and not move.
It's sad because I really wanted a smaller dog so that we could take him places with us (we go to the park and camping a lot) but he would hate it.
He really needs to be socialized more but I'm not sure how to do that because it's getting too cold to go to the park. We have a Petco about an hour away but last time Jasper rode in the car for 10 minutes, he got sick 6 times... *sigh*
I do really, really love him though. He's so sweet and he's probably the cutest dog I've ever had. When I get on to him for something he always looks at me with his ears alert and his head cocked to the side and it's hard to be mad.
I just needed to vent a little.
---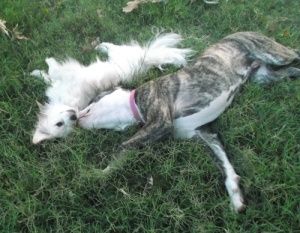 Jasper and Buttercup
---
Last edited by Leah00; 12-19-2011 at

07:55 PM

.
Senior Member
Join Date: Oct 2010
Location: West Linn Oregon
Posts: 4,845
Submit Photo: 21
Photo Submissions 40 Times in 40 Posts
We have similar issues here
. Zoey used to get car sick a lot but she has out grown it she was probably about 7 mo . She is now a little over a year. I haven't socialized much. especially people coming to our home just because I never invite anyone
I use a small travel crate for the car I think it helps. I have a wagon and she cant see out side. I just took her with me even tho I knew she would get sick. I tried not to go around corners to fast. I like home depot and bring treats have the contractors and lumber jacks give treats . The store employees are also really nice and give treats.
Don't give up you can still have your small dog that will feel secure about going all sorts of places. You just have to show them the world outside your family is also fun. Mine chewed up my vacuum cord it is very expensive ruined the zipper on my only good ski parka. Ate the zipper on my sleeping bag. Have chewed up most of my drug store cheater glasses. Ruined the only furniture we have. But the little darlings still have their first toy they have taken such good care of them.
---
Maddie at 5mo old
Joe Cool!
Join Date: Aug 2010
Location: Metrowest Massachusetts
Posts: 2,059
Submit Photo: 0
Photo Submissions 9 Times in 9 Posts
Senior Member
Join Date: Apr 2007
Location: Long Island, New York
Posts: 8,941
Submit Photo: 3
Photo Submissions 41 Times in 25 Posts
Sounds very much like my little terror, Ruby. She has destroyed so many things in the short time she's been on this earth that I think I could have gotten at least two more dogs for what she's cost me. But you're right, they look at you with those eyes and give you a quick, gentle kiss and all is forgiven.
---
<b>Just Milo and me, and . . . </b>Bailey makes three . . . until Ruby said, "hey, what about me?"
Geri, Milo, Bailey and HRH Princess Ruby Tuesday
If you're thinking of getting a puppy, click here
http://www.photoshow.com/watch/YK8AH4rw
Mom to Rosie
Join Date: Oct 2009
Location: New Paltz, NY
Posts: 454
Submit Photo: 40
Photo Submissions 5 Times in 5 Posts
I kept Henry occupied with flossies which I ordered 100 at a time. He would get a new one almost daily. I know it's expensive, but I think it kept him from chewing on anything in the house.
---
Elissa's and Ceylon's Mom
Join Date: Feb 2011
Posts: 965
Submit Photo: 1
Photo Submissions 7 Times in 7 Posts
The only thing I can offer is to make sure that he has plenty of his 'own' things to chew on that he can get to any time during the day, and, at least for a while, try your best to keep everything else picked up out of his reach (and, keep an eagle's eye on him lol), though, I know that part is hard! Try to always 'trade' him for something that he is chewing on rather than punishing him, but still make it clear that whatever he is chewing on is NOT his, but what you are offering in return IS his (and, unless there are extenuating circumstances such as a bully stick or treat you gave him is too small, in which case you need to trade him again, never ever take 'his' toys/chewies out of his mouth). I think as long as they have 'theirs' and 'not theirs' things, eventually most puppies learn to distinguish between the two and will at some point eventually prefer to chew on their own things. Himalayan Dog Chews are good since they are all-natural, keep forever, and take a long time for most dogs to chew up.
Oh some people try those bitter sprays and it works for then. Ceylon, when he was a puppy, just thought it was extra yummy tasting sauce he could lick off on object before he went back to chewing! Might be worth a try though.
Good luck
DonnaC
Join Date: Jul 2011
Location: Texas
Posts: 289
Submit Photo: 0
Photo Submissions 2 Times in 2 Posts
We have had pretty good luck with chew sticks/flossies -- whatever you decide to buy. When we catch them chewing, we immediately offer something they love to chew. Just yesterday, my husband noticed one of the puppies seemed to be finding a lot of stuff to chew, and I realized I had not offered an approved chew stick recently. I gave her one, and she just sat and chewed on it for hours.

That's not to say we haven't had to replace things -- my coffee table leg looks like a beaver went to it--but, we've been pretty successful when we've been quick to offer substitutes.

If you find a car-sick solution, let me know! Baxter gets sick before we get to the dog park, which is about 2 miles away.
Posting Rules

You may not post new threads

You may not post replies

You may not post attachments

You may not edit your posts

---

HTML code is Off

---