Scary!
---
I know I don't post a lot on here (busy working mom of a 3 year old and 1 year old!), but my "real life" people are getting annoyed hearing my scary story and I know you guys will appreciate it.
This actually happened Tuesday night/Wednesday morning but I'm just now getting a free moment and I'm still kind of shaken up.
So Tuesday night my husband (Jeremy) let our two dogs out in the backyard while I was making dinner. We sat down and ate and then gave the kids a bath and put them to bed. Jeremy opened the backdoor to let the dogs back in and only Rocky (the old big dog) ran in. Jasper was not in the yard! I was trying to stay calm and went to the front yard calling his name. No sign of him. I thought I was going to throw up. I walked around the outside of the house calling him and nothing, which was crazy because he's kind of a big baby and I couldn't imagine that he would have wandered off far.
I start crying and thinking the worst. Jeremy jumped in his car and drove around our neighborhood and beyond for hours. He got home empty handed at about 11pm, and then I went out walking and calling for him until after midnight. Nothing.
Jeremy and I went to bed without even speaking because we were both so upset. Then we both ended up not sleeping because we would run outside any noise we heard. I was up almost every hour looking outside (I left the gate open hoping he'd come to the back door). It was awful.
Next morning Jeremy got up an hour early and drove around again looking and saw no signs. I was sure that he was gone forever.
One of the worst parts was that he had no collar on.
I felt like a horrible dog owner. I just never expected him to get out of the yard so him wearing his collar never seemed like a big deal (even though I warn other people to keep collars and tags on their dogs "just in case").
So Wednesday morning I was getting the kids ready and feeling like crap when my phone rings and it's a number I don't know. I answer it and it's a girl that I used to work with 5 years ago that I never see or talk to, but she says that she has my dog. Turns out that she lives only a few streets over from me and when Jeremy was out looking he saw her outside with her kids and told her that we had lost our little dog and described him to her. The next morning she happened to glance out her front window and see a little white and brown dog following some joggers down the street. She asked them if they knew him and they said he came out of nowhere and started following them, so she scooped him up and called another ex coworker and got my phone number.
I didn't even really believe her when she said she had him. I kept describing him and she kept saying "yep, yep." I asked her to text me a picture of him and when his sweet scared little face popped up on my phone, I started crying all over again.
I raced over there and brought him home! I can't believe I got him back. I'm not a very positive thinker and I KNEW he was gone.
Turns out there's a small hole in the fence at the very back of our yard. We had some major plumbing work done back there a couple of years ago and they tore it up and then "fixed" it. So until that's fixed, poor little Jasper has to be on a tie out in the fence.
I also just ordered him a new collar and a nameplate that he's going to wear at all times.
---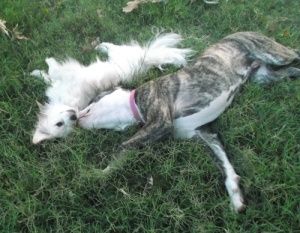 Jasper and Buttercup
Senior Member
Join Date: Jul 2008
Location: SE Georgia
Posts: 4,515
Submit Photo: 0
Photo Submissions 12 Times in 12 Posts
Oh, how scary! I do understand how you felt and am so glad Jasper is home! I never wear collars on my two either since they're always inside the fence. I think I just learned a good lesson!
---
Kathie, Abby & McGee's Mom
Evelyn
Join Date: Apr 2010
Location: Chicago burbs
Posts: 4,652
Submit Photo: 4
Photo Submissions 30 Times in 28 Posts
omg!! I feel so bad that you had to go through every pet owners' nightmare!!! I could cry just thinking about not knowing where my baby was!! Thank God you had a happy ending!!!
---
Linda
Join Date: Mar 2010
Location: Southwest Washington
Posts: 3,646
Submit Photo: 0
Photo Submissions 22 Times in 21 Posts
So glad to get to the end of this story and see that it had a happy ending! That is a big fear, that one of them would get away and not be able to find him.

Mine don't wear collars either, unless we are walking or at class. I have heard the stories of them getting tangled in another dog's collar when wrestling and nearly strangling. I honestly don't know what the answer is.
---
Linda, Augie & Finn's Mom
Linda
Join Date: Nov 2008
Location: Eastern North Carolina
Posts: 5,409
Submit Photo: 73
Photo Submissions 24 Times in 22 Posts
I am so glad there was a happy ending to this story. I couldn't read fast enough to get to the end of the story.

The more I watch Jack while he is just exploring and smelling stuff, the more helpless I see him. I see him freeze and not move when there is a stick or whatever stuck on him. He is oblivious to where he wanders to....he is like a child that wanders off and doesn't know what to do.

I am glad you came to share your story. And, so very glad you have your fur baby back.
---
Dexter & Jack
"One Hav is NOT enough to enjoy the RLH skills!"
Gryff and Jinx Mommy
Join Date: Sep 2007
Location: New Paltz, NY
Posts: 2,346
Submit Photo: 7
Photo Submissions 9 Times in 9 Posts
That is so scary. I'm so glad there was a happy ending. Both of my dogs wear collars with tags 24/7.
---
I'm going to try to keep his collar on most of the time now. I hate tags so I got him a nameplate to attach to the collar. The only problem I see is that him and the cat wrestle and the cat's claws get caught on his collar sometimes. I don't know what else to do though....

I must say that I'm glad to hear that I'm not the only one with problems keeping collars on. Rocky wears his collar 24/7 but I just never put Jasper's on.
---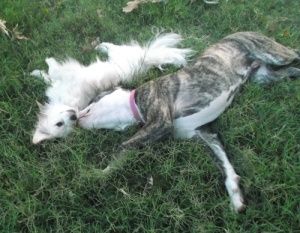 Jasper and Buttercup
Senior Member
Join Date: Feb 2011
Location: Fort St. John, BC
Posts: 2,113
Submit Photo: 2
Photo Submissions 10 Times in 10 Posts
So glad you got Jasper back safe and sound. How scary for you and quite an adventure for him.
---
Tracy and Brody
A dog is the only thing on earth that loves you more than you love yourself.
- Josh Billings
I keep wondering what he did the whole night, I honestly think he was probably so freaked out that he was hiding and too scared to come out when we were calling him.
Something funny, when Jeremy and I were trying to describe him to people and they asked what breed he was, I said without even thinking "he's just a small long haired white dog with light brown patches". There was no sense in telling people Havanese when he looks nothing like a Hav.
---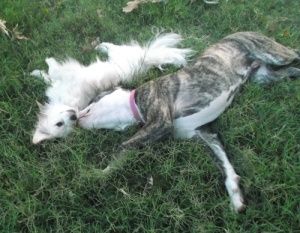 Jasper and Buttercup
Senior Member
Join Date: Sep 2010
Posts: 5,278
Submit Photo: 0
Photo Submissions 36 Times in 36 Posts
oh my gosh, my bp went up just reading your story! wow.
SO beyond thankful you got your baby back!!!
---
Tammy and Tillie
Posting Rules

You may not post new threads

You may not post replies

You may not post attachments

You may not edit your posts

---

HTML code is Off

---