Evelyn
Join Date: Apr 2010
Location: Chicago burbs
Posts: 4,652
Submit Photo: 4
Photo Submissions 30 Times in 28 Posts
snuggle up :)
---
Whimsy loves to cram her little butt down in the space between my husband and the arm of the chair. I swear it's only about 3 inches wide, but somehow she manages to make herself comfortable enough to take a nap.
Thought it made a good photo op. I swear I have more pictures of her then I do of my kids growing up LOL
---
| | |
| --- | --- |
| The Following User Nominates whimsy Great Photo: | |
Very cute!
---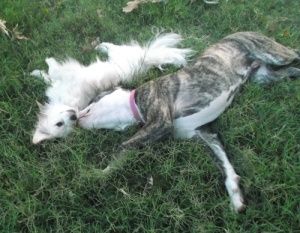 Jasper and Buttercup
Teresita
Join Date: Mar 2010
Location: Hainesport, New Jersey
Posts: 1,534
Submit Photo: 4
Photo Submissions 10 Times in 10 Posts
Adorable.
---
Teresita
Ache and Yunque's mom
LINDA
Join Date: Jun 2007
Location: PA
Posts: 6,496
Submit Photo: 3
Photo Submissions 36 Times in 33 Posts
Member
Join Date: Sep 2011
Location: Grand Rapids, Mich.
Posts: 95
Submit Photo: 1
Photo Submissions 0 Times in 0 Posts
Oh Evelyn .... it just doesn't get any cuter than that!
Dave T
Join Date: Dec 2007
Location: Ontario Canada
Posts: 10,873
Submit Photo: 3
Photo Submissions 119 Times in 117 Posts
Super picture Evelyn. Even your husband is good looking. LOL. Not only are you a good photographer , but your subjects always look so good too.
---
Dave and Molly
Ian Dunbar was awarded the Outstanding Achievement Award from I.P.D.T.A. Here's a picture of me accepting the award on his behalf.
Member of IAABC ,International Association of Animal Behavior Consultants , Member of Pet Professional Guild
Nicki:Cassie & Roo's mom
Join Date: Feb 2012
Location: Ventura county, CA
Posts: 611
Submit Photo: 2
Photo Submissions 8 Times in 7 Posts
Wow! Just perfect!
---
Nicki, Cassie, & Roo
Camellia Camelo and Carol
Join Date: Feb 2012
Posts: 534
Submit Photo: 0
Photo Submissions 4 Times in 4 Posts
---
Wow, Evelyn! MAGNIFICENT photo! I can see you have great photographic - and photo-editing - skills. Much greater than mine!

WHAT A PHOTO! it's a real keeper.

I have a few of George, who is Camellia's DogDaddy; he comes out once a week from the Big City to stay with Camellia while I go shopping. But i don't have permission to post them ;-(

The MOOD matches yours, but the photographic quality doesn't!

You REALLY caught the relationship between Whimsy and your husband. The communication there is priceless! Thanks for your post! (saving photo!)

Sun, 1 Apr 2012 15:43:09 (PDT)
Evelyn
Join Date: Apr 2010
Location: Chicago burbs
Posts: 4,652
Submit Photo: 4
Photo Submissions 30 Times in 28 Posts
thanks for the compliments everyone! I love photography ,,especially capturing those special moments.
---
Senior Member
Join Date: Sep 2010
Posts: 5,278
Submit Photo: 0
Photo Submissions 36 Times in 36 Posts
OH MY GOSH, I adore this picture!!!! What a special relationship they have!! what a gorgeous girl Whimsy is!!
---
Tammy and Tillie
Posting Rules

You may not post new threads

You may not post replies

You may not post attachments

You may not edit your posts

---

HTML code is Off

---