What made you choose a Havanese?
---
The first time we took Milo to the Vet, she asked us out of curiosity...what made us choose Havanese? I told her, base on my research....
1)Havanese don't shed
2)not as temperamental or as psychotic as other toy breed dog
3)no major health problem
4)they don't bark much
5)usually friendly with kids
6)cute and cuddly
Senior Member
Join Date: Sep 2010
Posts: 5,278
Submit Photo: 0
Photo Submissions 36 Times in 36 Posts
We chose a Havanese because ...
1) after meeting Katie (at MopTop Havanese) and her gang we LOVED the personalities, playfulness and friendliness of her dogs!
2) they don't STINK!
3) small
4) CUTE
5) non-agressive, gets along well with cats!
6) did I mention CUTE?
---
Tammy and Tillie
Nicki:Cassie & Roo's mom
Join Date: Feb 2012
Location: Ventura county, CA
Posts: 611
Submit Photo: 2
Photo Submissions 8 Times in 7 Posts
Ditto!
---
Nicki, Cassie, & Roo
Linda
Join Date: Nov 2008
Location: Eastern North Carolina
Posts: 5,409
Submit Photo: 73
Photo Submissions 24 Times in 22 Posts
I wanted a small dog. I looked at poodles, bischons, Wizard of Oz dog, and then I was on a web site that said, if you like this dog you might be interested in a Havanese. Well..the first time I saw a picture of the breed, it was love at first sight.

Then I started to find out more about the breed. It was nice that it did not shed like most breeds of dogs, but I would have to say, I do have plenty of hair in the combs and brush.
So, there is plenty of hair floating around.

Also, love the fact the breed came in different colors!

I adore the cuteness of the face. I adore shaggy messy hair. I love the fact that I can comb the hair. I love the fact that I could learn to use the clippers to learn to cut hair. I have not regretted my choice of breed at all. I love my boys!
---
Dexter & Jack
"One Hav is NOT enough to enjoy the RLH skills!"
Linda
Join Date: Nov 2008
Location: Eastern North Carolina
Posts: 5,409
Submit Photo: 73
Photo Submissions 24 Times in 22 Posts
Oh yes! They do not smell like dogs!
---
Dexter & Jack
"One Hav is NOT enough to enjoy the RLH skills!"
Initially we were looking for Cavalier King Charles Spaniel, they were our first choice until we found out that they all have heart problem and most of them shed.
Then we looked at Maltese, they are just as cute and my colleague has one, unfortunately they bark quite a lot, and they only have one color....all white, and I keep hearing how they are PITA to potty train, they only weight about 7lbs when fully grown, which I think is a bit too puny. That's when we came across one of those X vs. Y dog website, the rest are history... LOL
Senior Member
Join Date: Oct 2010
Location: West Linn Oregon
Posts: 4,845
Submit Photo: 21
Photo Submissions 40 Times in 40 Posts
I had never even seen or herd of a Havanese. I was looking at a mixed breed Havanese and Coton De Tulear . The male was a Havanese and he wouldn't leave me alone the whole time I was looking at the puppys I fell in love . Then I found my Maddie whit in the next few days.
---
Maddie at 5mo old
I dont know what breed will be good for my lifestyle, while researching about dog breeds I took the breed quiz (animalplanet) and it gave me a list of breeds that will be good for me based on my answers. 3rd breed suggestion was havanese, I fell in love with those cute faces. My friends even said that they have very lovable eyes. They are smart, highly trainable esp with tricks, no major health problems. A lively and playful companion.
I was just looking for a small good with children dog, preferable fluffy... Lol.
I was kind of leaning towards a Bichon and honestly didn't even think about a Havanese. I knew of them but they aren't really common around here (or I guess anywhere). The neat thing though is that I have relatives from Cuba who live in Florida and they used to own Havanese when I was really young. I remember that I loved those little dogs everytime I visited.
Anyway, I was asking around about small breed puppies in rescues or pounds, possibly Bichon or poodle mixes, which is impossible because everyone wants to slap a cutesy name on them and sell them... A lady contacted me and said that she knew of a Havanese who really needed a home. So I looked them up and was amazed by how perfect they seemed for my family.
Luckily for Jasper (and me), the Havanese personality was more important than the looks and non shedding. He fits that to a T.
---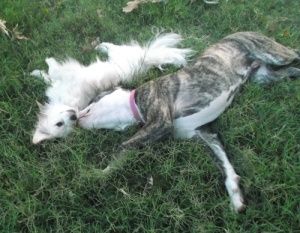 Jasper and Buttercup
Senior Member
Join Date: Jul 2009
Location: Bedford, NH
Posts: 598
Submit Photo: 1
Photo Submissions 2 Times in 2 Posts
While searching for a small breed dog suitable for DH, myself and grandchildren, I came across the Havanese. Sounded to good to be true. After much research, I found it was true and knew this was the breed for us. How could such a wonderful little dog also be so stinking cute? We found a wonderful breeder who lives less than 15 miles from us. How great is that? Tucker is everything and more that we were looking for in a dog.
Posting Rules

You may not post new threads

You may not post replies

You may not post attachments

You may not edit your posts

---

HTML code is Off

---