Senior Member
Join Date: Sep 2010
Posts: 5,278
Submit Photo: 0
Photo Submissions 36 Times in 36 Posts
BIG-ish News...
---
A few weeks ago, we were all posting on one of the threads I had started with pictures of Tillie running and playing. Karen (Kodi's mom) said something about Tillie being a great example of what a Hav should be, or something to that effect. and those words really warmed my heart, so much so that I have been thinking and thinking a lot lately about Tillie and her place in our family. What a terrific dog she is and how much I love her.
THANK you Karen for your kind words!
Anywhooooo... last week I had a thought about looking to see if there was any therapy dog training in my area. And there is. I contacted the lady and she has been walking me through what we would need to do. It is through Rx Pets. Today I took Tillie with me to run errands and was at the bank. She was in her stroller for awhile and one of the ladies wanted to see her, so I took her out. After a few minutes, I asked if she wanted to hold her, so Tillie JUMPED into her arms, licked her all over and we continued to talk. A few minutes later Tillie was asleep in her arms. Pretty much solidified my thoughts about looking into therapy work. LOL
Today the lady at Rx Pets sent me the actual 'test' that we would need to pass and I think Tillie will pass MOST of it with flying colors. AND the workshops aren't until Fall, with the assesment in October. So we have plenty of time to work on things. I signed her up for intermediate obedience, starts on the 22nd and did some 'socializing' work around Pet Smart tonight.
It is going to be work, but really, I want to share Tillie's joy with people. I love her so much and want to see her make others happy, since she makes us so happy. i am nervous and unsure what we are doing, but I am confident that Tillie will make people happy, bring smiles to those that can no longer have thier own dogs and share her love of life with everyone around her.
We have our work cut out for us. I thought about not sharing all of this with you guys and just 'surprising' you when we pass in the fall, but really... if any of you know me at ALL after all this time, then you know, I can not keep ANYTHING quite... LOL sooooo... you get to come along on the journey with us and pray that we pass. Otherwise, well, if we don't pass, we will try again.
Now, if i can only get her to stop PULLING like a sled dog! LOL
---
Tammy and Tillie
Senior Member
Join Date: Apr 2007
Location: Long Island, New York
Posts: 8,941
Submit Photo: 3
Photo Submissions 41 Times in 25 Posts
Tammy, that's so exciting. I know Tillie will make the rest of the world fall in love with her, just as we have.
---
<b>Just Milo and me, and . . . </b>Bailey makes three . . . until Ruby said, "hey, what about me?"
Geri, Milo, Bailey and HRH Princess Ruby Tuesday
If you're thinking of getting a puppy, click here
http://www.photoshow.com/watch/YK8AH4rw
Senior Member
Join Date: Mar 2011
Location: Robbinston, Maine on Passamaquoddy bay.
Posts: 306
Submit Photo: 25
Photo Nominations 1 Time in 1 Post
Tammy and Tillie...She is just adorable and that lady you were talking to must have been thrilled.

Exciting news, I would give anything to be able to do that with Izzy, she just loves everyone. The nearest place that offers that course is in Portland which is a four hour drive, which really makes it impossible. Good luck ....I know it will be so rewarding. Please keep up informed of what it all entails and how Tillie is doing.
Estelle
Nicki:Cassie & Roo's mom
Join Date: Feb 2012
Location: Ventura county, CA
Posts: 611
Submit Photo: 2
Photo Submissions 8 Times in 7 Posts
That is a fantastic idea, and I wish you all the luck in the world!
---
Nicki, Cassie, & Roo
Senior Member
Join Date: Jan 2012
Location: Oregon
Posts: 372
Submit Photo: 1
Photo Submissions 4 Times in 4 Posts
What a perfect "job" for Tillie! She really is a beautiful girl and I'm sure people are naturally drawn to her. I'm sure she will do great!!!!
Evelyn
Join Date: Apr 2010
Location: Chicago burbs
Posts: 4,652
Submit Photo: 4
Photo Submissions 30 Times in 28 Posts
Oh how wonderful! Tillie is going to do awesome...just you wait and see!! She will be perfect for this!
---
Henry 2006-2018/ Kordelia
Join Date: Jun 2007
Location: NJ/NYC metro.
Posts: 4,161
Submit Photo: 11
Photo Submissions 27 Times in 27 Posts
I like it! Go Tillie! And I am sure she will pass with flying colors!
Senior Member
Join Date: May 2011
Location: vermont
Posts: 647
Submit Photo: 7
Photo Nominations 1 Time in 1 Post
Tammy that's so great. I want to do this with Atticus too when he is a little older. We will be thrilled to follow along on your journey! Get that Sensation harness Karen talks about for pulling,it helps a lot!http:
---
Jody ,lucky Mom of Atticus
Teresita
Join Date: Mar 2010
Location: Hainesport, New Jersey
Posts: 1,534
Submit Photo: 4
Photo Submissions 10 Times in 10 Posts
Yeahh Way to go, Tillie. That's awesome.
---
Teresita
Ache and Yunque's mom
That is so exciting! Way to go Tillie!
---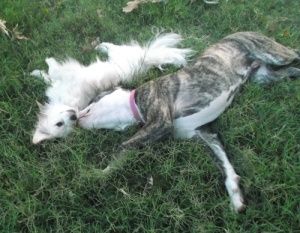 Jasper and Buttercup
Posting Rules

You may not post new threads

You may not post replies

You may not post attachments

You may not edit your posts

---

HTML code is Off

---