Elissa's and Ceylon's Mom
Join Date: Feb 2011
Posts: 965
Submit Photo: 1
Photo Submissions 7 Times in 7 Posts
Thank GOD for good Samaritans...
---
So - my sister is in town, and staying at my place and using my car and taking Ceylon almost everywhere she goes (as I would do if I didn't have to work). At some point today after she and my daughter got home after swimming, and before I got off of work, apparently Ceylon slipped out of the front door, and nobody noticed. I got home at about 5:10, and asked, where is Cey?, and it was only then that we all realized that he was not in the house.
Well, we all spent about 20 minutes running around the neighborhood calling for him, and then I came back inside and called the Seattle animal shelter (which wasn't helpful as they only update their lost pets helpline once a day at 6:30, and when I tried to call them directly I just got a message machine) and I started freaking out and crying and finally started printing out Lost Dog fliers to put up. In the meantime, my sister and my daughter were still out combing the neighborhood... My sister came back, and while I was struggling with the printer (still crying, to be honest - I was thinking about all of the horrible things that could have happened....) my sister had the good sense to check Craigslist, where somebody had posted an ad just 20 minutes prior:
"Cute little long hair dog found along Lake City way in Lake City. Very sweet and obviously loved."
We emailed the email address, got a call back within 10 minutes, and got Ceylon back within half an hour. Apparently he was wandering around about a block away from our house and this wonderful kind lady saw him and picked him up... I tried to give her $50 when she returned him but she wouldn't take it. Anyway, OMFG - Cey NEVER runs off, this was the first time ever, and I wasn't here so I still am not really sure what happened. I am just SO freakin glad to have him back safe and sound (and am planning on installing a baby gate in the front door for now for the times that I am not home... lol...).
So yea - thank GOD for good Samaritans!!!
Senior Member
Join Date: Aug 2009
Location: North Carolina
Posts: 3,335
Submit Photo: 4
Photo Submissions 13 Times in 13 Posts
I am so glad he is home safe...that is a horrible feeling when your pet is lost. This could happen to any of us, it only takes a minute. So happy everyone is home safe.
---
Robbie, Boo Boo, Yogi, and Misty's human.
Poohkey miss you, monkey.
Senior Member
Join Date: Sep 2010
Posts: 5,278
Submit Photo: 0
Photo Submissions 36 Times in 36 Posts
OH MY GOSH heather!!!!! wow. thank God he is okay and home where he belongs!!!!
I can imagine the panic you were feeling and the joyful reunion that happened!!!
---
Tammy and Tillie
Senior Member
Join Date: Feb 2011
Location: Fort St. John, BC
Posts: 2,113
Submit Photo: 2
Photo Submissions 10 Times in 10 Posts
Glad he is back home safe and sound. Thank goodness for nice neighbours.
---
Tracy and Brody
A dog is the only thing on earth that loves you more than you love yourself.
- Josh Billings
Elissa's and Ceylon's Mom
Join Date: Feb 2011
Posts: 965
Submit Photo: 1
Photo Submissions 7 Times in 7 Posts
Thanks everybody. Yes, I was freaking out and literally crying. It didn't help that I wasn't here where he slipped out, so there was literally nothing I could have done about it. I am just so glad he is here home and safe now, I know how easily this story could have ended differently...
Evelyn
Join Date: Apr 2010
Location: Chicago burbs
Posts: 4,652
Submit Photo: 4
Photo Submissions 30 Times in 28 Posts
I am so sorry you had to go through that! Every dog owners worst nightmare!
---
Senior Member
Join Date: Jul 2009
Location: Bedford, NH
Posts: 598
Submit Photo: 1
Photo Submissions 2 Times in 2 Posts
Thankfully Cey is back home safe and sound. I'm sure that experience took 10 years off your life.
Senior Member
Join Date: May 2011
Location: vermont
Posts: 647
Submit Photo: 7
Photo Nominations 1 Time in 1 Post
oh my how scary and upsetting. Reading this makes me realize how much I care about all of you people and your dogs. I feel like I know and love Cey and would have been VERY upset had he disappeared! Give him a hug for me (only if he likes hugs!) GRIN!
---
Jody ,lucky Mom of Atticus
I completely understand!! Same thing happened with Jasper a few weeks ago and it was awful.
Thank goodness you got him back!
---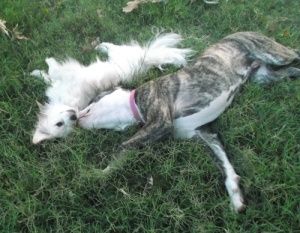 Jasper and Buttercup
Flynn of Sir Winston fame
Join Date: Jan 2008
Location: Helen, Georgia
Posts: 2,745
Submit Photo: 22
Photo Submissions 9 Times in 9 Posts
So glad it worked out so well..Hugs to Cey and you!!
---
Sir Winston sez "Non Basta Una Vita."

Flynn, lady-in-waiting to Sir Winston and Lady Mia
Posting Rules

You may not post new threads

You may not post replies

You may not post attachments

You may not edit your posts

---

HTML code is Off

---