Senior Member
Join Date: Nov 2006
Location: Massachusetts
Posts: 11,746
Submit Photo: 27
Photo Submissions 48 Times in 35 Posts
Falling in Love all Over Again
---
Ok- well I never really fell out of love with my boys. But they are just going through a phase (or I am- hormones maybe?) that I can't get enough of them.

with Jasper he seems to be a little less stressed he is barking less and is a little calmer on his walks ---and his Puppy cut has grown out to that perfect place where I just want to squish him and squish him and squish him.

Cash is at the wonderful 10 month mark -where he is more sure of himself, and has more of a command of what we want from him. You can see him really trying to figure things out and please us. (except when he is being a little hellion --pulling toilet paper around the whole house or raiding the trash) His expressions seem much brighter --he has started the head tilt which he never did before. Now he was always cute but he is even cuter. I think in the last week or so he has also grown some height-- he seems less long and low.

I'm sure you all can relate to waking up one day and seeing your babies all anew.




---
Missy, Jasper & Cash
Kimberly
Join Date: Aug 2006
Location: San Francisco Bay Area
Posts: 10,275
Submit Photo: 5
Photo Submissions 19 Times in 13 Posts
Awwww! Sweet post, Missy!
Shannon
Join Date: Apr 2007
Location: Virginia
Posts: 1,316
Submit Photo: 0
Photo Submissions 0 Times in 0 Posts
Yes, i do know what you are talking about when you notice different things about them or they are doing something new. Its never boring thats for sure!!

Sometimes Tripp looks at me soooo lovingly, gazes in my eyes for the longest time. Makes you just want to hug them tight!!
---
Tripp, Jax, & Dreamer
Mom to Ricky and Sammy
Join Date: Jan 2007
Posts: 10,319
Submit Photo: 30
Photo Submissions 21 Times in 17 Posts
Awww...... very nice, Missy. Yes, I also know what you mean. Like Tripp, Ricky will look into my eyes for the longest time and I just melt. EVERY single time he comes up onto my lap, we touch forehead to forehead and he looks deep into my eyes and I coo at him. Then he turns slightly and I give him a huge hug that can last several seconds. Once that's done, he turns to face outward, out on to his kingdom I like to say and stays seated there. lol This has been routine for months now and I love it!




---
Hello. My name is marj and I have MHS.
"The greatness of a nation and its moral progress can be judged by the way its animals are treated." Mahatma Gandhi
"Come to the edge, he said. They said: We are afraid. Come to the edge, he said. They came. He pushed them and they flew." -Guillaume Apollinaire"
Senior Member
Join Date: Nov 2006
Location: Massachusetts
Posts: 11,746
Submit Photo: 27
Photo Submissions 48 Times in 35 Posts
we're all gonners!!!LOL. Jasper has always done the stare deep into my eyes even as a little puppy-- he is quite the kisser especially if he wants something--- but he will look at you intently and size up you r face and then kiss you straight on the mouth === Cash really hasn't done the deep stare ---but lately he is keeping eye contact more and more- it's part of that "bright expressions" I was talking about.

One thing Cash does --- If I really want him to come- or cuddle--- I just say in a very high voice--- what about Meeeeeeeee? or come to Meeeeeeeeee! and he flys from wherever he is and leaps onto my lap and cuddles.




---
Missy, Jasper & Cash
Izzy, Doc, and Kai's mom
Join Date: Jan 2007
Location: Monmouth, IL
Posts: 2,349
Submit Photo: 4
Photo Submissions 30 Times in 13 Posts
Mine only "leap" at me when I get home, but I have been going through this "I have to squeeze you" faze as well. I'm not sure why either, but Izzy just keeps doing things that make me want to hold her and kiss her!! This morning, it was really cute, we are trying to get Zoey to ring the bell. Well, Zoey hit the bell with her head (I'm not sure if it was on purpose) and I just made all over her for doing it. Izzy couldn't get to the bells fast enough to get them chiming! She looked at me while she was "going after the bells" as if to say, "I can do this much better than she did"! It was so cute and I just picked Izzy up and sqeezed the "stuffing" out of her!!
So, it could be hormonal, but I think it's that these dogs have real "heart" and we can feel it!
---
Doc
Kubrick & Hitchcock's Mom
Join Date: Apr 2007
Location: New York, NY
Posts: 7,774
Submit Photo: 1
Photo Submissions 33 Times in 24 Posts
Kubrick either got used to or doesn't mind me squeezing his face because I do it all the time. He is so cute I can't help it. It's like my mom who likes to squeeze baby's arms (not hard, just a little squeeze) since they're so cute... I guess I learned it from her. LOL.

Kubrick also does the staring into my eyes thing. It makes me melt every time.
---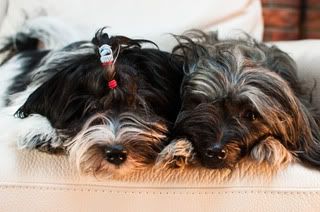 Visit
my blog

-----
Check out my
photos
-----
Photography (pets, people, weddings) -
TripleC Photography
Senior Member
Join Date: Mar 2007
Location: Arkansas
Posts: 305
Submit Photo: 0
Photo Submissions 0 Times in 0 Posts
It's funny -- I could spend the whole day just kissin' my babies. Havs are just so darn cute! They steal you heart in a flash. Their love is so addicting and that's why you need more than one
Jeanne
Join Date: Mar 2007
Location: SF Bay Area
Posts: 2,622
Submit Photo: 2
Photo Submissions 3 Times in 3 Posts
I'm convinced that Havanese are the most affectionate dogs. Normally, Maddie sleeps at the foot of our bed. But when morning comes, she comes up next to my back and wraps her neck around mine to literally hug me. It is the sweetest thing. What a way to wake up! Also, if I go to the bathroom during the night, she follows and lays right next to the door. Then back to bed we go. These little dears are so devoted.
---
Jeanne (Mom to Maddie)
Shannon
Join Date: Apr 2007
Location: Virginia
Posts: 1,316
Submit Photo: 0
Photo Submissions 0 Times in 0 Posts
Last Saturday all my gang were ready for their nap but since i had SO much to do and was running all over the place they didnt get ANY rest. THey kept following me everywhere i went. I felt so bad because they were so tired. But that didnt stop them from being my shadows!!
---
Tripp, Jax, & Dreamer
Posting Rules

You may not post new threads

You may not post replies

You may not post attachments

You may not edit your posts

---

HTML code is Off

---