Junior Member
Join Date: Dec 2012
Posts: 1
Submit Photo: 0
Photo Submissions 0 Times in 0 Posts
Trying to figure out what breed...
---
Hi everyone. I recently lost my childhood dog, and I've been trying to find out what breed he was. I was hoping to get another dog just like him soon. He was rescued from an abusive home, so we never got to find out his breed. I've always suspected he was either a Schnauzer mix or possibly a Havanese mix.
He probably weighed about 25-35 pounds. He did not shed, and needed to be groomed. (If that info helps you at all) His longish body is what threw everyone off in guessing his breed.
These are pictures of him shaved:
Pictures of his hair grown out: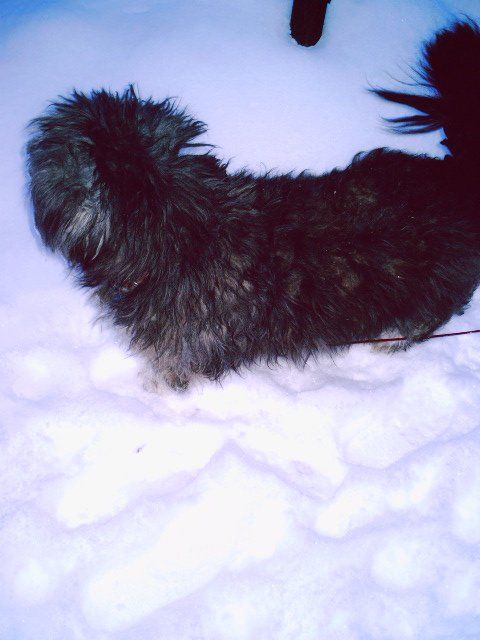 Thanks !
(Sorry if the pictures are big, they're showing up normal on my screen, but my display is set for a 17 inch screen.)
---
Last edited by sthor20; 12-30-2012 at

05:55 PM

.
Senior Member
Join Date: Aug 2012
Location: Cape Cod, MA
Posts: 2,550
Submit Photo: 9
Photo Submissions 19 Times in 19 Posts
He definitely looks part Havanese in the third picture with the long hair and Havs do have longer bodies. Hard to tell with the shaved down pictures. Good luck in your quest.
---

Mary (miss you, Bailey-1996-2011 and Tyler-1997-2015)
Dave T
Join Date: Dec 2007
Location: Ontario Canada
Posts: 10,754
Submit Photo: 3
Photo Submissions 112 Times in 110 Posts
close enough for my eyes. Welcome, sorry about your dog.
---
Dave and Molly
Ian Dunbar was awarded the Outstanding Achievement Award from I.P.D.T.A. Here's a picture of me accepting the award on his behalf.
Member of IAABC ,International Association of Animal Behavior Consultants , Member of Pet Professional Guild
Metrowest, MA
Join Date: Jun 2009
Location: Massachusetts
Posts: 23,591
Submit Photo: 6
Photo Submissions 298 Times in 296 Posts
Sorry you lost your good friend! It's always really tough guessing with mixed breeds, and I'm POSITIVE he was a mixed breed. My guess, seeing ONLY the shaved photos, was going to be Schnauzer/Doxie mix. But his long haired photos look like he COULD have some Havanese in him. Was his coat very soft when it was long? Or a little coarser and more wirey? Scnauzers (and wire haired Doxies) have much coarser coats than Havanese do.

Whatever he was, he was adorable! Unfortunately, because he was a mixed breed, it is extremely unlikely that you will ever find another "just like" him... often even puppies in the same mixed breed litter are quite different from each other. If I were you, if you are looking for a mixed breed, I'd start haunting the shelters, meeting LOTS of dogs until you find the personality that fits, rather than the looks. If you want to go in the direction of a purebred, I'd try to arrange to visit with some Schnauzers and Havanese, and see which personality type appeals to you. (BOTH breeds can be WONDERFUL dogs!!!) Personally, I'd steer clear of purebred Doxies... not because they aren't great personality wise, but because SO many of them have serious back problems. You might be setting yourself up for heartbreak with a purebred.

That brings us to another point... If you DO decide on a purebred, no matter WHAT breed, do your homework and buy your new best friend from a reputable breeder with a good track record for breeding healthy dogs with great dispositions. DON'T fall into the trap of a pet store or internet "puppy mill" puppy!
Posting Rules

You may not post new threads

You may not post replies

You may not post attachments

You may not edit your posts

---

HTML code is Off

---