Senior Member
Join Date: May 2007
Location: Indiana
Posts: 3,119
Submit Photo: 3
Photo Submissions 4 Times in 4 Posts
Jillee's first camping trip!!!
---
Hey there!!!! Well,we are back home and let me tell ya I am glad. Jillee had a great time. Right now she is sleeping on her back on the floor!!! You can tell (and smell) that she had a wild weekend!!!!!! She did great. They are all amazed at how well she was. What do you expect she is a Havanese!!!!!! When we got there we had to set some ground rules with the kids......it went well. My youngest cousin was only trying to feed her everytthing....even sticks. She was either with us or in her crate locked. She went on a hiking trail and got some really cute pictures. My sister has to send them to me. We went on a boat ride and she liked (i think?????) She was whining and I went to stand by her then she was fine. She needed her mommy. We had her sleeping in her crate and then she started whining so we put her in bed with us and then she was fine. I think she was cold. I just felt something cold on my feet and she is now laying in the chair. I think she had a great time but preffered the Holiday Inn (or is that mommy) I will post pictures soon as I get them.
---
~~Mommy"s Little Angel~~
Kimberly
Join Date: Aug 2006
Location: San Francisco Bay Area
Posts: 10,275
Submit Photo: 5
Photo Submissions 18 Times in 12 Posts
Sounds like a great weekend! I'm glad it all went so well!
Kubrick & Hitchcock's Mom
Join Date: Apr 2007
Location: New York, NY
Posts: 7,774
Submit Photo: 1
Photo Submissions 33 Times in 24 Posts
I'm glad that Jillee had a good weekend! I think all dogs love to go camping and I'm sure she had a blast!
---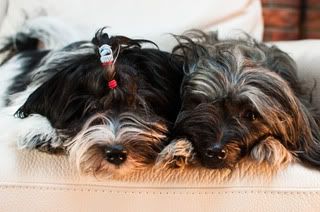 Visit
my blog

-----
Check out my
photos
-----
Photography (pets, people, weddings) -
TripleC Photography
Riley & Monte's mom
Join Date: Feb 2007
Location: MA
Posts: 5,579
Submit Photo: 2
Photo Submissions 16 Times in 13 Posts
LINDA
Join Date: Jun 2007
Location: PA
Posts: 6,496
Submit Photo: 3
Photo Submissions 35 Times in 32 Posts
Senior Member
Join Date: Nov 2006
Location: Massachusetts
Posts: 11,746
Submit Photo: 27
Photo Submissions 48 Times in 35 Posts
Glad little Jillee was a pro. can't wait to see pictures.




---
Missy, Jasper & Cash
Mom of Brutus and Roxie
Join Date: Mar 2007
Location: Danville, CA
Posts: 2,152
Submit Photo: 0
Photo Submissions 0 Times in 0 Posts
We sleep in heavy sleeping bags and then wonder why our dogs get cold in the crates. We have our windows open at night, but have a heavy quilt on the bed. Brutus sleeps with us and cuddles when he has gotten cold. Roxie woke a couple mornings ago shivering. We have added a flannel sheet to her crate and cover her when going to bed.

I so glad that Jillee enjoyed camping.
Senior Member
Join Date: Nov 2006
Location: Long Island, NY
Posts: 8,619
Submit Photo: 3
Photo Submissions 19 Times in 19 Posts
I'm so glad you all had a good time. Aren't you glad you took her?!
---
Michele
Kodi & Shelby's Mom and Julian's Grandma
Senior Member
Join Date: May 2007
Location: Indiana
Posts: 3,119
Submit Photo: 3
Photo Submissions 4 Times in 4 Posts
I am soo glad that I took her!!!!! We will definatly take her with us next time!!! My other dogs were fine. I think they enjoyed themselves without there nagging little sister. I was wondering if there coat keeps them warm....should I put clothes on her in the winter when we are out?? My husband got really concerned because she was not moving....her little nose was so cold. She liked snuggiling up with her daddy!!!!
---
~~Mommy"s Little Angel~~
Senior Member
Join Date: Nov 2006
Location: Long Island, NY
Posts: 8,619
Submit Photo: 3
Photo Submissions 19 Times in 19 Posts
Maybe she was a bit chilly, or she just wanted to be close because it was a new place. I just bought sweatshirts for mine at Petco for when it starts getting cooler. I also ordered fleece coats from FidoFleece. Kodi will shiver when he gets too cold.
---
Michele
Kodi & Shelby's Mom and Julian's Grandma
Posting Rules

You may not post new threads

You may not post replies

You may not post attachments

You may not edit your posts

---

HTML code is Off

---