Can I Share A Funny?
---
I was looking for an old email tonight and came across a note that I sent to a few friends recently. I consider myself to be a fairly 'with it' person and not easily fooled, but for some reason, my dogs are masters at making me look and feel like a complete idiot.LOL Here's what happened:

I'm trying to work with Shadow on his barking issues and any time he keeps quiet when he'd normally bark, I make a fuss and praise and pet him. I was in the back room on the computer and he was laying on the ottoman behind me. The computer desk is near the window, which was open. A dog barked and Shadow didn't react, which surprised me, so I immediately turned around and said "good Shad…gooooood quiet", gave him a scratch behind the ears and turned back to the computer. After a few times of this, I rolled my chair to the window to see if the barking was the dog next door but I didn't see him in the yard and it didn't look like anyone was home. A few more barks, a few more scratches and words of encouragement for Shadow, and I got up and looked out the other window…couldn't see anything in that yard either. It wasn't the bark of the black lab across the street, not the Beagle a few streets over (who bays/barks quite a bit, at all hours), not the annoying screechy whateveritis that lives in the apartment building on the corner.

But the dog obviously wanted to get back inside its house and this had been going on for 10-15 minutes. Our police are good about checking on barking dogs/stray animals, so I figured I'd call and ask them give a listen the next time they patrolled my street to see if they could tell where the barking was coming from.

I went in the bedroom to get the phone and when I turned on the light, Kidget wasn't curled up on my bed where I expected to find her. I called for her a few times….no Kidget. Well, my girl must've slipped out when I was letting Shadow back in. They both love sitting on the back porch. When I looked out the door, there she was, sitting on the porch, barking at the neighbors across the street who happened to be sitting on their porch.

Shadow wasn't reacting to the barking because he recognized that it was Kidget - and here he was getting all this praise and extra lovin' LOL

Worse, is that I was just about to report MYSELF to the police! Can ya imagine hearing the dispatcher say "Car #2....90 Ilford Ave is reporting a barking dog" - - and the barking dog lives at 90 Ilford Ave?LOL
Kubrick & Hitchcock's Mom
Join Date: Apr 2007
Location: New York, NY
Posts: 7,774
Submit Photo: 1
Photo Submissions 33 Times in 24 Posts
LOL. How smart is Shadow?! He knew that he would get extra loving from you so he kept quiet about his sister being stuck outside barking her head off. What a smart little guy!
---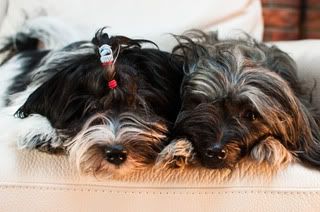 Visit
my blog

-----
Check out my
photos
-----
Photography (pets, people, weddings) -
TripleC Photography
Quincy's Mom-Vinnie too!
Join Date: Feb 2007
Location: Ia.
Posts: 9,923
Submit Photo: 35
Photo Submissions 17 Times in 16 Posts
That's rich!
---
Vincent-Quincy's playmate
"Behind every unstable dog is a lesson for the owner"-Cesar Millan
Senior Member
Join Date: Nov 2006
Location: Massachusetts
Posts: 11,746
Submit Photo: 27
Photo Submissions 48 Times in 35 Posts
Great tail of a tale. You might want to go in and edit out your street address. probably being overly cautious but you never know who's lurking on the web. Give Kidget and Shadow a an extra scratch from me.




---
Missy, Jasper & Cash
LINDA
Join Date: Jun 2007
Location: PA
Posts: 6,496
Submit Photo: 3
Photo Submissions 36 Times in 33 Posts
Sissygirl's Mom (Marie)
Join Date: Aug 2007
Location: Oklahoma
Posts: 2,738
Submit Photo: 5
Photo Submissions 4 Times in 3 Posts
LOL at that one!

That sounds like something I would do - GREAT story.

Thanks for sharing!
---
Santa, Sissygirl
& Marie
Amanda
Join Date: Nov 2006
Location: South Carolina
Posts: 9,576
Submit Photo: 2
Photo Submissions 31 Times in 22 Posts
HAHAHAHA.... I could so easily do the same thing! Shadow is going to lock her out from now on, come on he gets praised!

Amanda
Mom of Brutus and Roxie
Join Date: Mar 2007
Location: Danville, CA
Posts: 2,152
Submit Photo: 0
Photo Submissions 0 Times in 0 Posts
It is a scam. Shadow and Kidget figured out a way to work the system. Ha ha! Just remember that Shadow owes Kidget so you have to watch for their next trick.
Sierra & Baileys servant
Join Date: May 2007
Location: Maastricht, the Netherlands
Posts: 1,125
Submit Photo: 10
Photo Submissions 23 Times in 13 Posts
Senior Member
Join Date: Nov 2006
Location: Long Island, NY
Posts: 8,619
Submit Photo: 3
Photo Submissions 19 Times in 19 Posts
That's funny. It hasn't happened with the dogs, but we do loose a cat now and then. They follow us into a room and get shut in when we leave. The dogs usually alert us to find the missing cat.
---
Michele
Kodi & Shelby's Mom and Julian's Grandma
Posting Rules

You may not post new threads

You may not post replies

You may not post attachments

You may not edit your posts

---

HTML code is Off

---