Join Date: Jun 2007
Posts: 363
Submit Photo: 0
Photo Submissions 0 Times in 0 Posts
Litterbox/Housetraining Question
---
Here's a new dilemma for me. Nico and Desi both came from the breeder litter box trained (litterbox with a puppy pad in it, not the litter). When I had only Nico, this worked really well. He mostly went outside, but when no one was there to let him out, he'd use the litterbox. When we added Desi to the mix, we discovered that he wasn't really house trained. You could take him outside, and then 3 minutes after you brought him in he'd go in the box. That became a problem only because he and Nico started shredding the puppy pads. After a few weeks of that, and at the suggestion of folks here, I bought the non-disposable pads that you wash. I've had one of those in the box for two days and there is still no need to wash it - they're not using the box. Desi, however, went in the house. I have all hardwood floors, with a small piece of vinyl thrown on top of it in the kitchen where I usually have the crates, and Desi did have the courtesy to go on the vinyl (you wonder how they know to do that, don't you?). He's done that twice. I guess my question is - what's the best way to housetrain a pup who is already 6 months old? And is there some magic to getting them to use the new pads?
Senior Member
Join Date: Jan 2007
Location: Ca
Posts: 1,672
Submit Photo: 0
Photo Nominations 1 Time in 1 Post
I just got the book really a phamphlet - called Way to go wishful thinking by the publisher that it is a book - it does not cover litter boxes but it does have a lot of insight about potty training ..
One helpful hint - is that it is easier to train large breeds than small breeds .
I definetly found this to be true so it is not far to have the same expectations if you had a large dog and then you get a small one .. it is definetly a different learning curve .. Even though Cosmo is the younger he is better at letting me know when he has to go potty. It is that bark - sometimes it is for a reason .
Lily's Mom
Join Date: Sep 2007
Location: Coconut Creek, Florida
Posts: 50
Submit Photo: 0
Photo Submissions 0 Times in 0 Posts
I think the disposable pads have some kind of a scent that makes the dogs want to use them. Wonder if there is something you can spray or wipe on the washable pad that would make them want to use it.

Patti.........
Kubrick & Hitchcock's Mom
Join Date: Apr 2007
Location: New York, NY
Posts: 7,774
Submit Photo: 1
Photo Submissions 33 Times in 24 Posts
Dogs usually have a preference for a substance to pee/poop on. It sounds like Desi prefers the paper pads over outside or even the washable pads. If you can take the paper pad outside and make him go on it and PRAISE him like crazy once he does it, you can show him that going outside is what you want. The next day, fold the pad in half and then the day after fold it again and so on and so forth until he is peeing without the pad altogether.
Also, there's a book called How to Housetrain Your Dog in 7 Days which is very good for housetraining and is easy to stick to.
Good luck!
---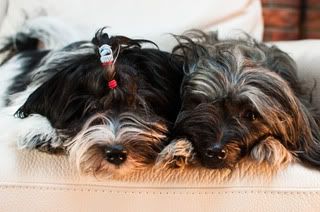 Visit
my blog

-----
Check out my
photos
-----
Photography (pets, people, weddings) -
TripleC Photography
Senior Member
Join Date: Jan 2007
Location: Toronto, ON, Canada!
Posts: 4,155
Submit Photo: 0
Photo Submissions 16 Times in 6 Posts
Beamer used to use the pads all the time in the house and going outside aswell... about 4 weeks ago he had acouple 'accidents' in the house, and since then he has been using the pads less and less. I'm happy to say he has not used a pad in the past 2 weeks, and has done all his business outside!
Senior Member
Join Date: Nov 2006
Location: Massachusetts
Posts: 11,746
Submit Photo: 27
Photo Submissions 48 Times in 35 Posts
Sunny Girl, I had some success with spraying bitter apple on the pee pads to deter the shredding. I agree I think if he was using the pee pads I would go back to them. It sounds like the vinyl may have felt more like a tray than the cloth pad. My boys use both pee pads and outside too. I would try to firm up desi's pee pad usage so he knows where to go in your house before you encourage outside. He will pick up the outside thing once you start taking him out there. There are a lot of scents out there and you can just praise praise praise. But his house has changed and his set up and I would try to cement the indoor potty area before I moved to out of doors.
With both of my boys we didn't introduce the concept of outdoors until they were 4 or 5 months old. So that now, like Nico, they prefer to go out but if no one is home they will use their room. You may also want to get two boxes- one for each dog. they may want their own space so to speak.
here's what we use- and we line it with pee pads--
http://www.bassequipment.com/Home/Pl...s/default.aspx
---
Missy, Jasper & Cash
Posting Rules

You may not post new threads

You may not post replies

You may not post attachments

You may not edit your posts

---

HTML code is Off

---