Katie
Join Date: Sep 2006
Location: Rocklin, CA
Posts: 2,217
Submit Photo: 1
Photo Submissions 18 Times in 14 Posts
Totally Off Topic~ Going to court and I'm nervous!
---
Send me good vibes girls~ I will be leaving soon to go to court. UGH!
Long story short.....we owned a business. We sold the business in Feb, and the new owners of the business decided not to keep all of "our" employees. Hubby issued final paychecks the day after the business was sold, and put them in the safe at the business for the employees to pick up. All of the employees had no problem coming in to get their paycheck, exept one. This particular employee (I will call her Sue) was mad that she wasn't re-hired by the new owners. A week after we sold the business, Sue sent her "boyfriend" into the new owners to get her paycheck, because she didn't want to face them. New owners called hubby, and hubby suggested against giving her paycheck to the "boyfriend", stated to only give it to Sue. So a week later, the boyfriend comes in again, and a different employee gives the paycheck to him.
Now Sue is suing us for "withholding" her paycheck for 13 days! Are you kidding me? Her paycheck ready and waiting for HER. California Labor Laws even state if the "employee absents himself/herself to avoid payment" is "not entitled to any benifit". GRRRRR~!
Wish us luck!
---
Katie
www.MopTopHavanese.com
Paws.....and reflect on what life has given you~
Senior Member
Join Date: Jan 2007
Location: Toronto, ON, Canada!
Posts: 4,155
Submit Photo: 0
Photo Submissions 16 Times in 6 Posts
This sounds like a 'People's court' episode.. Are you going to be on TV? lol

In all seriousness... GOOD LUCK! Sue sounds like a nutjob!

Ryan
Sissygirl's Mom (Marie)
Join Date: Aug 2007
Location: Oklahoma
Posts: 2,738
Submit Photo: 5
Photo Submissions 4 Times in 3 Posts
Pepper's mom
Join Date: May 2007
Location: Southern CA
Posts: 1,329
Submit Photo: 0
Photo Submissions 6 Times in 5 Posts
We're sending out good vibes that all goes in your favor, though it shouldn't be a problem!
Having people behave like that is such a hassle.
Hopefully you'll be out of court in no time - with a win for your side!
Wanda
Kubrick & Hitchcock's Mom
Join Date: Apr 2007
Location: New York, NY
Posts: 7,774
Submit Photo: 1
Photo Submissions 33 Times in 24 Posts
My grandmother had something like this happen to her as well! Some people will do anything to get extra money. It's so pathetic. Good luck and I'm sure that things will work out!
---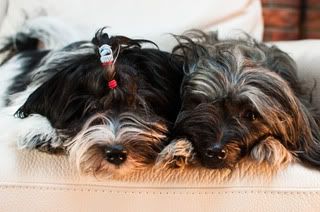 Visit
my blog

-----
Check out my
photos
-----
Photography (pets, people, weddings) -
TripleC Photography
Susan
Join Date: Feb 2007
Location: Near San Francisco Bay Area
Posts: 4,063
Submit Photo: 2
Photo Submissions 2 Times in 2 Posts
My thoughts are with you Katie. What a hassle. People are so stinking greedy these days they will sue anyone for anything!! It makes me crazy.

Susan
---
Susan
Quincy's Mom-Vinnie too!
Join Date: Feb 2007
Location: Ia.
Posts: 9,923
Submit Photo: 35
Photo Submissions 17 Times in 16 Posts
Good Vibes Katie!I'm sending you an angel and a hug!
---
Vincent-Quincy's playmate
"Behind every unstable dog is a lesson for the owner"-Cesar Millan
Senior Member
Join Date: Nov 2006
Location: Massachusetts
Posts: 11,746
Submit Photo: 27
Photo Submissions 48 Times in 35 Posts
good luck- sounds like an open and close case to me. justice vibes being sent your way!!!




---
Missy, Jasper & Cash
Pablo&Chuy's momma
Join Date: Jul 2007
Location: Eden, NC
Posts: 4,286
Submit Photo: 11
Photo Submissions 9 Times in 8 Posts
Katie,
so sorry to hear that you have to be all nervous because of someone's total dumbness. Honestly, people seem to have nothing else to do with their lives then making it hard for the good ones! Good luck!!!
---
Senior Member
Join Date: Apr 2007
Location: FLORIDA!
Posts: 4,657
Submit Photo: 1
Photo Submissions 3 Times in 3 Posts
Quote:
Originally Posted by
MopTop Havanese
View Post
Send me good vibes girls~ I will be leaving soon to go to court. UGH!!
Good luck Katie!!!
---
Jan
jashavanese.net
Posting Rules

You may not post new threads

You may not post replies

You may not post attachments

You may not edit your posts

---

HTML code is Off

---