Senior Member
Join Date: May 2007
Location: Indiana
Posts: 3,119
Submit Photo: 3
Photo Submissions 4 Times in 4 Posts
What kinda of music does you Hav like?
---
I know this might sound crazy but I thought that it was very interesting. When I was driving to our playdate this week,I had the music turned off for a minute and Jillee was whining. I turned the music back on and she was fine. When I would go visit her when she was a puppy,there was always country music. So when I turn that music on she is fine....is'nt that cute. She also very much knows her mommy before me. When my breeder would pick us up she would go crazy for her!!! It is too cute!!!
---
~~Mommy"s Little Angel~~
Kubrick & Hitchcock's Mom
Join Date: Apr 2007
Location: New York, NY
Posts: 7,774
Submit Photo: 1
Photo Submissions 33 Times in 24 Posts
Kubrick loves all music. He especially loves it when people sing. He gets very excited and wags his tail and even dances. It's the cutest thing. My sister and I were both in choirs and we both sing a lot (way too much if you ask some people LOL) so Kubrick gets to dance at least once a day.
---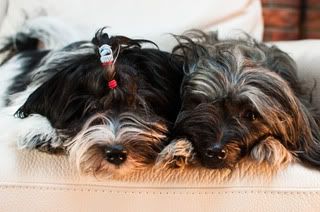 Visit
my blog

-----
Check out my
photos
-----
Photography (pets, people, weddings) -
TripleC Photography
Valentino's Mom, Vicki
Join Date: Oct 2006
Location: Dallas, Texas
Posts: 2,590
Submit Photo: 0
Photo Nominations 1 Time in 1 Post
Valentino loves 60's music! I turn the radio on every night in the room where he sleeps. It is tuned to a great Oldies station. He sleeps great too so he must love it!
LINDA
Join Date: Jun 2007
Location: PA
Posts: 6,496
Submit Photo: 3
Photo Submissions 36 Times in 33 Posts
Senior Member
Join Date: Sep 2006
Location: Kentucky
Posts: 2,166
Submit Photo: 5
Photo Submissions 8 Times in 4 Posts
I listen to heavy metal rock music, I know I'm too old for that stuff. But Nigel will whine in the car until I turn it on, so he must be a fan also.
Maybe I can sneak him in to my next concert
---
Peace, Love & Havanese
Posting Rules

You may not post new threads

You may not post replies

You may not post attachments

You may not edit your posts

---

HTML code is Off

---