Join Date: Oct 2006
Posts: 7
Submit Photo: 0
Photo Submissions 0 Times in 0 Posts
Switching to adult food question?
---
Max is going to be 1 year old in 2 weeks and I have gotten different opinions on when he should switch to adult food. We are giving him Solid Gold puppy food....when should we start adding in some of the adult food to switch him over? Some say now...some say in a few more months.... I would love to know everyone's opinion on this!! Thanks!!
Senior Member
Join Date: Jan 2007
Location: Ca
Posts: 1,672
Submit Photo: 0
Photo Nominations 1 Time in 1 Post
I did it at about a year . Usually your Vet advises you but I do not think there is a set rule .. it is a good idea to do it gradually not all at once - they might get a tipsy tummy ..
We have discussed this before on other posts so you might want to look it up ..
Kubrick & Hitchcock's Mom
Join Date: Apr 2007
Location: New York, NY
Posts: 7,774
Submit Photo: 1
Photo Submissions 33 Times in 24 Posts
You should ask your vet. There are a lot of differing opinions out there on whether or not to feed puppy food at all. However, I do think that if you do feed puppy food, the consensus is either 6 months or a year to switch to adult food. So I would say you should start slowly switching to adult food right now. However, you should ask your vet so he can determine if his weight is good and if it would be good for him to switch now or a little later.
---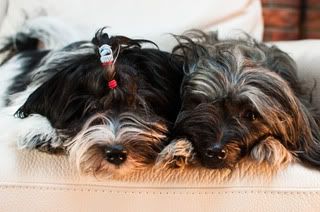 Visit
my blog

-----
Check out my
photos
-----
Photography (pets, people, weddings) -
TripleC Photography
Quincy's Mom-Vinnie too!
Join Date: Feb 2007
Location: Ia.
Posts: 9,923
Submit Photo: 35
Photo Submissions 17 Times in 16 Posts
my breeder recommended switching Quince from puppy to adult food at around 6 months as they tend to grow too fast on the high calorie puppy formulas.When you do decide to switch--just add alittle and keep adding more and more till he is switched over.This gradual way helps their body adjust so you don't end up with the poop-ie butt!
---
Vincent-Quincy's playmate
"Behind every unstable dog is a lesson for the owner"-Cesar Millan
Sissygirl's Mom (Marie)
Join Date: Aug 2007
Location: Oklahoma
Posts: 2,738
Submit Photo: 5
Photo Submissions 4 Times in 3 Posts
My vet switched Sissy at one year - we gradually mixed in the new dog food.
---
Santa, Sissygirl
& Marie
Senior Member
Join Date: Dec 2006
Location: NEW YORK
Posts: 100
Submit Photo: 0
Photo Submissions 0 Times in 0 Posts
A YEAR SOUNDS ABOUT RIGHT
Yoda
Join Date: Sep 2006
Location: San Marcos Calif
Posts: 1,210
Submit Photo: 0
Photo Submissions 0 Times in 0 Posts
About a year old you can switch your dog food just keep with the same brand that you are using
Posting Rules

You may not post new threads

You may not post replies

You may not post attachments

You may not edit your posts

---

HTML code is Off

---