Amanda
Join Date: Nov 2006
Location: South Carolina
Posts: 9,576
Submit Photo: 2
Photo Submissions 31 Times in 22 Posts
Giggling Neezers!
---
My husband just called me at work to tell me how cute Dora is being. She makes this sound when she gets really excited- you are rubbing her butt the right way, there is a new toy I am teasing her with (dancing elmo is a fav!), or she is excited to see you. This sounds is almost like a high pitch giggle. I really gotta get it on youtube but it is so cute and makes her so human like. I am not sure if it is imitation or normal. Do any of your havs giggle?

Amanda
---
Last edited by ama0722; 08-18-2010 at

03:34 PM

.
Senior Member
Join Date: Nov 2006
Location: New Jersey
Posts: 9,794
Submit Photo: 2
Photo Submissions 28 Times in 20 Posts
How cute - little giggles from Dora!! I dont think any of mine giggle, they do growl and/or moan when being scratched in the best places, but no giggles. You gotta get it on utube for us!
---
Lily, Lexi ,Logan, Laila & Lizzie's Mom
www.HillsboroughHavanese.com
(Gigi, Lucas, Dugan, Madeline,Reo,Alvin, Lucky, Lukey, Punch, Colby & Ben-(we will always Love you!!)
Gucci's mom
Join Date: Feb 2007
Location: Virginia Beach, VA
Posts: 9,378
Submit Photo: 1
Photo Submissions 12 Times in 11 Posts
I just LOVE the title of this post!!!
Amanda, you
must
get this on film. You could win America's Funniest Home videos!
Gucci actually whimpers when she is happy to see me, it is like an excited crying?!...that's the best way to describe it.
She has "grumbles" that substitute for growls, I'm sure.
And she'll moan and have other animated sounds, but I can't say I've heard a human-like giggle. How do I teach her that?
I'd love a giggling neezer.
Man oh man.....she is having so much fun w/ her new pumpkin toy. My in-laws are laughing at her, she is so entertaining!
Kara
---
Super Moderator
click to join us: Havanese Forum on Facebook
Senior Member
Join Date: Nov 2006
Location: Long Island, NY
Posts: 8,619
Submit Photo: 3
Photo Submissions 19 Times in 19 Posts
I would love to hear Dora giggle. Hope you can post it.
Kodi does that whiney "happy to see you, Mom". Shelby just whines, period
---
Michele
Kodi & Shelby's Mom and Julian's Grandma
Kubrick & Hitchcock's Mom
Join Date: Apr 2007
Location: New York, NY
Posts: 7,774
Submit Photo: 1
Photo Submissions 33 Times in 24 Posts
Kara and Michele, Kubrick does the whining "I'm so so so happy to see you" thing. So far, though, no giggles Amanda. I would love to see that on camera! Please post a video.
---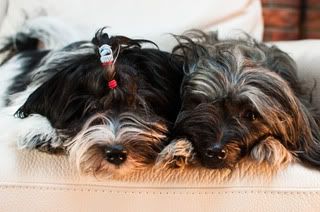 Visit
my blog

-----
Check out my
photos
-----
Photography (pets, people, weddings) -
TripleC Photography
Senior Member
Join Date: Nov 2006
Location: Massachusetts
Posts: 11,746
Submit Photo: 27
Photo Submissions 48 Times in 35 Posts
That is a must get on video for us. So cute sounding.




---
Missy, Jasper & Cash
Quincy's Mom-Vinnie too!
Join Date: Feb 2007
Location: Ia.
Posts: 9,923
Submit Photo: 35
Photo Submissions 17 Times in 16 Posts
No giggles here---but today he wanted on the steps with me and Vinnie was blocking him and he made sounds that varied somewhat(like mimicking)saying something.It was really wierd.I kept eye contact with him and Vinnie did move...maybe it was his way of telling Vinnie get out of my way you big hairball!It was a cross between a whine and growl.I had never heard this before--but I thought it was kinda cool.You know how someone will mumble under their breath?It was like that.I would love to see and hear Dora giggle!How cool!
---
Vincent-Quincy's playmate
"Behind every unstable dog is a lesson for the owner"-Cesar Millan
Valentino's Mom, Vicki
Join Date: Oct 2006
Location: Dallas, Texas
Posts: 2,590
Submit Photo: 0
Photo Nominations 1 Time in 1 Post
Can't wait to hear Dora giggle!!
LINDA
Join Date: Jun 2007
Location: PA
Posts: 6,496
Submit Photo: 3
Photo Submissions 36 Times in 33 Posts
Jeanne
Join Date: Mar 2007
Location: SF Bay Area
Posts: 2,622
Submit Photo: 2
Photo Submissions 3 Times in 3 Posts
No giggling here (other than the carrot and eggplant). Dora is very unique! Do try to get a video. We'd love to see that cutie giggling.
---
Jeanne (Mom to Maddie)
Posting Rules

You may not post new threads

You may not post replies

You may not post attachments

You may not edit your posts

---

HTML code is Off

---