Senior Member
Join Date: Nov 2006
Location: Massachusetts
Posts: 11,746
Submit Photo: 27
Photo Submissions 48 Times in 35 Posts
howling like a hound!!!
---
Cash has picked up barking at things outside the door. But he doesn't just bark he sounds like a hound dog.. ruff ruff rrrrrrruuuuuuuuuooooof! anyone else's HAV sound like a much bigger dog!!! (oh well, we did weigh him today and he is 19 lbs at almost a year- my big little dog)




---
Missy, Jasper & Cash
Riley & Monte's mom
Join Date: Feb 2007
Location: MA
Posts: 5,579
Submit Photo: 2
Photo Submissions 16 Times in 13 Posts
Squirt's Mom
Join Date: Oct 2007
Location: South Florida
Posts: 108
Submit Photo: 0
Photo Submissions 0 Times in 0 Posts
Squirt howls when I am not here. I've never heard her but hubby has told me about it. Said he was amazed such a big dog sound could come of such a little dog (Squirt is full grown and weighs 4.5 pounds).
Biscuit's mom
Join Date: Jul 2007
Location: San Francisco Bay Area
Posts: 2,518
Submit Photo: 2
Photo Submissions 7 Times in 5 Posts
Yes, Biscuit definitely sounds like a much bigger dog. When he was a tiny puppy the first night we brought him home he howled in the ex-pen like an enormous hound dog. We simply couldn't believe it. He doesn't howl much anymore but his bark is loud, deep, and resonant.
---
HAV A GREAT DAY ! ~~AMY & BISCUIT~~
and HEATH-Y, TOO !
howling
---
Racquet has a huge bark when someone is at the door and when he wants attention.
He is 20 pounds at 8 months.
Elayne
Senior Member
Join Date: Nov 2006
Location: New Jersey
Posts: 9,794
Submit Photo: 2
Photo Submissions 28 Times in 20 Posts
How funny - my guys really dont howl, they just bark.. That must have been something to hear - you probably wondered who was in your house!

Oh my, this is the first time that I have seen Squirt - what a doll!!!!!!
---
Lily, Lexi ,Logan, Laila & Lizzie's Mom
www.HillsboroughHavanese.com
(Gigi, Lucas, Dugan, Madeline,Reo,Alvin, Lucky, Lukey, Punch, Colby & Ben-(we will always Love you!!)
Kubrick & Hitchcock's Mom
Join Date: Apr 2007
Location: New York, NY
Posts: 7,774
Submit Photo: 1
Photo Submissions 33 Times in 24 Posts
Laurie, I'm with you on this one. I've yet to hear Kubrick howl at anything. He does bark like a bigger dog, though, as his bark is not very yappy. LOL.
---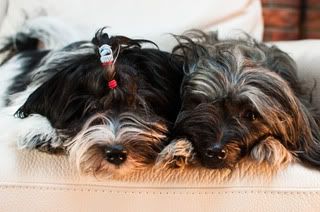 Visit
my blog

-----
Check out my
photos
-----
Photography (pets, people, weddings) -
TripleC Photography
Senior Member
Join Date: Nov 2006
Location: Massachusetts
Posts: 11,746
Submit Photo: 27
Photo Submissions 48 Times in 35 Posts
you know Cash's is more of a long bark than a howl. two ruff's and then an extended ruuuoooooooofffff from deep in his throat but I don't think his head goes back (and then he repeats several times --oy vey) When he was little and first home with us if we left him in he ex pen he would make this ungodly, certainly not dog like screech--- it sounded like a cat in heat or an orangatang of something- it was totally nothing I had heard before on this planet. I am really glad he found his real voice --LOL.

When Jasper was little he was an incredibly quiet dog. We didn't hear him bark until he was 6 months --just little grunts and groans. But if we came home from having left him for a bit and had to run to the bathroom for a minute- he would let out one, and only one, long, mournful, head back, wolf in the night Howl. It was a howl that broke your heart. I haven't heard him howl since he was 6 months old. but boy he can bark now.




---
Missy, Jasper & Cash
Tori's mom
Join Date: Feb 2007
Location: Sunny SoCal
Posts: 4,988
Submit Photo: 19
Photo Submissions 10 Times in 6 Posts
Isn't it amazing that such a loud sound can come from such a tiny body? Tori isn't howling but, she barks at any unfamiliar sound or if she's startled by something. Her bark is so much bigger than you'd expect from such a sweet, tiny (2.9 lb) little girl.
Oreo's Mom
Join Date: Nov 2006
Location: Whitby, ON, Canada
Posts: 2,099
Submit Photo: 0
Photo Submissions 5 Times in 5 Posts
I am with you Missy, Oreo has the LOUDEST bark for a 10lb boy. I think he has a louder bark than all the mid to large dogs I have had. Today we went to the vet and he came face to face with the BIGGEST golden doodle I have ever seen! Well, I am sure all of you can guess what Oreo did
He figured he was going to scare this big monster away by letting out the loudest most annoying barks he could. The other dog was wonderfully a good sport and totally ignored Oreo. Oreo got brave enough for a sniff, but then the moment the other dog turned to look at him....He got a rapid succession of : RU-RU-RU-RUFF, RU-RU-RU-RUFF, RU-RU-RU-RUFF-RUFF!! .....
---
"Life is too short to not follow your heart. Live, love and laugh everyday"
www.helencortez.com
Posting Rules

You may not post new threads

You may not post replies

You may not post attachments

You may not edit your posts

---

HTML code is Off

---