coprophagia cure? /urina Pro-Plan?
---
Hello everybody,
I'm new to the forum. My name is Ana and I'm "owned" by Mojito, a 5 month old Hav. We live in Guatemala city, and this is the first time I've owned a Hav. In fact, there are only 3 other Havs in Guatemala, so not much is known about the breed locally.

I have a question about the nasty habit of eating their poop... Does anybody else have this problem? He's been on Deter for 2 months now, he's taking double dose, but it's not working.

Also, I'm curious if any of your dogs are on Purina Pro-Plan and how the stools are. It used to work very well for Mojito, but since a few weeks ago the consistency is a nightmare to clean. There have been no changes in his diet, table scraps or anything....?

Any comments will be greatly appreciated!
Katie
Join Date: Sep 2006
Location: Rocklin, CA
Posts: 2,217
Submit Photo: 1
Photo Submissions 18 Times in 14 Posts
Welcome!!
I had a dog on Pro Plan for a while.....he ate his poop too!
I switched him to Innova, and it pretty much stopped.
I have just this week started with Canidae (am hoping to stop some itchies on my guy). So far so good and no poop eating!
---
Katie
www.MopTopHavanese.com
Paws.....and reflect on what life has given you~
Bugsy's Mom
Join Date: Nov 2006
Location: San Francisco, CA
Posts: 4,341
Submit Photo: 3
Photo Submissions 6 Times in 5 Posts
Hi Ana and Mojito and
to the forum.
If Deter doesn't help him to stop eating his stool, try adding a teaspoon of pineapple jucie. As far as the change in his stool, I would take a sample of it to your vet to make sure he doesn't have giardia or coccidia.
---
-Julia
Sierra & Baileys servant
Join Date: May 2007
Location: Maastricht, the Netherlands
Posts: 1,125
Submit Photo: 10
Photo Submissions 23 Times in 13 Posts
Welcome!
Wow Hava's in Guatemala! So how/where did you get yours if there are only 3? Must have been quite an endeavour!

Sierra is on Purina Proplan, but has never eaten her stool, actually, she runs fast away from it! hahahaha

Good luck!
Senior Member
Join Date: Nov 2006
Location: New Jersey
Posts: 9,794
Submit Photo: 2
Photo Submissions 28 Times in 20 Posts
Ana - welcome to you and Mojito (love the name!!) We really are spreading thru the world. My guys NEVER did the poop eating but I know there are lots of people here who have experienced it - Kara summed a lot of the solutions up for you! Good luck and post some pics!
---
Lily, Lexi ,Logan, Laila & Lizzie's Mom
www.HillsboroughHavanese.com
(Gigi, Lucas, Dugan, Madeline,Reo,Alvin, Lucky, Lukey, Punch, Colby & Ben-(we will always Love you!!)
Kubrick & Hitchcock's Mom
Join Date: Apr 2007
Location: New York, NY
Posts: 7,774
Submit Photo: 1
Photo Submissions 33 Times in 24 Posts
Kara, I'm not sure that's true about the scolding thing. I tried almost every single thing you mentioned on your post with Kubrick to get him to stop eating his poop (with the exception of the soda can - I tried that with his barking when he was younger and left alone but he didn't care about it). What actually worked for me was to sort of scold him.

I saw him doing it one day and I was SO MAD. Mostly because I'd been trying to get him to stop for so long and nothing worked. I yelled my sound at him to stop (it's a sound I make to make him stop things) and picked him up. I knew I would have to clean up the mess (he had pooped on the pad and dragged it away from it) and he always get in the way. I told him he needed a time out and put him in his crate. After doing this twice, I have yet to see him try to eat his poop again (he HATES being locked in his crate if I'm home). It's actually really funny because after he poops he runs to me with his tail wagging to tell me that he's done. I think he knows he will get praised for not eating it, so that's why he does it. It worked for me, I think, because mostly he poops outside on a leash so he doesn't get a chance to eat it, and when he does poop inside on a pee pad he only does it when I'm home.
---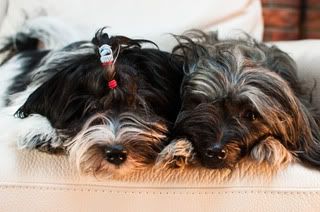 Visit
my blog

-----
Check out my
photos
-----
Photography (pets, people, weddings) -
TripleC Photography
Gucci's mom
Join Date: Feb 2007
Location: Virginia Beach, VA
Posts: 9,378
Submit Photo: 1
Photo Submissions 12 Times in 11 Posts
I'm not clear on the "scolding" thing either, The way I understood it...is that if you scold them when they are young for pooping where they aren't suppose to, it could 'trigger' them to eat their poop to clean up after themselves? Who knows? lol......Like I said, its just an opinion from a book, I have no expertise
Actually, I did put Gucci in her crate after pooping in the house months ago and she hasnt' done it since??!! But, I'm guessing that only works for people that don't use the crate. She's never been it it. I couldn't bring myself to ever use it when she was a pup because its a cage! lol, the fancy word couldn't ease my mind.
Kara
---
Super Moderator
click to join us: Havanese Forum on Facebook
Oscar's Mom
Join Date: May 2007
Location: Florida
Posts: 213
Submit Photo: 1
Photo Nominations 1 Time in 1 Post
Hi Ana,
Welcome to the forum. I have an adopted daughter from Guatemala. I was in Guatemala City 20 years ago to pick her up from the orphanage. She's now 30. We saw a little of the country when we were there--it was beautiful. I would like to go back there with her sometime, but now she is married and has a baby of her own, so it won't be for a few years.
Sorry, I hijacked this thread! As for the poop-eating, my neighbors dog did that and she switched her food to the Chicken Soup for the Dog lover's soul and that has worked. Oscar can only go out on the leash to go potty, so I just pick it up immediately and he hasn't had a chance to start that--although once he discovered the cat litter box, he found some "tasty" morsels!
I have also heard that pineapple or pineapple juice works well.
Marsha
Senior Member
Join Date: Nov 2006
Location: Massachusetts
Posts: 11,746
Submit Photo: 27
Photo Submissions 48 Times in 35 Posts
Hi Ana, so glad you found us from Guatamala. Welcome. I have a poop eater too. and I never thought I could love a poop eater so much. He was on Purina Pro Plan too- and I switched to Innova as well. (I have my own theory about it being caused by the "animal digest" that is in there) But what really worked for us was adding a bit of crushed pineapple to every meal. I just put a little on the side mixed with some plain yogurt to make sure he eats the pineapple.

For us a firm but not hysterical NO worked as well. I think 5 months is probably old enough to be able to deal with a NO and not become a cleaner upper (but my Cash seemed to eat the poo out of sheer joy and possibly hunger there was no guilt involved)

Yes, tell us how you found your Hav. and more pictures of Mojito--- we love pictures.




---
Missy, Jasper & Cash
Scout
Join Date: Jan 2007
Location: Milwaukee, WI
Posts: 334
Submit Photo: 1
Photo Submissions 0 Times in 0 Posts
Ana--
Scout ate Purina Pro Plan for Puppies and had no problems with it. It seems like a lot of Havanese breeders use it and recommend it.
Scout also used to eat his poop. We sprinkle Lawry's Meat Tenderizer on his kibble (every meal), and he seems to have broken that nasty habit (either the tenderizer works or he outgrew that interest). Deter did not work for us.
There is a lengthy thread on the poop-eating issue at
http://havaneseforum.com/showthread.php?t=328
Good luck with your pup!
--Diane
Posting Rules

You may not post new threads

You may not post replies

You may not post attachments

You may not edit your posts

---

HTML code is Off

---