Brush Anyone??
Join Date: May 2007
Location: Indiana
Posts: 983
Submit Photo: 0
Photo Submissions 7 Times in 5 Posts
Hey all!!
---
I've been reading but haven't had time to respond...we're going to Disney World Tuesday and I am a last minute fool....no time to think...
Just wanted everyone to know I'm thinking about you and your dogs and all the surgeries, diets, new puppies, training issues, etc. going on.
I'm going to miss Winston so much. My brother's family is taking him [remember Pepper the chiuaua pom mix?] so I know he'll be fine.
Wish me luck. My 3 kids are BOUNCING off the walls with anticipation.
We're flying there Tuesday am and driving home Sunday Mid afternoon, DH plans on straight through so kids can go to school Monday. Yikes...14 HOURS.
Trish
---
Winston's Mom, Trish
Quincy's Mom-Vinnie too!
Join Date: Feb 2007
Location: Ia.
Posts: 9,923
Submit Photo: 35
Photo Submissions 17 Times in 16 Posts
Have a safe and fun trip Trish!We will miss you.........but look forward to your return!Winston will be well taken care of--don't worry.
Have a ton of fun!
---
Vincent-Quincy's playmate
"Behind every unstable dog is a lesson for the owner"-Cesar Millan
Kubrick & Hitchcock's Mom
Join Date: Apr 2007
Location: New York, NY
Posts: 7,774
Submit Photo: 1
Photo Submissions 33 Times in 24 Posts
Have a safe drive down there Trish! I'm sure your kids will have a blast and it will be great to see Winston when you get back (he sure will be excited to see you)!
HAVE FUN!
---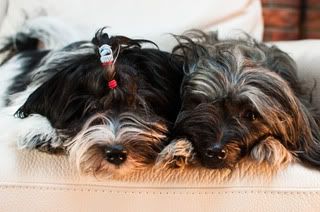 Visit
my blog

-----
Check out my
photos
-----
Photography (pets, people, weddings) -
TripleC Photography
Amanda
Join Date: Nov 2006
Location: South Carolina
Posts: 9,576
Submit Photo: 2
Photo Submissions 31 Times in 22 Posts
MIC cya real soon, KEY coz we Like you, MOUSE

Amanda
Kimberly
Join Date: Aug 2006
Location: San Francisco Bay Area
Posts: 10,275
Submit Photo: 5
Photo Submissions 19 Times in 13 Posts
LOL!!! Amanda!

Have a great time, Trish! Cartier's family is doing the same thing so he is with us for this week. Enjoy your time away. Winston will be so glad to see you when you return, but hopefully, he'll have a fun time away from you for a few days too. (I just did a 17 hour drive alone with only a short stop to sleep, so you'll be fine - I hope.)
Senior Member
Join Date: May 2007
Location: Indiana
Posts: 3,119
Submit Photo: 3
Photo Submissions 4 Times in 4 Posts
Hey Trish!!!! I hope you all have a safe and fun trip!!!!! We will look forward to all the fun times you will share with us!!!! I am sure Winston will have a good time with his buddy but I am sure you will miss him!!!! Let us know when you get back!!!! Enjoy it there I love it!!!!!
---
~~Mommy"s Little Angel~~
Sissygirl's Mom (Marie)
Join Date: Aug 2007
Location: Oklahoma
Posts: 2,738
Submit Photo: 5
Photo Submissions 4 Times in 3 Posts
Have a great time at Disney World - a great place - I loved it!

Make sure you go to It's a Small World.
---
Santa, Sissygirl
& Marie
Posting Rules

You may not post new threads

You may not post replies

You may not post attachments

You may not edit your posts

---

HTML code is Off

---