Amanda
Join Date: Nov 2006
Location: South Carolina
Posts: 9,576
Submit Photo: 2
Photo Submissions 31 Times in 22 Posts
So Cal Shopping Fun!!!
---
Today, I met at Leslie's house and we took the girls to a arts fair. The best part is, the stroller and the dogs were a huge hit and very welcomed! The girls were completely welcome and Tori was voted the cutest puppy (according to EVERYONE!) There were dogs, children, and adults in costume as well.
Here are some photos of our day! The stroller was so used and the bag. Tori was able to take a short nap (Leslie had to hide her from the crowd), Leslie's granddaughter got quite a few kisses! Capturing Tori on film proved to be a bit of a challenge- I think she didn't want to leave all of her fans to sit on the pumpkin people! It proved to be a good day and the area was fabulous on welcoming dogs!!!
It is also great to be able to shop, take the dogs, eat some Peruvian food and have fun with a great forum friend!
Amanda
P.S. Leslie was using Tori to sell the havanese forum, Jan if payment is a cutie like Tori, I will try door to door sales
---
Last edited by ama0722; 08-18-2010 at

03:34 PM

.
Senior Member
Join Date: Nov 2006
Location: Massachusetts
Posts: 11,746
Submit Photo: 27
Photo Submissions 48 Times in 35 Posts
you know I very rarely say this, but Leslie, I think your grand daughter may be cuter than a Havanese!!! LOL but then again Havanese bring out the cuteness in everyone. Great pictures. thanks for posting them Amanda. Your girls look adorable in the stroller. and OMG Tori's nose popping out of the bag!!! so cute




---
Missy, Jasper & Cash
Amanda
Join Date: Nov 2006
Location: South Carolina
Posts: 9,576
Submit Photo: 2
Photo Submissions 31 Times in 22 Posts
Because we were having so much fun....
---
a few more!
---
Last edited by ama0722; 08-18-2010 at

03:34 PM

.
Senior Member
Join Date: Apr 2007
Location: SF area
Posts: 6,425
Submit Photo: 63
Photo Submissions 62 Times in 48 Posts
ADORABLE!!!!!!!!!!!!!!!!!!!
---
Sally,((Oliver)) Comet and Pennie too!
The best things in life are not things!
Senior Member
Join Date: Nov 2006
Location: California
Posts: 2,082
Submit Photo: 3
Photo Submissions 2 Times in 2 Posts
Great pictures, looks like fun for sure! Did the dogs dress in costume too??
---
Kathy
www.bellahavanese.com
Senior Member
Join Date: Apr 2007
Location: FLORIDA!
Posts: 4,657
Submit Photo: 1
Photo Submissions 3 Times in 3 Posts
Amanda, it's great that you and Leslie can have so much fun together! Leslie's granddaughter is so cute. I just love the picture of all 3 dogs in the stroller and Tori is looking up at Dora.
---
Jan
jashavanese.net
Pepper's mom
Join Date: May 2007
Location: Southern CA
Posts: 1,329
Submit Photo: 0
Photo Submissions 6 Times in 5 Posts
Those pictures are great! It looks like you guys had a great time. The girls look absolutely adorable in the stroller. And Leslie's granddaughter is very cute!
Wanda
Kubrick & Hitchcock's Mom
Join Date: Apr 2007
Location: New York, NY
Posts: 7,774
Submit Photo: 1
Photo Submissions 33 Times in 24 Posts
What great pictures and what a wonderful day! I love that pic of Tori looking up at Dora with Bella in the stroller! Your granddaughter is so cute, Leslie!
---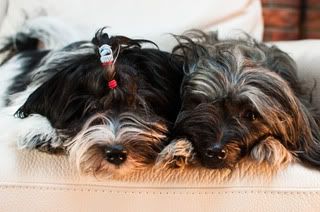 Visit
my blog

-----
Check out my
photos
-----
Photography (pets, people, weddings) -
TripleC Photography
Amanda
Join Date: Nov 2006
Location: South Carolina
Posts: 9,576
Submit Photo: 2
Photo Submissions 31 Times in 22 Posts
Thanks everyone-
Kathy, we were there about 12 hours so we left the costumes off, Dora isn't a very patient snow white.
My girls love running around at Leslie's house... my maltese especially!
Tori loved little Isabelle (maybe the size) actually but Bell isn't a very dog friendly dog! She would charge Tori, growl at her, . Good thing is, Tori would follow her again and Belle is all bark (actually a scardy cat)! I was bad and used the laser light to get Tori to chase Dora
Dora never sees those things. She just stares at you like "hey are cookies gonna drop out or what?" Tori wanted to do RLH's with them and would start to go but they go so fast and Tori is still in that cute little drunken puppy stage!
Amanda
Tori's mom
Join Date: Feb 2007
Location: Sunny SoCal
Posts: 4,988
Submit Photo: 19
Photo Submissions 10 Times in 6 Posts
Amanda~ The pics turned out so well! Thanks for posting them. I have to get mine off the camera and resized, then I'll post any that turned out decently.
Yes, we did have a great time. "The Village Venture" is a yearly festival here in Claremont. I think Amanda was pleasantly surprised at how dog friendly it is here
Tori & I loved hanging out w/Amanda and the girls. We were stopped over and over again throughout the day and asked about the dogs. I can't tell you how many times we heard, "A hava - what???"
We did spend quite a bit of time talking w/a couple who want to get one for her mother (they own a lahsa themselves, but after their reaction to Tori and Dora, I wouldn't be surprised if they add one to their household, too!). They are the ones I told to come here to the forum for the best info regarding Havanese
Anyhow, the day was wonderful and I promise to get my pics on here asap. Probably not until this afternoon, though. We have a committment this AM. So, stay tuned!
P.S. Thanks for all the kind comments about my precious little Hannah. She is our pride and joy! She was so pleased w/her Cinderella costume...she is a total "girly-girl" through and through!
---
Last edited by Leslie; 10-28-2007 at

11:22 PM

. Reason: add PS
Posting Rules

You may not post new threads

You may not post replies

You may not post attachments

You may not edit your posts

---

HTML code is Off

---