Urinary Tract Infection
---
I think Dilly now has her 2nd uti in 2 weeks. She is asking to go out every 5-10 minutes and going more than once while we are out.

Last time we were given antibiotics and some type of science diet food and of course a huge vet bill. I can't believe it is back again.

Any one with experience with reccurent uti's? Am I doing something wrong? Is there anything I can do to help prevent them?

She gets Canidae kibble food. Free access to water during the day. I am always careful when I bath her to rinse that area very well.

Any advice?
Thanks,
Kim
Senior Member
Join Date: Nov 2006
Location: New Jersey
Posts: 9,794
Submit Photo: 2
Photo Submissions 28 Times in 20 Posts
Kim, I had the same problems with Lily a while ago. She would sit for 60 full seconds before peeing. We even started to have some accidents in the house. The vet ran the usual urine tests and also did a sonogram and found she had crystals in her bladder, which if left untreated, could result in kidney stones. Ever since she has been on a special vet diet , only getting distilled water. They explained that it is that her body cannot bread down certain minerals , which in turn create the crystals. Have your vet check for that. Lily is healthy as a horse now that she has been on the special food and water for a few years now!! Good luck and let us know!
Laurie
---
Lily, Lexi ,Logan, Laila & Lizzie's Mom
www.HillsboroughHavanese.com
(Gigi, Lucas, Dugan, Madeline,Reo,Alvin, Lucky, Lukey, Punch, Colby & Ben-(we will always Love you!!)
Kimberly
Join Date: Aug 2006
Location: San Francisco Bay Area
Posts: 10,275
Submit Photo: 5
Photo Submissions 19 Times in 13 Posts
I'm glad Laurie posted.

Has Dilly been tested for the crystals in her urine too?

Is Canidae one of the really high protein kibbles?
Bugsy's Mom
Join Date: Nov 2006
Location: San Francisco, CA
Posts: 4,341
Submit Photo: 3
Photo Submissions 6 Times in 5 Posts
Kim,
You've got some great advice from Laurie about checking for bladder stones. If there are none, she could just be prone to UTI/bladder infections. My female standard poodle had three UTI within 5 or 6 months period, so after the infection was cleared (she doesn't have any bladder stones) I put her on a daily regiment of cranberry supplment and it seemed to have done the trick for her (knocking on wood). I also give a the same supplement to my 10.5 year old female persian, as they are know for bladder/kidney problems and being proactive doesn't hurt.
Good luck and keep us posted,
---
-Julia
Kubrick & Hitchcock's Mom
Join Date: Apr 2007
Location: New York, NY
Posts: 7,774
Submit Photo: 1
Photo Submissions 33 Times in 24 Posts
Kim, I'm sorry to hear about Dilly, but I agree with the others, you should check for crystals to see if it isn't more serious! Good luck and keep us updated!
---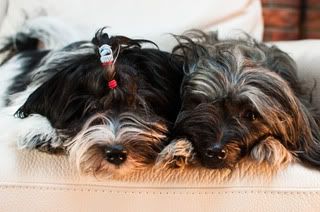 Visit
my blog

-----
Check out my
photos
-----
Photography (pets, people, weddings) -
TripleC Photography
Thanks for all your responses.

Laurie--Thanks, I will have them check for crystals. What kind of food do you use?

Kimberly--The bag says 24% protein. I am not sure if that is high or not.

Julia--- What kind of cranberry supplement do you use?

Thanks for all your help.
Kim
Posting Rules

You may not post new threads

You may not post replies

You may not post attachments

You may not edit your posts

---

HTML code is Off

---