Senior Member
Join Date: Apr 2007
Location: FLORIDA!
Posts: 4,657
Submit Photo: 1
Photo Submissions 3 Times in 3 Posts
Love dogs, wonder about people
---
We were watching the news tonight and they showed an almost grown dog that a person shot with a bow and arrow. They claim the dog growled at them. The owners of the dog left the arrow in the dog's chest/leg area and just broke the stick part off. The dog was like that for TWO DAYS and someone stepped in and called our local news and they went out and filmed the dog and took it to a vet. The vet did the surgery to take the arrow out free and is also going to board the dog with him for several weeks until it's healed.
The dog was something else. You could see the pain it was in and yet when people walked up to him with that arrow in his bloody body, the dog was wagging it's tail. A person shot that dog, it's owners didn't do a **** thing to help the dog and yet that dog still loved people.
Dogs are amazing, people on the other hand..........
---
Jan
jashavanese.net
Kubrick & Hitchcock's Mom
Join Date: Apr 2007
Location: New York, NY
Posts: 7,774
Submit Photo: 1
Photo Submissions 33 Times in 24 Posts
Jan that is so sad! I too sometimes wonder about people. There is so much wrong with the world, sometimes it's overwhelming how bad people really can be.
---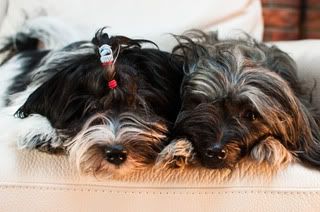 Visit
my blog

-----
Check out my
photos
-----
Photography (pets, people, weddings) -
TripleC Photography
Riley & Monte's mom
Join Date: Feb 2007
Location: MA
Posts: 5,579
Submit Photo: 2
Photo Submissions 16 Times in 13 Posts
Senior Member
Join Date: Nov 2006
Location: New Jersey
Posts: 9,794
Submit Photo: 2
Photo Submissions 28 Times in 20 Posts
PLEASE tell me that they pressed charges again the owners?!?!?
---
Lily, Lexi ,Logan, Laila & Lizzie's Mom
www.HillsboroughHavanese.com
(Gigi, Lucas, Dugan, Madeline,Reo,Alvin, Lucky, Lukey, Punch, Colby & Ben-(we will always Love you!!)
Senior Member
Join Date: Mar 2007
Location: Pa
Posts: 269
Submit Photo: 0
Photo Submissions 0 Times in 0 Posts
Hopefully those people are in jail and that wonderful dog will go to a deserving family that will take care of it. I hate to hear stories like that. You see it all too often now.
Izzy, Doc, and Kai's mom
Join Date: Jan 2007
Location: Monmouth, IL
Posts: 2,349
Submit Photo: 4
Photo Submissions 30 Times in 13 Posts
Sick, Sick, Sick.....what in the world makes people to insensitive to the pain of an animal?? Of course, these same people are insensitive to the pain of other people, too. Sick, Sick, Sick!!
---
Doc
Quincy's Mom-Vinnie too!
Join Date: Feb 2007
Location: Ia.
Posts: 9,923
Submit Photo: 35
Photo Submissions 17 Times in 16 Posts
That is sad.....I think people are losing their compassion towards animals and each other.You see it all the time......
On our news last night,was the opposite story--and kinda funny in a way.....a hunter was out of course hunting with his hunting dog and had shot a pheasant and went to get it.The dog had come back to him where he had layed down his rifle.As the man started to climb over the fence(to retrieve it)the dog stepped on the rifle and shot the man......the man was shot in the ankle and is in the hospital doing fine.But can you believe it?A dog shot the human.....
---
Vincent-Quincy's playmate
"Behind every unstable dog is a lesson for the owner"-Cesar Millan
Amanda
Join Date: Nov 2006
Location: South Carolina
Posts: 9,576
Submit Photo: 2
Photo Submissions 31 Times in 22 Posts
Someone needs to give that dog a bow and arrow! Our dogs are so sweet and forgiving, he will probably never use. The good thing about the news stories like these-there will probably a great forever home waiting to bring this guy home and really show him love and compassion.

My grandmother found a cat in her woods that had a bb pellet between its eyes. The cat was able to see fine but when the pellet was removed, the hair never grew back. So there was a black spot, and my grandmother just called her "Indian princess," I just like to think it was an accident.
Sissygirl's Mom (Marie)
Join Date: Aug 2007
Location: Oklahoma
Posts: 2,738
Submit Photo: 5
Photo Submissions 4 Times in 3 Posts
I get so mad when I see someone being mean to a dog/puppy. Some people are just ignorant..... I wonder why they get a dog in the first place?????
---
Santa, Sissygirl
& Marie
Susan
Join Date: Feb 2007
Location: Near San Francisco Bay Area
Posts: 4,063
Submit Photo: 2
Photo Submissions 2 Times in 2 Posts
Humans can be so cruel. In so many ways. We hold grudges over the stupidest things and yet an animal can forgive something so painful and awful. Sometimes I think the human race needs to be wiped out and begun again. We've lost our perspective, our compassion and so much else. When I start to think that though, I remember all the good, like how the folks on this very list came together for a complete stranger who lost her home. Maybe only half the population needs to be wiped out and begun again....

Whoever said animals are the lower species needs to take another look.

Susan
---
Susan
Posting Rules

You may not post new threads

You may not post replies

You may not post attachments

You may not edit your posts

---

HTML code is Off

---