Join Date: Oct 2007
Posts: 2
Submit Photo: 0
Photo Submissions 0 Times in 0 Posts
Looking for a breeder in Utah
---
My wife and I are recently married, we both come from dog families, her family has consistently owned collies and my family has raised a couple of miniature schnauzers.

we decided that the breed that we would like to adopt together is a havanese. we live in the greater Salt Lake City, Utah area. Can anyone recommend a reputable breeder in the area?

Also we have looked at a couple of breeders that have advertised in various search engines. I'm an a little skeptical about adopting a dog and having it flown over to us. Does anyone have any experience with that?

thanks for your insight.

-Phil
Kimberly
Join Date: Aug 2006
Location: San Francisco Bay Area
Posts: 10,275
Submit Photo: 5
Photo Submissions 19 Times in 13 Posts
There is only one breeder in Utah that I know of and she doesn't breed often - maybe once a year? I need to check with Melissa in regard to the rules on posting breeder information, but in the meantime, I'll send you a private message.

With any breeder, I highly recommend that you verify the health testing of both parents yourself and get to know the breeder before you ever look at puppies.
Senior Member
Join Date: Aug 2007
Location: N. Nevada
Posts: 1,665
Submit Photo: 25
Photo Submissions 18 Times in 13 Posts
Hi Phil,
to the forum. I am not aware of any breeders in your area, but maybe someone else here does.
Glad to see that you found us
this is a great place to get lots of information.
---
Heather
Caché Havanese
"What Lies Behind Us And What Lies Before Us
Are Tiny Matters Compared To What Lies Within Us."
Here are some links to help educate yourself in how to fight for your rights to continue to own and love your animals. Please do not be mislead by PETA or HSUS who is PETA in suits.
Kubrick & Hitchcock's Mom
Join Date: Apr 2007
Location: New York, NY
Posts: 7,774
Submit Photo: 1
Photo Submissions 33 Times in 24 Posts
Hi Phil and
to the forum! I don't know of any breeders in the Utah area, but I personally wouldn't ship a puppy, though I know people who have done it. It's hit or miss in my opinion. Either it works out just fine or there are complications. I flew out to my breeder's to pick up Kubrick and I don't regret it at all. He flew in the cabin with me and I felt a lot more comfortable about it.
Good luck on the puppy search and keep us updated!
---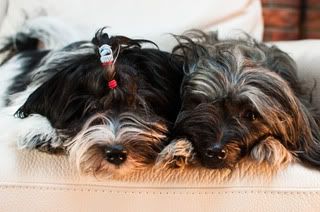 Visit
my blog

-----
Check out my
photos
-----
Photography (pets, people, weddings) -
TripleC Photography
Join Date: Oct 2007
Posts: 2
Submit Photo: 0
Photo Submissions 0 Times in 0 Posts
Thank you for all of the responses. I have more PMs right now than I can shake a stick at! I've already been able to make contact with a number of breeders, so here is my next question. When you are selecting who to buy from what do you look for? What should come with a puppy "package" like shots or genetic testing? What should I be looking for in a breeder, and for that matter in the puppy? Thanks for your help! (I know that I am a total geenie when it comes to this)
Senior Member
Join Date: May 2007
Location: Indiana
Posts: 3,119
Submit Photo: 3
Photo Submissions 4 Times in 4 Posts
Hi and
welcome to the forum!!!! You will find all the right information that you need to make the right decision on your forever furry friend!!!!! I am not able help to help you with looking in your area....sorry
Keep us posted on all you find out!!!!!!!!
---
~~Mommy"s Little Angel~~
Posting Rules

You may not post new threads

You may not post replies

You may not post attachments

You may not edit your posts

---

HTML code is Off

---