Join Date: Oct 2007
Posts: 17
Submit Photo: 0
Photo Submissions 0 Times in 0 Posts
Havanese + Saint Bernard = Squish?
---
This isn't a question for the immediate future, but once Riley is full grown I'd like to get him a life-long dog companion. I've always loved Saint Bernards, but didn't have enough space for me to be sure that he'd be totally happy. I'm moving into a new place with more than enough space though, and am thinking this might be the right time to finally get one.
Do you guys think this is a bad idea? I know a Saint Bernard would never hurt Riley intenionally, but a 50 pound puppy is not the most coordinated thing in the world and may hurt him on accident. A 10 pound Havanese is 10 times tougher than a human of the same size though, so I'm thinking it might work out as well. My other choices are to adopt a smaller dog or get another Havanese.
So what do you guys think? As you can see I'm leaning towards the Saint Bernard, unless you can talk me out of it. I'm so glad I found this forum, I have no idea where I could ask this otherwise
.
Kubrick & Hitchcock's Mom
Join Date: Apr 2007
Location: New York, NY
Posts: 7,774
Submit Photo: 1
Photo Submissions 33 Times in 24 Posts
I think St. Bernards are great dogs and very calm and loving. However, I personally wouldn't have one with a Hav around... especially if you are considering getting a puppy. They really have no idea of their size and although you can train them to be good with small dogs, it would still require constant supervision. I might be overly cautious, but I wouldn't want to take the chance of something happening.

Btw, I say this based on my experience with my aunt's St Bernard. He does love small dogs but is never allowed to play with them alone.
---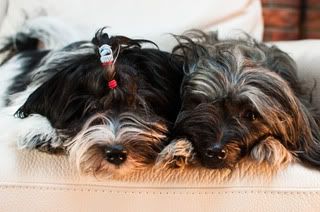 Visit
my blog

-----
Check out my
photos
-----
Photography (pets, people, weddings) -
TripleC Photography
Marley's Mom
Join Date: Jun 2007
Location: Snohomish, WA
Posts: 629
Submit Photo: 2
Photo Submissions 6 Times in 3 Posts
My friend has a leonberger puppy and loves to play with Marley, but it IS kind of like an elephant in a porcelain store.... I've seen lots of big dog little dog combos, but I think it's the puppy stage of the big one that is going to feel looooooooooooong to you if you have to keep that puppy from trying to chew on or flatten your Hav' for months, even if it's in play.

So if you are stuck on the idea of getting a big one, I'd find a purebread rescue and see if there's one that connects well with your pup.

But are you SURE you want all that fur flying around?? I Love, love, love the non-shedding quality of the Hav's. Now you may be Mr. Super house man, but personally I am not a big fan of repetitive jobs around the house, and you can pretty much strap a broom to your side constantly if you get a big furry puppy!!

Alexa
Kubrick & Hitchcock's Mom
Join Date: Apr 2007
Location: New York, NY
Posts: 7,774
Submit Photo: 1
Photo Submissions 33 Times in 24 Posts
Alexa, I think what scares me the most is the drool! I'm not sure that a fur and drool combination would work for me. LOL.
---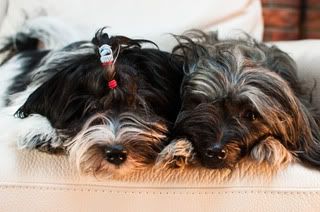 Visit
my blog

-----
Check out my
photos
-----
Photography (pets, people, weddings) -
TripleC Photography
Senior Member
Join Date: Nov 2006
Location: New Jersey
Posts: 9,794
Submit Photo: 2
Photo Submissions 28 Times in 20 Posts
I think that they are a beautful breed of dog!! Although my biggest concern would be the size issue. If they grew up together, Iam sure they would get along well, but my fear would be the "accidental" play, or roll over. Havs like to play and if the two get going, there could be a tragedy. And that drool= and hair! Not for me, but I know people who love their Bernards. Hard decision.
---
Lily, Lexi ,Logan, Laila & Lizzie's Mom
www.HillsboroughHavanese.com
(Gigi, Lucas, Dugan, Madeline,Reo,Alvin, Lucky, Lukey, Punch, Colby & Ben-(we will always Love you!!)
Senior Member
Join Date: Sep 2006
Location: Kentucky
Posts: 2,166
Submit Photo: 5
Photo Submissions 8 Times in 4 Posts
I have a lab, and she weighs 80+lbs..and she is great with my havs....But, she was full grown 7 years old when I got my first hav...

I would not bring a large breed puppy into my home with my havs...

My lab was such a big, strong lug, when she was a puppy..there is no way a hav could keep up with her. She is great with them, and very gentle, when they were puppies..You might want to try and get an adult..


But I can say, the only thing better than a havanese another havanese...
---
Peace, Love & Havanese
---
Last edited by Paige; 11-02-2007 at

10:43 AM

.
Senior Member
Join Date: May 2007
Location: Indiana
Posts: 3,119
Submit Photo: 3
Photo Submissions 4 Times in 4 Posts
Well, I would be careful in possibly getting a bigger dog......we have a lab but she is 12 years old so way past the puppy stage....they play very well together. My parents have a gshp that is very big but they play very well together but at times I can see where she would get hurt.....I would look into a rescue and maybe that would be the route to go....Keep us posted on what you decide!!!!
---
~~Mommy"s Little Angel~~
Join Date: Oct 2007
Posts: 58
Submit Photo: 0
Photo Submissions 0 Times in 0 Posts
When I was in grade school, my mother raised poodles. That was when they were considered rare and commanded high prices. Regardless. my mother also had a Saint Bernard. It was loving and gentle. However, one day one of the males was irritating the St. Bernard. He had enough and grabbed the little guy and in almost an instant snapped his neck and killed him. Did he mean to do it? No, but a Saint Bernard outweighs a little poodle both in girth and strength. accidents happen.
Amanda
Join Date: Nov 2006
Location: South Carolina
Posts: 9,576
Submit Photo: 2
Photo Submissions 31 Times in 22 Posts
I think I would have done it the otherway around honestly! I have a friend who raises Bernese Mountain Dogs. Even though our dogs are suppose to sniff each other out, Dora thinks every Berner is like Tempo (the one she did puppy class with!) and runs to them to play. While I have never met a mean or aggressive Berner, the Berner getting excited and jumping down, could really hurt her. Carol and David teach their Berners that when playing with little dogs they have to do a down. Seriously, Tempo would see Dora, get excited and lay on her stomach to play with her!

I just think it is really hard to teach a puppy who will be coming into your home 3X the size of your havanese to be gentle! I would say maybe if you could find a St. Bernard from a breeder who was older (1+), already socialized, etc. But would I ever take the chance of leaving that size difference home alone... nope! Just too much risk if they get into a fight over a bone, etc.

Dora is honestly double Belle's size and lets just say Dora could easily hurt her if she got really mad. Thank goodness Dora is the most easy going dog and adores Belle. She only sends Belle reminders when Belle is in crazy attack dog mode. She will stand over her and Belle quickly gets the hint.

And Bernard v. Havanese.... come on :P

Amanda
Katie
Join Date: Sep 2006
Location: Rocklin, CA
Posts: 2,217
Submit Photo: 1
Photo Submissions 18 Times in 14 Posts
You could just get a Havanese that LOOKS like a Saint Bernard.....
---
Katie
www.MopTopHavanese.com
Paws.....and reflect on what life has given you~
---
Last edited by MopTop Havanese; 08-11-2010 at

01:08 AM

.
Posting Rules

You may not post new threads

You may not post replies

You may not post attachments

You may not edit your posts

---

HTML code is Off

---