Katrina
Join Date: Aug 2007
Location: East Tennessee
Posts: 1,414
Submit Photo: 15
Photo Submissions 0 Times in 0 Posts
Puppu mill raided in richmond Virginia
---
RICHMOND, Va. (AP) — A dog breeding operation that was home to more than 600 breeding females is now the site of a huge rescue operation, with the owner agreeing to relinquish nearly 1,000 dogs for treatment and possible adoption.
Hundreds of puppies, mostly small, purebred varieties such as pugs, corgis and King Charles spaniels were taken to an emergency operations center staffed by volunteer veterinarians, Carroll County Administrator Gary Larrowe said Thursday.
He estimated that as many as 120 people are involved at any given time, and said the pet store chain PetSmart sent a tractor-trailer load of supplies.
"I'm not sure what we would have done with 1,000 dogs otherwise," he said.
The dog breeding operation was uncovered by the Humane Society of the United States during a five-month investigation into so-called "puppy mills" in Virginia. Local animal rights groups made sure the county was aware of the report, and the county then asked for state help.
Many of the dogs were discovered in cages made of wire fencing and wood framing, said the Humane Society's John Snyder. The animals largely appeared to be in good shape, Larrowe said, although many were denied the socialization that produces good pets.
Junior Horton, the owner of the breeding operation, has been breeding dogs for more than 20 years, he told authorities, and had a license to have as many as 500 dogs.
Earlier this week, Horton called the effort to remove dogs from his farm "dognapping." He said, "They just come in on me out of the blue."
"I've got the best kennel in southwest Virginia," he said.
In negotiations with county officials, Horton will keep 200 dogs and will secure the proper licensing and comply with federal laws for dog breeders, Larrowe said.
He could eventually face charges that include animal cruelty, but he has cooperated as authorities work to remove the dogs from his farm, treat them and send them on to shelters.
Animal shelters up and down the East Coast are preparing for arrivals.
The dogs, once cleared for release, will be sent to shelters from as far away as Fort Lauderdale, Fla., to upstate New York, Snyder said.
———
On the Net:
Carroll County Puppy Mill:
gov.carrollcountyva.org/animalcontrol/
Virginia Partnership for Animal Welfare and Support:
www.vapaws.org
Humane Society of the United States:
www.hsus.org
---
Katrina
and Princess Furface ---Lilly
www.youravon.com/kpresnell
Goldie and Stogie
Join Date: Aug 2006
Location: Dallas
Posts: 2,301
Submit Photo: 7
Photo Submissions 13 Times in 10 Posts
He can keep 200 dogs????? Oh my gosh that makes me sick. Those poor dogs live their lives in cages. I am kinda speechless...
Kubrick & Hitchcock's Mom
Join Date: Apr 2007
Location: New York, NY
Posts: 7,774
Submit Photo: 1
Photo Submissions 33 Times in 24 Posts
I don't care how much he has "cooperated" in allowing shelters to remove the dogs, he should not be allowed to keep a single dog! It's good that something is being done about some of the dogs, but what about the ones that will be left behind?
---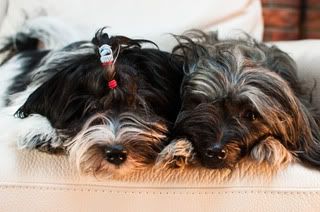 Visit
my blog

-----
Check out my
photos
-----
Photography (pets, people, weddings) -
TripleC Photography
Katrina
Join Date: Aug 2007
Location: East Tennessee
Posts: 1,414
Submit Photo: 15
Photo Submissions 0 Times in 0 Posts
I agree ladies he shouldn't get to keep one let alone 200. I wish something like this would happen in Lancaster county Penn.
---
Katrina
and Princess Furface ---Lilly
www.youravon.com/kpresnell
Riley & Monte's mom
Join Date: Feb 2007
Location: MA
Posts: 5,579
Submit Photo: 2
Photo Submissions 16 Times in 13 Posts
Katrina thank you for this post. The owner of my boys day care/training facility was deployed by HSUS the end of Sept for a puppy mill raid in Maine. She is a member of NDART, SMART, and CMDART and is currently forming a Gemini Dogs Disaster Animal Response Team. So many volenteers are needed during these raids to help feed, shelter and care for these animals please consider getting involved. Here are a couple of links to help get you started for anyone interested.
http://www.ndart.org
http://www.americanhumane.org/site/P...lief_volunteer
Kimberly
Join Date: Aug 2006
Location: San Francisco Bay Area
Posts: 10,275
Submit Photo: 5
Photo Submissions 18 Times in 12 Posts
It is amazing to me that a person can be licensed for 500 dogs. How on earth does that happen?

I am glad that the dogs "largely appeared to be in good shape", but there is no way to possibly socialize that many animals, much less puppies, who need it most, and truly care for that many dogs without a huge staff. That is crazy.
Amanda
Join Date: Nov 2006
Location: South Carolina
Posts: 9,576
Submit Photo: 2
Photo Submissions 31 Times in 22 Posts
Gets to keep 200 like he was only having a few over his quota... ugh!
I sent an email to HRI but lets keep our paws crossed there are no havanese in this place.
Susan
Join Date: Feb 2007
Location: Near San Francisco Bay Area
Posts: 4,063
Submit Photo: 2
Photo Submissions 2 Times in 2 Posts
This just makes me sick. How could he be allowed to keep 200 dogs!!! Pretty soon 200 dogs will be 300 dogs and he'll soon be back up to 600. They'll bust him again and he'll simply move his operation elsewhere. It's just sick!

Who is he selling to? I haven't seen a pet store with pets for sale since I was in Indiana in 1998. In my town the cats for sale at PetsMart are actually from the local animal shelter. Are they being sold to brokers? Individuals? Is it just CA that doesn't have pet stores that sell pets? I didn't see any in Arizona two years ago.... I'm curious about the market for these mills.



Susan
---
Susan
---
Last edited by mckennasedona; 11-09-2007 at

10:31 AM

.
Amanda
Join Date: Nov 2006
Location: South Carolina
Posts: 9,576
Submit Photo: 2
Photo Submissions 31 Times in 22 Posts
There are puppies in stores near me in LA!!! I went into an adorable dog boutique in the mall that I was excited to shop at until I seen the glass cages in the back. I saw all the little maltese starting at $3500!!! There were no havanese. The specialized in t-cups. The lil chihs, poms, maltese, etc. I bet that is where a lot of them end up.

Amanda
Senior Member
Join Date: Nov 2006
Location: Massachusetts
Posts: 11,746
Submit Photo: 27
Photo Submissions 48 Times in 35 Posts
I just saw a Hav in a pet store. It made my heart sink. they wanted $1900 and all the dogs were just sleeping--- there was no spark in any of them. I wanted to rescue it. But I just walked out the door.
---
Missy, Jasper & Cash
Posting Rules

You may not post new threads

You may not post replies

You may not post attachments

You may not edit your posts

---

HTML code is Off

---