Join Date: Oct 2007
Posts: 9
Submit Photo: 0
Photo Submissions 0 Times in 0 Posts
Allergy Issues
---
Are allergies common with the havanese breed? I have seen quite a few posts that mention their dogs dealing with allergies. For those dogs that are suffering - is it more food related or environmental? What are some of the other common health issues that the breed suffers from? I have heard this breed has very few health issues??
Senior Member
Join Date: Nov 2006
Location: Long Island, NY
Posts: 8,619
Submit Photo: 3
Photo Submissions 19 Times in 19 Posts
I think it's just dogs in general. My lab/husky X had allergies. So far, my Havs do not.
---
Michele
Kodi & Shelby's Mom and Julian's Grandma
Kubrick & Hitchcock's Mom
Join Date: Apr 2007
Location: New York, NY
Posts: 7,774
Submit Photo: 1
Photo Submissions 33 Times in 24 Posts
I agree with Michele. Dogs have allergies just like humans and, just like humans, a lot of times they are symptoms that no one connects to an allergy (itching a lot, biting paws - some think this is normal for dogs). Since this forum talks about it a lot, I think we all are more aware than the average dog owner, if that makes sense.
Having said that, Havs do have some health issues such as CD (chondrodysplasia) and they can be more susceptible to cataracts. In general, though, they have less health issues than a lot of small dogs. Just do your homework and make sure to get a breeder that does all the health testing! I hope you will choose a Hav, they are wonderful dogs!
---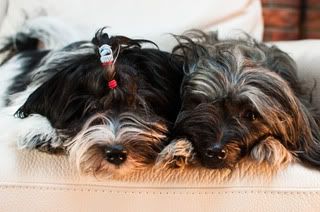 Visit
my blog

-----
Check out my
photos
-----
Photography (pets, people, weddings) -
TripleC Photography
Join Date: Oct 2007
Posts: 9
Submit Photo: 0
Photo Submissions 0 Times in 0 Posts
I ask this question because I currently have a lab with major environmental allergies and would love to get away from dealing with the "itchies" -but then again- it could be much worse
Posting Rules

You may not post new threads

You may not post replies

You may not post attachments

You may not edit your posts

---

HTML code is Off

---