Join Date: Jun 2007
Posts: 363
Submit Photo: 0
Photo Submissions 0 Times in 0 Posts
How much to feed
---
My Nico and Desi are now 7 months old. Even though they're littermates, they're different sizes - Desi is 13 pounds, Nico is 9. Their growth has slowed down greatly and I think this is close to where they're going to end up. Desi actually seems thinner than Nico; you can feel his ribs more. I guess it could be that he has bigger ribs, though, because he's taller, longer and just all around bigger. He also seems more muscular. They are not at all picky anymore - I'm still feeding them twice a day and they gobble everything up. In the morning they get a small spoonful of Pro Plan canned food, half an egg yolk and 1/3 cup kibble (Pro Plan Selects). In the evening they get the same thing, absent the egg. They also get some treats during the day. They always get a puppy size Pro Plan biscuit when they go to their crates at night, and they'll get little pieces of cheese or meat, Charlee Bears, jerky and chew sticks (not all of that every day, though). This is what they've been getting for a few months now. Lately they seem to be looking for food in between meals. They can hear the refrigerator open from 200 yards away and come running. When the kids are sitting at the kitchen table eating something the pups are sitting right there. They charge for their food bowls at meal time. They don't seem too thin, and they don't seem too fat - they just act hungry. Does it sound like they're not getting the right amount of food, or do all dogs do this?
Biscuit's mom
Join Date: Jul 2007
Location: San Francisco Bay Area
Posts: 2,518
Submit Photo: 2
Photo Submissions 7 Times in 5 Posts
I think they are all different, and perhaps because they are littermates, they reinforce the food drive in each other. Biscuit is really indifferent about meals. If I don't feed him say, because he's going to the groomer's or may get carsick, he acts no more hungry than if I had. He does hang around when I cook & when we eat, but rarely begs. But I notice when he's at the dogsitters with the other dogs, he acts ravenous. Maybe because in a group, they're afraid they won't get enough food! Desi & Nico are so cute & their different growth rates are interesting. There is the same size disparity in my dog's litter~~~he's the unexpected big guy.
---
HAV A GREAT DAY ! ~~AMY & BISCUIT~~
and HEATH-Y, TOO !
Kubrick & Hitchcock's Mom
Join Date: Apr 2007
Location: New York, NY
Posts: 7,774
Submit Photo: 1
Photo Submissions 33 Times in 24 Posts
I'm not sure as it all depends on your food. What do they recommend you should be feeding? Kubrick is ALWAYS hungry. He looks for food all the time. I have recently upped his kibble because he gained weight and went up in food category. He is up to 3/4 cup a day and he weighs 11lbs. I feed him Fromm's. He also gets treats during the day for training. I can feel his ribs very well.
---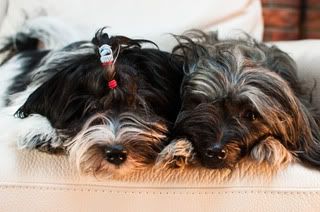 Visit
my blog

-----
Check out my
photos
-----
Photography (pets, people, weddings) -
TripleC Photography
Senior Member
Join Date: Nov 2006
Location: Long Island, NY
Posts: 8,619
Submit Photo: 3
Photo Submissions 19 Times in 19 Posts
Some days they wake up starving and I have to feed them right away. Shelby will whine and whine until I feed her. Other days, like today, they didn't want to eat. They will not eat until I get home from work, about pm.
Then they will probably eat at about 6pm.
---
Michele
Kodi & Shelby's Mom and Julian's Grandma
Senior Member
Join Date: Jan 2007
Location: Toronto, ON, Canada!
Posts: 4,155
Submit Photo: 0
Photo Submissions 16 Times in 6 Posts
Since we are on the topic of 'how much to feed'...

What about treats? Do you guys give equal amounts of treats a day? Or sometimes no treats at all?

Ryan
---
Senior Member
Join Date: Nov 2006
Location: Long Island, NY
Posts: 8,619
Submit Photo: 3
Photo Submissions 19 Times in 19 Posts
My two aren't big treat eaters. They like freeze dried beef liver, flossies and not much else. They prefer a real food treat now and then, usually something I am eating. I have come across some other treats, but I would rather they not eat to many. They are small dogs and I think it is very easy for them to put on extra pounds.

When I get home from work, I cut up some of the fd beef liver and stuff a kong with it. That keeps them busy for about 10 seconds.
---
Michele
Kodi & Shelby's Mom and Julian's Grandma
Senior Member
Join Date: Sep 2006
Location: Kentucky
Posts: 2,166
Submit Photo: 5
Photo Submissions 8 Times in 4 Posts
I don't give treats on a regular basis....I save treats for grooming and trainning....and then I give sweet potato...steak...green beans.....I feed 1/4 cup with 1 teaspoon canned twice a day...
---
Peace, Love & Havanese
Gucci's mom
Join Date: Feb 2007
Location: Virginia Beach, VA
Posts: 9,378
Submit Photo: 1
Photo Submissions 12 Times in 11 Posts
Amy, that's really interesting because I notice Gucci also gets quite more interested in food when there are other dogs around! That must be instinctive. She's even gone so far as to fight over a rawhide that she flipped her nose up at, so when I offered it to a canine "guest"...she had a conniption fit!
Funny.
Are the boys due to visit the vet anytime soon? I would ask the vet, or give them a call and see what they say. They sound like they are doing alright with the intake they are on. I think ALL dogs can get excited with the smells of food or sound of the fridge opening up. Gucci will always be near me in the kitchen and if I open the fridge, Even though she is 'interested' in what I'm doing/cooking/eating..she doesn't always want it. She'll refuse treats sometimes.
Ryan, She pretty much gets the same amount of treats a day...normally 2-3 chicken jerkys (depending on size) and 1-2 biscuits if I have them made, If we 'train' or groom..I use cheese still.
Kara
---
Super Moderator
click to join us: Havanese Forum on Facebook
Senior Member
Join Date: Jan 2007
Location: Toronto, ON, Canada!
Posts: 4,155
Submit Photo: 0
Photo Submissions 16 Times in 6 Posts
Kara,
How big are the peices of jerky you give Gucci? I just recently started ut no idea how much i should be letting him have per day???

Thanks,
Ryan
---
Chico and Cali
Join Date: Jul 2007
Posts: 1,373
Submit Photo: 8
Photo Submissions 2 Times in 2 Posts
I was feeding my older dogs 1/2 c of Innova twice a day. The trainer told me that was too much and that they were a bit overweight. Chico weighed 131/2 pounds. He has gained 2 pounds since Cali came and he is 15 1/2 pds. now. Magee, the schnoodle is a tad overweight also. I think we didn't walk them as much as we did pre-Cali because I was so busy with the new puppy, hence the weight gain. So I reduced their portions to 1/3 cup twice a day. They also get a few treats during the day.
Cali, at 7 months, weighs almost nine pounds. She also eats 1/3 c twice a day, plus treats.
They eat very quickly and are not picky eaters. I was surprised at that, because Diane's book says the vast majority of havs are picky eaters.
I'm trying to keep them trim. Especially Cali, because I really wanted a smaller Hav when I got her. I could have waited for a puppy from a breeder whose line runs smaller, but I fell for her and also was impatient. Now I'm hoping she doesn't gain much more weight, but who knows...? More to love
---
Nan
Chico, Cali, and Finnegan
Posting Rules

You may not post new threads

You may not post replies

You may not post attachments

You may not edit your posts

---

HTML code is Off

---