Sully's Mommy
Join Date: Dec 2006
Location: Nebraska
Posts: 321
Submit Photo: 0
Photo Submissions 0 Times in 0 Posts
Sully basking in his prizes
---
Friday night we went to a pasta dinner for the local elementary school. There were 7 or 8 raffle baskets. One was a pet basket, I put 2 tickets in it. Out of several hundred I won it!!!!
It was a pet bed (in our house colors), a large smoked bone made in America (hard to find in the area BTW). A squeekie ball (Logan and him spar over who's it REALLY is) Like 5 other (Zangie or what ever they are called)toys, a brush, huge dog bowl, a ton of cat toys, dog and cat treats, there may be more, I cannot remember. But the highlight for me was a 5 dollar off grooming from MY groomer!!!!!!!!
She only charges 15 for Sully instead of 45, as he is a good dog and I keep him in full coat tangle free. I am not complaining! Plus a Tee shirt from the boarding place she grooms in, the Paw-A-Day Inn! Shirts are 10 bucks alone and like neon colored, but cute in their own way. Since my family in one way or another shamelessly promote all the places we frequent, this is great! We bought 6 tickets for 5 buck and made it up in spades! Sully is in heaven! New bed (taking the the total to 6!), bone and toys, giving the rest to his friend Sable the sheltie and the 2 cats she puts up with.
Sully spaent the better part of the afternoon out in the sun playing tag with this massive bone! I don't know if he can really pick it up! But he doesn't seem to care. He comes bounding in to the new bed and curls up, hair puffing out the sides! And the ball, we cannot forget how Logan will throw the ball then race Sully to the ball. Dog knows how to play fetch, child not so much! LOL!!!
---
~Krimsin
Proud Wife to Corey, Mother to Logan, and Fur-Mommy to Sully!
My Blog
,
Logan's Blog
, and of course
Sully's Blog
That's Sully! He loves to be pampered and spoiled!! He is a handsome boy with his beautiful coat! Give him big hugs and kisses from us. We wish him a happy Thanksgiving, but don't give him too much turkey... The Tryptophan will make him sleepy!
Quincy's Mom-Vinnie too!
Join Date: Feb 2007
Location: Ia.
Posts: 9,923
Submit Photo: 35
Photo Submissions 17 Times in 16 Posts
Congrats you lucky thing!Sounds like you won big!
---
Vincent-Quincy's playmate
"Behind every unstable dog is a lesson for the owner"-Cesar Millan
Sully's Mommy
Join Date: Dec 2006
Location: Nebraska
Posts: 321
Submit Photo: 0
Photo Submissions 0 Times in 0 Posts
I was really hoping Logan would eat more of the turkey...but then I am sure he will smuggle some to Sully! They made some sort of deal like, Logan slips Sully meat, pretzels and popcorn and Sully stops stealing Logan's toys and maybe underwear. Those boys, I tell ya!
We got a hoot and holla when we won the basket tho, it was so funny, we had left and friends of ours were everywhere, and knew that was THE one I had wanted for Sully. Lucky us!
Sully says Happy Thanksgiving to you all too, including his 1/2 brothers and sisters Molly is carrying! He will be playing with my SIL's dog Mollie, a biza-poo or however you spell it. She just doesn't know Sully will be top dog even there, my SIL is going to freak when she see's Sully!
---
~Krimsin
Proud Wife to Corey, Mother to Logan, and Fur-Mommy to Sully!
My Blog
,
Logan's Blog
, and of course
Sully's Blog
Amanda
Join Date: Nov 2006
Location: South Carolina
Posts: 9,576
Submit Photo: 2
Photo Submissions 31 Times in 22 Posts
WOO HOO sounds like Sully made out! And $15 for grooming.... WOW!

Amanda
Senior Member
Join Date: Mar 2007
Location: Arkansas
Posts: 305
Submit Photo: 0
Photo Submissions 0 Times in 0 Posts
Sound like you hit the Jackpot!!!!
Bugsy's Mom
Join Date: Nov 2006
Location: San Francisco, CA
Posts: 4,341
Submit Photo: 3
Photo Submissions 6 Times in 5 Posts
Congratulations on your win!
---
-Julia
Kimberly
Join Date: Aug 2006
Location: San Francisco Bay Area
Posts: 10,275
Submit Photo: 5
Photo Submissions 19 Times in 13 Posts
Nice win, Krimmy! That sounds like a perfect match of prize to winner.
Kubrick & Hitchcock's Mom
Join Date: Apr 2007
Location: New York, NY
Posts: 7,774
Submit Photo: 1
Photo Submissions 33 Times in 24 Posts
How exciting to win a raffle basket! I'm sure Sully is over the moon at his prizes!
---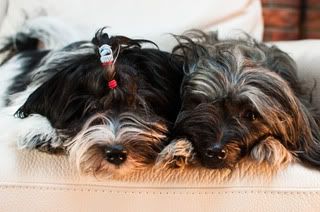 Visit
my blog

-----
Check out my
photos
-----
Photography (pets, people, weddings) -
TripleC Photography
Sissygirl's Mom (Marie)
Join Date: Aug 2007
Location: Oklahoma
Posts: 2,738
Submit Photo: 5
Photo Submissions 4 Times in 3 Posts
What a great raffle basket - lucky you - but really lucky Sully!!!!
---
Santa, Sissygirl
& Marie
Posting Rules

You may not post new threads

You may not post replies

You may not post attachments

You may not edit your posts

---

HTML code is Off

---