Senior Member
Join Date: Nov 2006
Location: Massachusetts
Posts: 11,746
Submit Photo: 27
Photo Submissions 48 Times in 35 Posts
bwoof, ghrrr, raooouuhhhff!
---
Well, this thread was inspired by Lina's frustration with Kubrick's low barking at noises in her hallways. That "bwoof" just caught my attention and I thought it would be fun (and therapeutic to Lina) if we could try to explain what our little guys and gals sound like and if you can- add what you think their language means

Jaspers bark is a medium pitched quick bark-- ruf- ruf-ruuof. he does this for passing squirrels parked trucks and especially the mail man. If he is anxious (like going to the groomers) he whines and practically talks-- arrrr, wrrrhhh, mhhhm puuuuh. If he wants to go out- or have us get something that Cash has stolen from him, or if he wants DH to wake up-- he HHumphs followed by pawing at us. When Jasper was young and if you just got in and had to run and do something and left him in his room he would let out one lonely mournful head back howl wa wa roooooo.

Cash's bark is practically a hounds bark-- quick and then long and deep. wuf, wuf wuooooooooof wu-wooooooooooooooooooof He also does a few bwoofs under his breath as a warm up to really rattlin the house.
Cash whines at a very high pitch when he wants something or wants you to pay attention to him. mhmmmm, mhhhhmmm when he is playing with Jas and he can't get what he wants-- warrr, weeer, whhharrr

so Lina, count your blessing that Kubrick says bwoof.




---
Missy, Jasper & Cash
Kimberly
Join Date: Aug 2006
Location: San Francisco Bay Area
Posts: 10,275
Submit Photo: 5
Photo Submissions 19 Times in 13 Posts
LOL!!
Thankfully, my dogs are rarely vocal except to express affection.

I can tell you that bwoof is Martha after someone knocks at the door and YIPEYIPEYIPEYIPE is Martha chasing Piaget around the yard when she's really wound up and full of energy.

Grrr Grrrr Grrrr Grrr is Tinky when she is engaging someone in play or doing her RHL. She never makes any other barking or growling sounds.

Hillary is always quiet. Piaget does a whine that I can't even begin to type out when he sees his daddy in the morning or when daddy gets home from work.

Fun topic, Missy!
Mom to Bacci and Isabella
Join Date: Mar 2007
Location: New Jersey
Posts: 602
Submit Photo: 10
Photo Submissions 0 Times in 0 Posts
Missy
---
You are so funny, roflmao.
---
Janet, Bacci & Isabella
~~A dog is a miracle with paws~~
Pablo&Chuy's momma
Join Date: Jul 2007
Location: Eden, NC
Posts: 4,286
Submit Photo: 11
Photo Submissions 9 Times in 8 Posts
Missy, what a cool thread, Pablo is not making too much noise yet (thank Goodness) except for when he got a thermometer stuck up his poopoo whole and that went like:
AAAAAAAAAAAAAAAAAAAAAAAAAAYYYYYYYYYYYYYYYYYYYYYYYA AAAAAAAAAAAAAAAAAAAAAYYYYYYYYYYYYYYYYYYYYYYYYYYYYY
Lina, hope that cheers you up a little.
---
Kubrick & Hitchcock's Mom
Join Date: Apr 2007
Location: New York, NY
Posts: 7,774
Submit Photo: 1
Photo Submissions 33 Times in 24 Posts
Missy you're hilarious! What a great thread! I love reading about all the noises everyone's little ones make. Kubrick is pretty quiet most of the time but not all the time! When my fiance comes home from work and he doesn't make enough noise letting Kubrick know he was going to come in, Kubrick sounds like
WAUWAUWAUWAUWAU
really loud and almost gives me a heart attack. Of course he then goes running tail wagging to see daddy.
When the door bell rings, he usually goes
WOOF WOOF WOOF
with some
GRRRRR
mixed in. He will still be making the same noise as his tail is wagging and he's waiting for me to open the door. He will usually only do one or two
WOOFs
at a time and usually will stop when I tell him to. He really just wants me to open the door so he can see who is there to see him because EVERYONE that comes over is here to see Kubrick especially.
He never barks at people except the other day my fiance's brother came over with his wife and their 3-month-old son. Kubrick was SO interested in the baby and his tail was wagging and wagging and then he actually BARKED at the baby. It was his happy
WOOF
and we made him stop right away but it was the exact same bark he makes when he's trying to get a dog to play. I think he thought the baby was another dog due to his size.
He was also INCREDIBLY jealous when I was holding the baby and was trying to get to my lap the whole time. And everyone was giving him lots of attention at the time (they are not the type of people who think the world revolves around their child and they were both giving Kubrick lots of loving). He is SUCH an attention hog. LOL.
---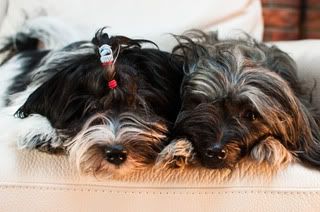 Visit
my blog

-----
Check out my
photos
-----
Photography (pets, people, weddings) -
TripleC Photography
Kubrick & Hitchcock's Mom
Join Date: Apr 2007
Location: New York, NY
Posts: 7,774
Submit Photo: 1
Photo Submissions 33 Times in 24 Posts
Of course, I can't forget the
BWOOFs
that started all this conversation - which is the sound he makes when all the "scary" noises come from the hallway.
---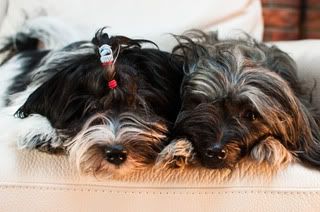 Visit
my blog

-----
Check out my
photos
-----
Photography (pets, people, weddings) -
TripleC Photography
Join Date: Aug 2007
Posts: 177
Submit Photo: 0
Photo Submissions 0 Times in 0 Posts
Hahahahahaha! Missy, you are too funny.
Kahlua has a really deep bark that only comes out occassionally, but she also makes a lot of other noises. She she's outside and wants to come in, it's a high-pitched whine, when she's doing RLH it's like "he he he he", and she does some kind of happy growl I can't even begin to describe when she's feeling happy and chatty.
Buffy has a high pitched bark that come out quite a lot, and also what we call the "ducky growl" when she's being groomed. Imagine a duck trying to growl. That's it. She also does these funny little moaning things when she's sleepy, like "EH!" SO funny
Gucci's mom
Join Date: Feb 2007
Location: Virginia Beach, VA
Posts: 9,378
Submit Photo: 1
Photo Submissions 12 Times in 11 Posts
LOL! How cute,

Gosh, Miss Gucci has many different' grumbles ,bwoofs. and whines! She is VERY vocal, not loud and annoying..but she certainly tries to talk to me!

Kara
---
Super Moderator
click to join us: Havanese Forum on Facebook
Senior Member
Join Date: Nov 2006
Location: Long Island, NY
Posts: 8,619
Submit Photo: 3
Photo Submissions 19 Times in 19 Posts
I think we need videos to go along with all the noises. Mine definitely have different sounds for different things.
---
Michele
Kodi & Shelby's Mom and Julian's Grandma
Senior Member
Join Date: Jul 2007
Location: Morris County, NJ
Posts: 251
Submit Photo: 0
Photo Submissions 0 Times in 0 Posts
Javi is the most vocal dog I have ever owned or met for that matter. He makes so many different sounds it is almost unimaginable. When you rub his ears he coos. When you pet his back he often grumbles . . . when you rub his chest he sort of pants and when he wants you to move to another spot he grunts - when you rub his lower belly or inside his rear legs he sort of giggles. All of that is very cute but . . . he does bark loudly for attention. If you meet a stranger on the street he will sit nice for a minute, then starts out with a low yip - that's "hey I'm down here" - when they bend down to pet him he purrs like a kitten - when they stop he barks loudly which I interpret to mean "Hey, you are not done yet I need some more rubs" . . . if you walk away from him he has been known to hang on to your pant leg . . . we are still working on this and it can be frustrating. He also is not fond of getting up early in the morning especially now that it is getting colder outside . . . when you call him to go out, he replys with a low grunt (I know you want me to go outside but I'm really comfy here and need a few more zzz's). . . when you go to pick him up sort of grumble, growls while wagging his tail (I know you are going to make me do this but I'm really not with the program) . . . once you get him on his feet he comes along willingly but it has become his morning ritual . . . funnier is my 6'2 hubby who growls back at him. He really has developed a sort of language. . . I wish I understood all of it.

Phoebe is just the opposite . . . she is totally laid back . . . she barks rarely and usually for good reason . . . racoon at the back door. Even then, her bark is more like let me outside so I can kiss that funny looking ball of fur.
Posting Rules

You may not post new threads

You may not post replies

You may not post attachments

You may not edit your posts

---

HTML code is Off

---