Senior Member
Join Date: Sep 2010
Posts: 5,278
Submit Photo: 0
Photo Submissions 36 Times in 36 Posts
Strep Throat.
---
Yup. YESTERDAY was my kids last day of school. and yesterday my daughter was diagnosed with strep throat. my son had swimmers ear. Today, my son was just whining and crying and wouldn't eat, so we looked in his throat with a flashligh.. and yup. He has strep throat also... So antibiotics and ear drops all around. WELCOME to summer kids! ugggg...
Anywho, once the meds started kicking in my son decided to categorize and organize and count his crayons... he has 153 of them.
Tillie is well versed at crayons, growing up with young kids of course.
but still I was proud of her and she sat and watched and never once even thought about stealing one.
---
Tammy and Tillie
Senior Member
Join Date: Aug 2012
Location: North Carolina
Posts: 2,362
Submit Photo: 36
Photo Submissions 60 Times in 60 Posts
Beau's Mom
Join Date: Oct 2011
Location: Blue Bell, PA
Posts: 758
Submit Photo: 5
Photo Submissions 3 Times in 3 Posts
Ahhh, sweet Tillie!! Sorry about the kids. It's a long summer and they'll be in the pool in no time!!! Hang in there!
---
They're not my dogs -- I'm their person
Lorraine
Henry 2006-2018/ Kordelia
Join Date: Jun 2007
Location: NJ/NYC metro.
Posts: 4,155
Submit Photo: 11
Photo Submissions 25 Times in 25 Posts
did she look at them longingly?

(nice pic, and nice collection of crayons! Hope everyone feels better. Glad Tillie is there to "help")
Jen, Timmy and Mae
Join Date: Sep 2011
Location: Philly Burbs
Posts: 1,672
Submit Photo: 21
Photo Submissions 16 Times in 16 Posts
Awe what a good girl. My daughter was making the headpieces for Beauty School Dropout which consisted of glue gunning metallic paper into cylinders to look like curlers. She had to make tons of them. I came down one morning to find Timmy sitting amongst all the little tubes and not destroying any of them, quite a feat for a paper shredding Hav. I think they know when one of their sibs is doing something important and just wants to hang out and be a part of things.
Sent from
Petguide.com Free App
---
Evelyn
Join Date: Apr 2010
Location: Chicago burbs
Posts: 4,652
Submit Photo: 4
Photo Submissions 30 Times in 28 Posts
what a good baby she is!!!
---
Senior Member
Join Date: Feb 2012
Location: Long Island
Posts: 822
Submit Photo: 2
Photo Submissions 8 Times in 8 Posts
How sweet! That would not have been a happy ending at my house.
---
RITA
Senior Member
Join Date: Sep 2010
Posts: 5,278
Submit Photo: 0
Photo Submissions 36 Times in 36 Posts
lol, yes she was looking at them longingly... lol
She occasionally "steals' things from the kids room, but it's more for the thrill of it than actually wanting the object as she immediatly runs to the back of the couch and drops it. lol
---
Tammy and Tillie
Senior Member
Join Date: Apr 2013
Location: Colorado born and raised living in Dayton, NV
Posts: 347
Submit Photo: 1
Photo Submissions 2 Times in 2 Posts
Hope your kids are feeling better Tammy.
My son liked to separate the colors and count them too
And Hutch used to watch like Tillie did, but at the time I had a schnauzer and he liked to eat the crayons
---
Lila
Ruth (me) Chester (dog)
Join Date: May 2013
Location: St. Louis area
Posts: 887
Submit Photo: 16
Photo Submissions 8 Times in 8 Posts
That was very nice of Tillie. Unlike Chester who is a shark and chews on everything. Luckily, I manage.to
Get him to chew on his chew toys.
---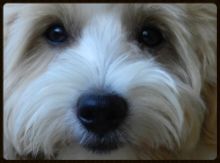 Hav to hav a Hav!!!
Ruth and Chester
(Chester's DOB - 4/04/13)
"Dogs are NOT stupid, they are smarter than you think."
Posting Rules

You may not post new threads

You may not post replies

You may not post attachments

You may not edit your posts

---

HTML code is Off

---