Junior Member
Join Date: Sep 2012
Posts: 11
Submit Photo: 0
Photo Nominations 1 Time in 1 Post
Changing routines- baby
---
Our 1 year old havanese is about to get a little brother soon. He's such a momma's boy and very scheduled with his bedtime and morning routine. I'm worried about how he will do when the baby comes home. He's used to sleeping in an ex-pen downstairs and baby will be sleeping in our room. Any advice as to when baby wakes up during the night and our little Chance wakes up because of the crying and then wants to go out... I want to allow him to him to nap in our room when baby and I nap, but not at night because of all the waking up. So far, he tends to whine if he's on the floor and I'm in bed. He's only been on our bed a handful of times and I would like to keep it that way.
Sent from
Petguide.com Free App
Dave T
Join Date: Dec 2007
Location: Ontario Canada
Posts: 10,822
Submit Photo: 3
Photo Submissions 115 Times in 113 Posts
hi and congrats ahead for the arrival of your new baby. You should be fine leaving him in his xpen overnight. Sounds like he can wait overnight now. Do allow him access to your bedroom as before. The biggest goal with introducing a new baby is that whenever the dog is in the presence of the baby , good things happen. Here is a great resource
http://www.doggonesafe.com/baby_safety_around_dogs
---
Dave and Molly
Ian Dunbar was awarded the Outstanding Achievement Award from I.P.D.T.A. Here's a picture of me accepting the award on his behalf.
Member of IAABC ,International Association of Animal Behavior Consultants , Member of Pet Professional Guild
Ruth (me) Chester (dog)
Join Date: May 2013
Location: St. Louis area
Posts: 887
Submit Photo: 16
Photo Submissions 8 Times in 8 Posts
A human baby, or a canine baby?
---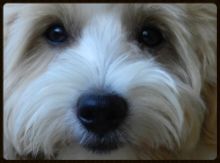 Hav to hav a Hav!!!
Ruth and Chester
(Chester's DOB - 4/04/13)
"Dogs are NOT stupid, they are smarter than you think."
Junior Member
Join Date: Sep 2012
Posts: 11
Submit Photo: 0
Photo Nominations 1 Time in 1 Post
Posting Rules

You may not post new threads

You may not post replies

You may not post attachments

You may not edit your posts

---

HTML code is Off

---