Evelyn
Join Date: Apr 2010
Location: Chicago burbs
Posts: 4,652
Submit Photo: 4
Photo Submissions 30 Times in 28 Posts
sorry ,but I lost my head.
---
I was trying to get a nice full body profile picture of Whimsy and she turned her head just as I snapped it. Normally I would just dump it, but it struck me as funny....(or maybe it's just me) We had tons of those whirlybird seeds that come down from our 2 silver maples this time of year. Her coat acts like a swiffer as she walks along in the grass and then they end up in the house. Anyone else have those messy trees??
---
Senior Member
Join Date: Sep 2009
Location: South GA
Posts: 908
Submit Photo: 1
Photo Submissions 3 Times in 3 Posts
Too funny!
---
Donna Mom to Panda
Dave T
Join Date: Dec 2007
Location: Ontario Canada
Posts: 10,818
Submit Photo: 3
Photo Submissions 115 Times in 113 Posts
Good picture Evelyn, Molly lost her head once and in the dark I was talking to her butt. Yeah we get them keys and I know what you mean.
---
Dave and Molly
Ian Dunbar was awarded the Outstanding Achievement Award from I.P.D.T.A. Here's a picture of me accepting the award on his behalf.
Member of IAABC ,International Association of Animal Behavior Consultants , Member of Pet Professional Guild
Evelyn
Join Date: Apr 2010
Location: Chicago burbs
Posts: 4,652
Submit Photo: 4
Photo Submissions 30 Times in 28 Posts
Dave....talking to her butt!
---
Ruth (me) Chester (dog)
Join Date: May 2013
Location: St. Louis area
Posts: 887
Submit Photo: 16
Photo Submissions 8 Times in 8 Posts
Haha, hilarious!
---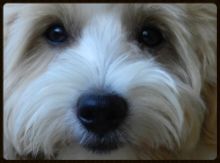 Hav to hav a Hav!!!
Ruth and Chester
(Chester's DOB - 4/04/13)
"Dogs are NOT stupid, they are smarter than you think."
Joe Cool!
Join Date: Aug 2010
Location: Metrowest Massachusetts
Posts: 2,059
Submit Photo: 0
Photo Submissions 9 Times in 9 Posts
Metrowest, MA
Join Date: Jun 2009
Location: Massachusetts
Posts: 24,177
Submit Photo: 6
Photo Submissions 317 Times in 315 Posts
Linda
Join Date: Nov 2008
Location: Eastern North Carolina
Posts: 5,409
Submit Photo: 73
Photo Submissions 24 Times in 22 Posts
That is too funny!
---
Dexter & Jack
"One Hav is NOT enough to enjoy the RLH skills!"
Jen, Timmy and Mae
Join Date: Sep 2011
Location: Philly Burbs
Posts: 1,672
Submit Photo: 21
Photo Submissions 16 Times in 16 Posts
Whimsy is so beautiful, makes we want to keep Timmy in a long coat, not
but she is such a pretty girl. We have a Japanese Maple that drops these seed pod thingies, they are almost sticky, and Tim gets them stuck all over himself. The tree is over the driveway and I was guilty of picking Tim up and carrying him over all those dropping to save me the time of having to pull them all off. He's in a pretty short cut and still brings stuff in I can only imaging what Whimsy must pick up being a doggy Swiffer.
---
Senior Member
Join Date: Aug 2012
Location: North Carolina
Posts: 2,362
Submit Photo: 36
Photo Submissions 60 Times in 60 Posts
Posting Rules

You may not post new threads

You may not post replies

You may not post attachments

You may not edit your posts

---

HTML code is Off

---