Evelyn
Join Date: Apr 2010
Location: Chicago burbs
Posts: 4,652
Submit Photo: 4
Photo Submissions 30 Times in 28 Posts
wasn't sure where to put this...
---
Hard to read without crying. just passing it along.
---
Senior Member
Join Date: Jul 2008
Location: South Fla
Posts: 2,815
Submit Photo: 1
Photo Submissions 10 Times in 10 Posts
That is so touching!!
---
Beth, Pixie Puff and MiG too
Julie
Join Date: Jul 2009
Location: New Jersey
Posts: 1,441
Submit Photo: 1
Photo Submissions 7 Times in 7 Posts
Beautiful, thanks for posting Evelyn.
---
Julie, Piper and Riley
My little dog - a heartbeat at my feet. ~Edith Wharton
That's so nice. I literally cried. Sometimes at first I worried I was betraying Laika (my last dog) by getting Hobbes so soon; I just hated not having a dog and felt so empty. But Laika was a sweet, happy, loyal, loving dog and I'm sure she would have felt this way.
Ruth (me) Chester (dog)
Join Date: May 2013
Location: St. Louis area
Posts: 887
Submit Photo: 16
Photo Submissions 8 Times in 8 Posts
That just put a pawprint on my heart.
---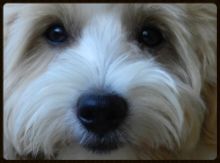 Hav to hav a Hav!!!
Ruth and Chester
(Chester's DOB - 4/04/13)
"Dogs are NOT stupid, they are smarter than you think."
Bugsy's Mom
Join Date: Nov 2006
Location: San Francisco, CA
Posts: 4,341
Submit Photo: 3
Photo Submissions 6 Times in 5 Posts
This one has me in tears!
---
-Julia
Senior Member
Join Date: Aug 2012
Location: Cape Cod, MA
Posts: 2,550
Submit Photo: 9
Photo Submissions 19 Times in 19 Posts
What a wonderful sentiment. I know in my heart that our dogs who have passed would want us to share the love we gave them. Thanks for sharing.
---

Mary (miss you, Bailey-1996-2011 and Tyler-1997-2015)
Posting Rules

You may not post new threads

You may not post replies

You may not post attachments

You may not edit your posts

---

HTML code is Off

---