Patience pays
---
I had posted few days ago about Odeo's mats. We had him at our house keeper's place for 2.5 weeks while we were out on vacation and he ended up with huge mats all over - belly, armpits, hind legs and even tail. With some much needed motivation from the forum members
and after a full bag of treats Odeo is now mat free. I did have to shave on his belly but it doesn't make him look any different.
The positive aspect of the whole process was that Odeo now is much more tolerant to grooming. I worked on him an hour everyday for 3 days. By the third day he just came up to my lap and put his head on my lap and actually fell asleep while I was working on his mats on his butt area. He sure was relieved that is was done and has been very happy to have a clean coat.
I haven't gotten around to take new pictures of him...I will post some soon. He got some "cute puppy" comments in the park yesterday.
Senior Member
Join Date: Jul 2011
Location: Bergen County NJ
Posts: 851
Submit Photo: 0
Photo Submissions 12 Times in 12 Posts
Good job! Keep it up so the mats don't come back. Actually, now would be a very good time to bathe him to set the coat. With static in the coat from all the brushing and a build up of natural oils, the mats can reform. A shampoo will strip the coat of any gunk and the conditioner make the hair supple, a blow dry will stretch out and straighten each hair and visually confirm there are no more mats. Then of course after that you take pictures and post them here!
Senior Member
Join Date: May 2012
Location: KY
Posts: 642
Submit Photo: 2
Photo Submissions 3 Times in 3 Posts
Great job! See, I told you patience & more patience would get you thru these mats! Certainly gave me good reason to never skip a grooming day.
---
Pat - AKA Kallie's & Abby's mom
Ruth (me) Chester (dog)
Join Date: May 2013
Location: St. Louis area
Posts: 887
Submit Photo: 16
Photo Submissions 8 Times in 8 Posts
I brush Chester for 'bout three minutes every day - not much of a big deal. Just don't leave his coat unbrushed and keep up the good work!
---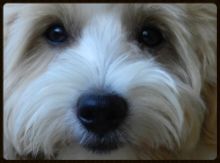 Hav to hav a Hav!!!
Ruth and Chester
(Chester's DOB - 4/04/13)
"Dogs are NOT stupid, they are smarter than you think."
Yep, that's how much I spend as well about 3-5 min a day. But when he is with a sitter for 3 weeks and playing with 2 big dogs... It got out of control... Now he is back to his normal self and had a good bath as well. Now we prepare for neuter on Friday!!
Sent from
Petguide.com Free App
Senior Member
Join Date: Sep 2010
Posts: 5,278
Submit Photo: 0
Photo Submissions 36 Times in 36 Posts
great job!!
---
Tammy and Tillie
Senior Member
Join Date: Jul 2008
Location: South Fla
Posts: 2,815
Submit Photo: 1
Photo Submissions 10 Times in 10 Posts
Mats are not fun to deal with. I find that if I catch them before they go to bed, they're sleepy and much more tolerant toward a good brushing/combing out.
---
Beth, Pixie Puff and MiG too
what stuff did you use to work on the mats?
Posting Rules

You may not post new threads

You may not post replies

You may not post attachments

You may not edit your posts

---

HTML code is Off

---