Junior Member
Join Date: Jun 2013
Posts: 10
Submit Photo: 1
Photo Submissions 2 Times in 2 Posts
Tearing & staining question
---
Hello. I am new to this forum and I am in search of some direction regarding my little Havanese tear staining situation. Boomer will be 1 year at the end of June. He is an adorable, happy, loving little black & white puppy. We have had Boomer since he was 12 weeks and received him from a very reputable breeder. Boomer and his other litter mates had major tearing as little pups so e breeder switched the diet, she thought the lamb was causing it. Since we have had Boomer we have had him on a quality kibble grain free diet and have added a probiotic to his diet as well. My husband and I are adversely against using Angel Eyes or any of those other products that use an antibiotic. The tearing seems to be improving however recently the tearing seemed to pick up again. The staining seems to be picking up again, although it never went away completely. We also use bottled water versus tap. I just started giving him Merrick's lamb lung for treats. We try to be judicious in the treats her receives and keep it simple. I a, wondering if the lamb lung treats are causing the increase in tearing?

Any suggestions would be very much appreciated!

Thanks
| | |
| --- | --- |
| The Following User Nominates Boomer Y Great Photo: | |
Ruth (me) Chester (dog)
Join Date: May 2013
Location: St. Louis area
Posts: 887
Submit Photo: 16
Photo Submissions 8 Times in 8 Posts
Chester has always had a bit of a tear stain, although if you wipe that area with a warm washcloth, it will do the trick.
Welcome to the forum and remember - we want pictures!!
---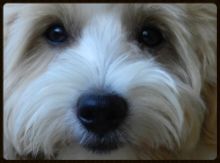 Hav to hav a Hav!!!
Ruth and Chester
(Chester's DOB - 4/04/13)
"Dogs are NOT stupid, they are smarter than you think."
Senior Member
Join Date: Mar 2012
Location: Seattle, WA
Posts: 2,216
Submit Photo: 7
Photo Submissions 49 Times in 49 Posts
Emmie's tearing problem has gotten so much better since I stopped trimming the fur on her face. I'm convinced that her longer hair results in less irritation. I also give her distilled water and probiotics so maybe those 2 things help too.
Skye's Mom
Join Date: May 2013
Location: Houston
Posts: 56
Submit Photo: 0
Photo Submissions 0 Times in 0 Posts
I have noticed the tear stains for Skye improved when I changed her water from tap to bottled. Although, I do wash her face before bed every night with a warm wash cloth, which for a pup can be a challenge, but with some cuddling, I have been able to keep her face clean. Also I have found giving her treats when I want her still is completely useless. Does anyone have any other suggestions. I would love to hear.
---
Skye's_Mom
"My sunshine doesn't come from the skies, it comes from the love in my dog's eyes."
Posting Rules

You may not post new threads

You may not post replies

You may not post attachments

You may not edit your posts

---

HTML code is Off

---