Join Date: Oct 2007
Posts: 103
Submit Photo: 0
Photo Submissions 0 Times in 0 Posts
Heeer's What's Her Name!
---
Hi Everyone!
Well, I am finally an official Havanese owner and I'm so excited! We drove to West Virginia on Friday and met the breeder who drove in from Ohio with my beautiful puppy. It was love at first sight!
Sorry I haven't posted sooner but my weekend has been very busy with my six grandchildren (who love the puppy, so far). She's doing well with her sleeping, eating, etc. Only problem...she DOESN'T have a name! We are still tossing 'round Bella, Blossom and Maggi. I've got to decide before "she" gets a complex.
I have some pictures to share but don't know how to make them small enough for the Forum. If anyone has any info on that, please let me know.
Thanks again to everyone for your encouragement thus far!
Eileen
Senior Member
Join Date: Nov 2006
Location: Long Island, NY
Posts: 8,619
Submit Photo: 3
Photo Submissions 19 Times in 19 Posts
OMG, she's a cutie. Congratulations!!!!

On the right side of the forum home page, you will see "Sizing Photos". Just click on that and follow the instructions.
---
Michele
Kodi & Shelby's Mom and Julian's Grandma
Bugsy's Mom
Join Date: Nov 2006
Location: San Francisco, CA
Posts: 4,341
Submit Photo: 3
Photo Submissions 6 Times in 5 Posts
Congratulations on your no-name little girl, she looks adorable in the avatar. Here's a link to sizing the pictures.
http://www.shrinkpictures.com/
Once you post some close-ups, maybe we can collectively help with the name. I find that names tend to fit not just the looks, but the personality as well.
Looking forward to lots and lots of pics,
---
-Julia
Quincy's Mom-Vinnie too!
Join Date: Feb 2007
Location: Ia.
Posts: 9,923
Submit Photo: 35
Photo Submissions 17 Times in 16 Posts
What a cutie!
To shrink a picture:
On the main page of the forum is a link.I put them on my desk top,then go to the shrink link and shrink to 600.....then I put them back on the desktop and post with my message by managing attachments clear at the bottom of the post.
Someone could probably explain it better---but I tried.
---
Vincent-Quincy's playmate
"Behind every unstable dog is a lesson for the owner"-Cesar Millan
Kimberly
Join Date: Aug 2006
Location: San Francisco Bay Area
Posts: 10,275
Submit Photo: 5
Photo Submissions 19 Times in 13 Posts
Oh, how exciting for you Eileen! So far, she's absolutely adorable! I'm looking forward to seeing more pictures.
I'm sure that whatever name you decide on will be perfect for you. Have fun bonding with her.
Jeanne
Join Date: Mar 2007
Location: SF Bay Area
Posts: 2,622
Submit Photo: 2
Photo Submissions 3 Times in 3 Posts
Congratulations on your darling little girl, Eileen! Kimberly's right....whatever name you choose will be perfect. I let my husband name our dog this time, and when he said, "Maddie", I replied, "huh?" But the more I watched her, it did just seem right for her. I added the middle name (May), but somehow the right name finds the dog. I'm sure you'll have the perfect name soon.
---
Jeanne (Mom to Maddie)
Join Date: Oct 2007
Posts: 1,482
Submit Photo: 0
Photo Submissions 2 Times in 2 Posts
Oh, how cute!!! We tossed around Maggie and Bella, I love both those names (we ended up using Bella Tessa as part of her AKC name). But I let my 19 yo DD name her and she chose Tessa. Now I can't imagine her by any other name...she IS a Tessa
If you can't decide among those 3 look at a baby name book and go down the list...you'll know when it's the right one! That's what we did.
Good luck! Looking forward to more pics....
Kubrick & Hitchcock's Mom
Join Date: Apr 2007
Location: New York, NY
Posts: 7,774
Submit Photo: 1
Photo Submissions 33 Times in 24 Posts
Eileen congrats on such a beautiful girl! She is darling and I'm sure you will settle on a name soon. Post pics when you have a chance!
---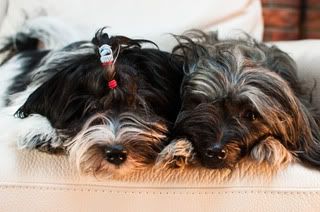 Visit
my blog

-----
Check out my
photos
-----
Photography (pets, people, weddings) -
TripleC Photography
Goldie and Stogie
Join Date: Aug 2006
Location: Dallas
Posts: 2,301
Submit Photo: 7
Photo Submissions 13 Times in 10 Posts
I changed Goldies name 3 times before I settled on Goldie.
She was Ruby for 2 days. LOL

Im so happy for you, she is so cute. Have fun and take photos!
Amanda
Join Date: Nov 2006
Location: South Carolina
Posts: 9,576
Submit Photo: 2
Photo Submissions 31 Times in 22 Posts
Congrats! She is a cutie and I can't wait to see more photos! Can't help on the name, I tend to have the name picked out long before the dog!

Amanda
Posting Rules

You may not post new threads

You may not post replies

You may not post attachments

You may not edit your posts

---

HTML code is Off

---