Evelyn
Join Date: Apr 2010
Location: Chicago burbs
Posts: 4,652
Submit Photo: 4
Photo Submissions 30 Times in 28 Posts
smiling , laughing, growling or...
---
....trying to get a peanut butter treat off the roof of her mouth! LOL ( She was a good dog for posing for a pictures so I gave her a special treat. I couldn't resist taking a picture of this funny look.
)
---
Senior Member
Join Date: Aug 2012
Location: North Carolina
Posts: 2,362
Submit Photo: 36
Photo Submissions 60 Times in 60 Posts
Beau's Mom
Join Date: Oct 2011
Location: Blue Bell, PA
Posts: 758
Submit Photo: 5
Photo Submissions 3 Times in 3 Posts
Great picture!
---
They're not my dogs -- I'm their person
Lorraine
Senior Member
Join Date: Sep 2010
Posts: 5,278
Submit Photo: 0
Photo Submissions 36 Times in 36 Posts
bwhahahahhahaa
---
Tammy and Tillie
Senior Member
Join Date: Aug 2012
Location: Cape Cod, MA
Posts: 2,550
Submit Photo: 9
Photo Submissions 19 Times in 19 Posts
Hope you finally got to "unstick" yourself, Whimsy, but your predicament sure made for a great photo op.
---

Mary (miss you, Bailey-1996-2011 and Tyler-1997-2015)
Dave T
Join Date: Dec 2007
Location: Ontario Canada
Posts: 10,819
Submit Photo: 3
Photo Submissions 115 Times in 113 Posts
good one Evelyn. She has a Pekinese look to her lol.
---
Dave and Molly
Ian Dunbar was awarded the Outstanding Achievement Award from I.P.D.T.A. Here's a picture of me accepting the award on his behalf.
Member of IAABC ,International Association of Animal Behavior Consultants , Member of Pet Professional Guild
Henry 2006-2018/ Kordelia
Join Date: Jun 2007
Location: NJ/NYC metro.
Posts: 4,155
Submit Photo: 11
Photo Submissions 25 Times in 25 Posts
Eating peanut butter makes Whimsy one happy dog!
Senior Member
Join Date: Jul 2008
Location: South Fla
Posts: 2,815
Submit Photo: 1
Photo Submissions 10 Times in 10 Posts
she's adorable as always!
---
Beth, Pixie Puff and MiG too
Ruth (me) Chester (dog)
Join Date: May 2013
Location: St. Louis area
Posts: 887
Submit Photo: 16
Photo Submissions 8 Times in 8 Posts
Hahaha that's soooo funny!
I think she's practicing for Hollywood. I think she'll make it!
---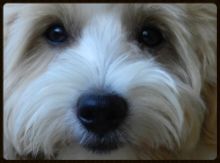 Hav to hav a Hav!!!
Ruth and Chester
(Chester's DOB - 4/04/13)
"Dogs are NOT stupid, they are smarter than you think."
Senior Member
Join Date: Oct 2010
Location: West Linn Oregon
Posts: 4,845
Submit Photo: 21
Photo Submissions 40 Times in 40 Posts
That is one great picture!
---
Maddie at 5mo old
Posting Rules

You may not post new threads

You may not post replies

You may not post attachments

You may not edit your posts

---

HTML code is Off

---