Join Date: Oct 2007
Posts: 1,482
Submit Photo: 0
Photo Submissions 2 Times in 2 Posts
Jumping and patellas
---
On Tritia's thread about a new puppy today Missy posted this quote: " Havs are not supposed to be allowed to jump (yeah right) until their growth plates close and that is about 1.5 years."
I didn't want to hijack that thread so thought I'd start a new one. I did a search but couldn't come up with anything so I'm sorry if this subject has come up before.
I'm hoping her "yeah, right" aside means most of you have Havs who jump with no ill effects.
Tessa has jumped from the day we brought her home, just shy of 4 mo old. She jumps EVERYWHERE and from one piece of furniture to another. It's as if she LIVES to jump. She jumps from our ottoman coffee table to the sofa, across the end table to the chair and back (why bother going to the floor and back up??? lol!). She comes in from outside and immediately jumps onto an ottoman (I have no idea why, she just does). And of course any time I leave a room or even just a few feet away from her, she jumps down to follow me and that happens multiple times a day. She walks into a room and immediately scopes it out to see what and where she can jump. We think she may have some monkey DNA
She has NO fear!
To keep her from jumping we would have to straight jacket her.
So my question is...is this something we should worry about? I suppose we could discipline and train her to not jump but unless there are clear benefits to doing so I'd prefer not to take this route as she loves it so much.
Thanks for any insight/advice you can give me!
Senior Member
Join Date: Apr 2007
Location: Long Island, New York
Posts: 8,941
Submit Photo: 3
Photo Submissions 41 Times in 25 Posts
Jan,

It seems to me a lot of them are jumpers. Milo isn't one of them. He does jump off the sofa when I'm ready to leave the room, but it's rather low. He does not jump up. He waits to be invited and lifted to his throne. As for the bed, it is quite high, but he won't jump up or down, waiting instead for my outstretched arms. I actually loved that, especially in the beginning because I knew he wouldn't make on the bed and he wasn't going anywhere till morning when I let him down.

It's surprising in a way since he's such an adventurous soul in so many other ways.
---
<b>Just Milo and me, and . . . </b>Bailey makes three . . . until Ruby said, "hey, what about me?"
Geri, Milo, Bailey and HRH Princess Ruby Tuesday
If you're thinking of getting a puppy, click here
http://www.photoshow.com/watch/YK8AH4rw
Pablo&Chuy's momma
Join Date: Jul 2007
Location: Eden, NC
Posts: 4,286
Submit Photo: 11
Photo Submissions 9 Times in 8 Posts
I'm of no professional help, but just want to let you know that Pablo (now at 13.5 weeks) has definitely inherited his mother's jumping gene. Right from the beginning he jump off my lap while I was on a chair (scared me to death!) and just the other day jumped off my DH's arms while he was standing. When we go for a walk, he will look for every little opportunity to jump down, he's not good at jumping ON things (yet). He definitely needs to go to agility class later on.
As for his minimal patellar subluxation he had when we got him: with all the running and playing he does, it has already improved much. I'm sure the new Vet will probably not be able to detect it anymore.
---
Senior Member
Join Date: Feb 2007
Posts: 4,302
Submit Photo: 1
Photo Submissions 4 Times in 3 Posts
It's interesting to me that so many have said their Havs didn't jump UP until they were about 8-9 months old. Rufus started jumping up on things at about 4 months, but he doesn't usually jump down. He edges towards the edge and looks back at me to lower him to the floor. Maybe he just learned it from me since I'm so overprotective and worried he would damage his growth plates? He is sooooo over pampered LOL!
Join Date: Oct 2007
Posts: 1,482
Submit Photo: 0
Photo Submissions 2 Times in 2 Posts
Well, Tessa jumps both up AND down and has since 4 mo old. During her first bath she jumped out of the kitchen sink onto our wood floor scaring me to death.

Marya, I've thought the same thing...agility classes should be in her future! I think she'd love it. My breeder told me her mother is the same way re the jumping.

I guess my question is will this jumping damage her patellas or her growth plates?
Senior Member
Join Date: Nov 2006
Location: Long Island, NY
Posts: 8,619
Submit Photo: 3
Photo Submissions 19 Times in 19 Posts
Mine jump up onto the couch, chairs, front steps, off the deck - which I think are all common with dogs. Kodi will jump on/off my bed, but Shelby will not. She is a little shorter than Kodi, and I think it's a bit high for her.

When Shelby wants my attention, she will jump straight up in the air until she is about as high as my waist.
They also did small jumps in puppy class, nothing too high, just a coupke of inches off the ground.

However, I don't think I would let them jump off anything real high. I would be too afraid they would get hurt.
---
Michele
Kodi & Shelby's Mom and Julian's Grandma
Kubrick & Hitchcock's Mom
Join Date: Apr 2007
Location: New York, NY
Posts: 7,774
Submit Photo: 1
Photo Submissions 33 Times in 24 Posts
Christy, that's really funny about Rufus! Kubrick was the exact opposite! He would SAIL off our tall bed even at 4 months if we didn't take him down fast enough for his tastes. That scared me to death. He could jump off the couch too but never up on it. We would even try to get him to do it (around 6 months) so he would learn but it was so sad. We would put a treat up on the couch and tell him "Up" and he would try and try to jump up and would extend his neck as far as it would go to get the treat so we finally would pick him up. Now he jumps up on his own but to this day he thinks that "Up" means stand on two feet leaning on your leg.
---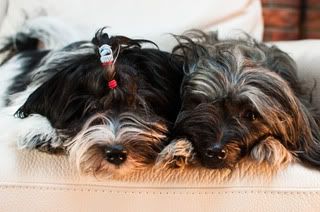 Visit
my blog

-----
Check out my
photos
-----
Photography (pets, people, weddings) -
TripleC Photography
Join Date: Dec 2007
Posts: 454
Submit Photo: 0
Photo Submissions 0 Times in 0 Posts
I'm interested in this topic too! I've got a Mexican jumping bean here! We got Bonnie at 14 weeks and she jumped from the start. We don't allow her on the furniture but she jumps from our laps frequently. She also jumps up and down in her ex pen like CRAZY!! It's hysterical! Her favorite place is jumping up on her crate to lay down. One of the tricks we've taught her is to dance -- where she jumps around on her back legs!
If she had patella problems, wouldn't it be too painful for her to do all that? Should I not encourage her adorable jumping/dancing????
Jeanne
Join Date: Mar 2007
Location: SF Bay Area
Posts: 2,622
Submit Photo: 2
Photo Submissions 3 Times in 3 Posts
Oh, I wish I could stop Maddie from her fearless jumping. She doesn't believe in stairs, jumping from the deck to the patio and back without using the 3 1/2 steps. She jumps up and down from the bed, couch, or whatever she happens to be on. She gave us a heart attack when she jumped off the BACK of the couch once! I just had her patellas checked, and they're normal. But I'd have to have her on leash 24 hours a day to stop the jumping. My prior Hav never jumped, as she had patella luxation in both hind legs. But with Maddie, its like trying to keep a jack rabbit from jumping.
---
Jeanne (Mom to Maddie)
Join Date: Jan 2007
Posts: 90
Submit Photo: 0
Photo Submissions 0 Times in 0 Posts
Three weeks ago Sally was spayed and the vet said do NOT allow her to jump even a small amount for a week. Well, as soon as Sally got home she jumped up on the back of the couch and did a flying leep onto the cat....with no ill effects......trying to prevent a Hav from jumping is like trying to control the weather.

David
Posting Rules

You may not post new threads

You may not post replies

You may not post attachments

You may not edit your posts

---

HTML code is Off

---