Join Date: Dec 2007
Posts: 2
Submit Photo: 0
Photo Submissions 0 Times in 0 Posts
A few questions.
---
Hi all, this is my first post on this forum, and in doing so i would like to ask a few questions of which i hope you could help me answer.
Just recently on my trip to Thailand, we walked into a shop of which had 4 dogs. They were very small, very cute, and very placid. We asked the owners about their age and were astounded to find out one of them was 10 years old - all the dogs looked like pups. Unfortunately we never asked what dog type they were.
Just a few days ago i was thinking about buying a new dog to accompany my maltese terrier. I thought about the dogs i saw and decided to do some research on the net, as i had taken a photo with them while i was there.
While searching i found a dog that looked very similar to it, and when reading it stated it was a Red Sable Havanese. The picture i am referring to is the following
http://sweethavanese.homestead.com/hellohector.jpg
The dog on the left.
As i'm not sure that it is the dog i saw, i just wanted to ask a few questions in regard to the breed. Basically, the dogs I saw in Thailand looked similar in size, if not a bit bigger than the picture shown. Is it possible to get a full grown Havanese that size?
Another thing, one of the family members gets allergies, hence the reason why we have a maltese to prevent any issues, as the dog is an inside dog. While reading on the internet i read that long haired havanese are not recommended for those with allergies, and that the short haired are fine. Is the one in the image a short haired, or is it a long haired of whoms hair has been clipped/groomed?
Lastly, if all the above boxes were to be ticked in regards to what the family is looking for, where would you recommend the best place to find/purchase like the dog shown in the picture above? Basically we are looking to get the exact same type of the dog shown.
Any help is greatly appreciated. Thanks in advance.
Kimberly
Join Date: Aug 2006
Location: San Francisco Bay Area
Posts: 10,275
Submit Photo: 5
Photo Submissions 19 Times in 13 Posts
By your description and that photo, I'm guessing you saw a dog on the smaller side. Is it possible to get one? Yes. Sometimes there are smaller dogs born in litters, but make sure you avoid any breeders that intentionally breed small dogs. The smaller Havanese are more likely to have health problems. (They don't always have trouble, but it is more likely. When they are intentionally bred down, it is
much more
likely.)
I've worked with several families that have allergies. If the allergies are to dog dander, the length of hair won't matter in a Havanese. However, if they are allergic to outside pollens, that will make a difference because the dog will carry more of that indoors.
The image you have linked is a puppy. That does not appear to be a clipped dog, just young.
If you are considering getting one, seek out a breeder that does health testing on both parents prior to breeding, shows their dogs in conformation (which is comparing their dog against the Havanese standard) and does not stand alone - has referrals from other breeders. Most of us will refer you to another breeder if we can't provide a dog for you. The Havanese Club of America (
www.havanese.org
) can help get you started with some breeders to contact too.
Lastly, try not to get too stuck on color, especially any sable (red, cream or gold) because Havanese tend to change colors with time. Many of the U.S. sables will fade out. Not all, but most do.
Kimberly
Join Date: Aug 2006
Location: San Francisco Bay Area
Posts: 10,275
Submit Photo: 5
Photo Submissions 19 Times in 13 Posts
P.S. Many of us can help you verify the health testing on the parents. The results are posted online at
www.offa.org
and you will need the registered name of both dogs or their AKC number. Sometimes it is confusing to figure out the results, so we are willing to help translate them.
Amanda
Join Date: Nov 2006
Location: South Carolina
Posts: 9,576
Submit Photo: 2
Photo Submissions 31 Times in 22 Posts
First, welcome to the forum!

I would also say it is very likely the dog isn't a havanese. I work with rescue and have gone to a few shelters to do a havanese identification. A lot of poodle/bichon crosses can easily look like a havanese- and poodles also come in a variety of colors. I am not sure of how many havanese breeders there are in Thailand but I am guessing not many?

As to allergies, I have a maltese and a havanese as my husband is horribly allergic to cats and he doesn't have issues with either of them! Dora is a havanese without the short hair gene as short hairs do shed.

As to size. Dora is in the standard for her size and in appearance with her coat, she is double the size of my maltese. While she isn't double Belle's height, her length, bone structure, etc. make her appear about 2 times the size of the maltese.

Amanda
Join Date: Dec 2007
Posts: 2
Submit Photo: 0
Photo Submissions 0 Times in 0 Posts
Will post tomorrow as it's getting a bit late in Aus
Thankyou both for your quick replies and help.
Senior Member
Join Date: Nov 2006
Location: Massachusetts
Posts: 11,746
Submit Photo: 27
Photo Submissions 48 Times in 35 Posts
Hi JJ, Welcome to the forum-- obviously we can't tell you what the dogs you saw were in Thailand. But we can tell you how great Havanese are. I would 2nd don't get to attatched to color-- they really do change. I got a brown and white puppy and ended up with a white dog.

As for allergies-- I am terribly allergic to all dogs and cats but not the Havanese-- In fact I am able to live with two. I find I have to be more strict about taking my allergy meds but that has never made a difference with other animals (I am even allergic to poodles)

I think you have the allergy info regarding shorthaired havs vs normal havs reversed. I have read that the short haired havs actually shed and have more if a doggy smell. They are also a mistake-- not to say they can not make someone a lovely pet-- Havs are not breed to be shorthaired. As you know from your maltese - most dogs with hair as opposed to fur have longer coats-- and they shed less.

The puppy you showed is gorgeous. I have come across and lusted after that picture myself. there is someone on the forum- also from Australia who does have a red hav "Kahlua" that has kept a lot of the color. Maybe the stock there has less fading in the reds. Search "Kahlua" on the forum to see the picture and private message Christine. Also check out Buttercup she is now a gorgeous strawberry blond.

here's a picture of a short haired hav also known as a shavanese from Misty Trails Havanese




---
Missy, Jasper & Cash
---
Last edited by Missy; 08-11-2010 at

08:28 AM

.
Kimberly
Join Date: Aug 2006
Location: San Francisco Bay Area
Posts: 10,275
Submit Photo: 5
Photo Submissions 19 Times in 13 Posts
Oh yes, I thought J.J. was referring to clipped dogs when he/she said "short haired". If you are talking about the dogs that are genetically short-haired, they are the same as having any shedding breed with dander in regard to allergies. People that have allergies have problems with the short-haired Havanese. You can read a lot more about them at
www.erashavanese.com
and click on the link for "Short Hairs". They have the same Havanese personality, but not the hypoallergenic benefits.
And, as you can tell by the above photo, they have a completely different look than the puppy picture you posted.
Kubrick & Hitchcock's Mom
Join Date: Apr 2007
Location: New York, NY
Posts: 7,774
Submit Photo: 1
Photo Submissions 33 Times in 24 Posts
Missy, I think Kahlua is a chocolate, not a red Hav.
And
to the forum JJ! I also think that you've got your short vs long haired Hav info wrong. The short haired Havs are the ones that can cause allergies and that shed and the long haired are the ones that are not. My fiance is incredibly allergic to cats and other dogs (his parents have two dauchsunds that make his eyes water and get red and makes him sneeze non stop), and he is not at ALL allergic to Kubrick. It's as if we didn't even have a dog as far as the allergies go. And color is something that's really tough to get attached to in these dogs. Kubrick is a brindle so he hasn't changed color much, but he still has light roots coming in at different places, so he has lightened a bit since we first got him.
---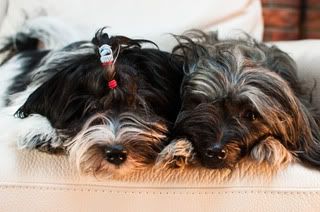 Visit
my blog

-----
Check out my
photos
-----
Photography (pets, people, weddings) -
TripleC Photography
ChristineL's Hav, Kahlua
---
Isn't Kahlua on ChristineL's Avatar, as he looks red...

But on page 5 of the calendar there is a close up of him and he looks brown!

Christine..where are you??????
Kubrick & Hitchcock's Mom
Join Date: Apr 2007
Location: New York, NY
Posts: 7,774
Submit Photo: 1
Photo Submissions 33 Times in 24 Posts
Diane, I'm almost 100% certain that Kahlua is a chocolate Hav. She has hazel eyes and the liver colored pigmentation on her nose.
---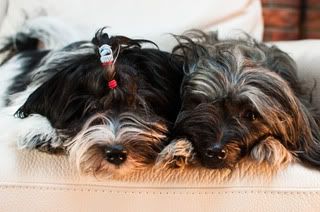 Visit
my blog

-----
Check out my
photos
-----
Photography (pets, people, weddings) -
TripleC Photography
Posting Rules

You may not post new threads

You may not post replies

You may not post attachments

You may not edit your posts

---

HTML code is Off

---