[B]Coco pics before and after her groom[/B]
---
well here goes nothing! Hope this works! 2 are before and 2 after.
Coco is 18 months old. We got her from a breeder who couldn't use her, although she is AKC certified, she has an overbite and her tail doesn't go the right way. I think she is just perfect the way she is and we just love her.
Evelyn
Join Date: Apr 2010
Location: Chicago burbs
Posts: 4,652
Submit Photo: 4
Photo Submissions 30 Times in 28 Posts
very cute!!!Love the bandana. .will she keep it on?
---
Ruth (me) Chester (dog)
Join Date: May 2013
Location: St. Louis area
Posts: 887
Submit Photo: 16
Photo Submissions 8 Times in 8 Posts
awww, i love her coloring!
---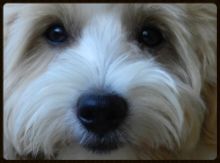 Hav to hav a Hav!!!
Ruth and Chester
(Chester's DOB - 4/04/13)
"Dogs are NOT stupid, they are smarter than you think."
The silence is killin me! 101 views and only two comments? What do you think? Is she too short? I really like it like this, however, I am her mother and at tad biased.
Senior Member
Join Date: Jul 2013
Posts: 110
Submit Photo: 0
Photo Submissions 3 Times in 3 Posts
She is a beautiful girl! ... I tend to like the look of the longer hair, but I have not yet had to deal with matting and such. My opinions will probably change when I am having to spend more and more time combing them out!
Karen
Join Date: Nov 2006
Location: PA
Posts: 3,067
Submit Photo: 4
Photo Submissions 16 Times in 9 Posts
She looks adorable!!
---
**Karen, Mom to Brady, Dugan, and Devon
Beau's Mom
Join Date: Oct 2011
Location: Blue Bell, PA
Posts: 758
Submit Photo: 5
Photo Submissions 3 Times in 3 Posts
Well, I think the cut is great! I like to keep Beau in a short puppy cut, too. He seems more comfortable, I can see his eyes, and he rarely gets a mat!!! Sorry, not to respond sooner, but I'm away from home and limited in Wifi time.

Coco is adorable -- and I like her better in a short cut!
---
They're not my dogs -- I'm their person
Lorraine
Jacqueline
Join Date: Mar 2010
Location: Oakland, CA
Posts: 1,090
Submit Photo: 6
Photo Submissions 13 Times in 13 Posts
I like the length before you got her cut, or even a little longer.

she's adorable!
Senior Member
Join Date: Aug 2012
Location: Cape Cod, MA
Posts: 2,550
Submit Photo: 9
Photo Submissions 19 Times in 19 Posts
I agree with the longer length before grooming. I think the reason is that, although I keep Tyler in a short cut, his legs are scissored and not clipped, thus creating a fuller look. I don't like the shaved leg look because it makes their legs look so skinny, but that's my personal opinion.
That being said, Coco is a cutie.
---

Mary (miss you, Bailey-1996-2011 and Tyler-1997-2015)
Senior Member
Join Date: Mar 2012
Location: Seattle, WA
Posts: 2,216
Submit Photo: 7
Photo Submissions 49 Times in 49 Posts
Coco is adorable in either cut.
Emmie's had a shorter "do" before but I've been growing her hair out since January so it's starting to look nice and fluffy. I like her current style but it's definitely more work. Mary's comment about having the legs scissored instead of clipped is a great one for fuller looking legs. I didn't know that and will ask the groomer the next time Emmie gets a trim.
-Jeanne-
---
Last edited by MarinaGirl; 07-29-2013 at

05:57 PM

.
Posting Rules

You may not post new threads

You may not post replies

You may not post attachments

You may not edit your posts

---

HTML code is Off

---