Cooper,Emma,Lily,Winston
Join Date: Oct 2006
Location: Lincoln,NE
Posts: 2,018
Submit Photo: 57
Photo Submissions 4 Times in 4 Posts
Could this be a Hav?
---
Hehehe, made you look!
No, not a Hav, but a mini-silk dog! It's kind of a long, convuluted story, but I'd like to introduce Winston, our newest family member.
Many of you are familiar with my friend Cowboy John, and how we were searching for a Hav for him. We had found a perfect match in a rescue Hav, but the way things worked out (this is the convuluted part) he ended up adopting a rescue Maltese instead.
Well the day I flew down to Texas to get Winston, John fell and seriously damaged his knee on one leg and his ankle on the other. Unable to walk, it was obvious that Winston would be coming home with me.
From the beginning I had this little voice in my head wondering about the rescue organization, but John "felt so sorry for him". Now, 2 months later, I have even more doubts about it. You try to do the right thing, and still you just never know. That being said....Winston has the most precious personality ever. He is a constant lover, he wants nothing more than to snuggle or follow me from room to room. He is fantastic in the car, at the vet, the groomer, and in a den. He loves to dress up! The one behavior issue I've found is that when we call him, he'll come, but not close enough for you to touch him, when you try he'll jump away. Now if you have a leash in your hand, he'll run right up and sit to get hooked up, if you have a treat he'll come and sit and let you pet him for the treat, if you're on the couch he'll jump up and sit on your lap. I know that one of the homes he was in , in his short life had a couple young children that chased him, so I'm guessing that's where this behavior comes from.
So you're wondering why I've had the little fella for 2 months and haven't said anything...he's been sick, with one thing or another since I brought him home, and I just have this sad feeling that I shouldn't get too attached to him. Of course that didn't work, and we are attached to him. We've spent over a thousand dollars in vet bills already and he's still not right. Tomorrow morning I take him in for X-rays and barium breakfast. Currently he is regurgatating every evening, sometimes 10 times a night. He doesn't puke, it's definatly from gas, and his food and water not going all the way to his stomache all the time.
He is the happiest little guy I've ever met, and he just never deserved whatever happened to him, I'm trying to give him a fighting chance to at least be healthy. When we first got him, we found he had a broken tooth with an exposed root, that didn't even seem to bother him.
I really wanted my next dog to be another Hav, but sometimes things have ways of working out differently than we planned. Anyway, since no one around here knows what Havs are, I'll just say he's my smaller Hav
He is 1.5 years old apx and 7.4 lbs.
The first picture is shortly after he came home and the second one was when I was trying to get a picture of his tail looking like a Hav tail, lol.
Beverly
---
"The greatness of a nation and it's moral progress can be judged by the way its animals are treated"
Mahatma Gandhi
---
Last edited by BeverlyA; 08-13-2010 at

09:39 PM

.
Katrina
Join Date: Aug 2007
Location: East Tennessee
Posts: 1,414
Submit Photo: 15
Photo Submissions 0 Times in 0 Posts
He is adorable. Hope he feels better FAST.
---
Katrina
and Princess Furface ---Lilly
www.youravon.com/kpresnell
Kubrick & Hitchcock's Mom
Join Date: Apr 2007
Location: New York, NY
Posts: 7,774
Submit Photo: 1
Photo Submissions 33 Times in 24 Posts
Oh Beverly he is just precious! I'm sure you wanted a second Hav, but sometimes things work out differently, and it's all for the best! I'm even more sure of that hearing about all of poor Winston's problems and how wonderful you are trying to make him better. I hope everything that he has wrong with him will be taken care of soon! Do you mind me asking what exactly is wrong with him? Is it the regurgitating? What could cause that?
You are an angel Beverly!
---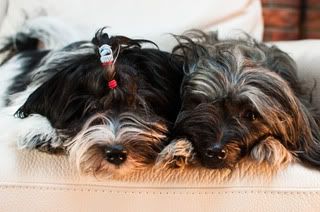 Visit
my blog

-----
Check out my
photos
-----
Photography (pets, people, weddings) -
TripleC Photography
Mom of Brutus and Roxie
Join Date: Mar 2007
Location: Danville, CA
Posts: 2,152
Submit Photo: 0
Photo Submissions 0 Times in 0 Posts
He is precious Beverly! Bless you for all you have done and I will be thinking healing thoughts for your baby tomorrow! Keep us posted now that the "dog is out of the bag!!!!"
Senior Member
Join Date: Apr 2007
Location: Long Island, New York
Posts: 8,941
Submit Photo: 3
Photo Submissions 41 Times in 25 Posts
OMG Beverly, I'm devastated for your poor baby. If I could will him well, I would. In fact, I will try. He deserves so much better than he's had in his short life. I'm so glad he found you. Keep us posted. I'll pray very hard for him tonight.
---
<b>Just Milo and me, and . . . </b>Bailey makes three . . . until Ruby said, "hey, what about me?"
Geri, Milo, Bailey and HRH Princess Ruby Tuesday
If you're thinking of getting a puppy, click here
http://www.photoshow.com/watch/YK8AH4rw
Amanda
Join Date: Nov 2006
Location: South Carolina
Posts: 9,576
Submit Photo: 2
Photo Submissions 31 Times in 22 Posts
His personality shows right thru the pictures! Bev, He is so stinking adorable and I think it was meant to be, after all you are the one who got him! I will say Isabelle is the same way about jumping back from people!!! Everyone is like oh she doesn't like to be picked up but she actually does. It is just her unsureness or my husband jokes it is like she wants you to want her more and prove it. We use a touch command where we taught her to come and push her nose on your hand. You might want to try that.

I hope you can get his health under control sooner than later!

And what is this little guy's name?

Amanda
Kimberly
Join Date: Aug 2006
Location: San Francisco Bay Area
Posts: 10,275
Submit Photo: 5
Photo Submissions 19 Times in 13 Posts
Winston is a doll!
So, do you think he'll stay with you or eventually move to Cowboy John's house? (I still smile at Cowboy John's name.
) It sounds like you are leaning towards keeping him with you, and who can blame you. You've been so wonderful to him! Does this mean Cowboy John will be looking for his next companion? If so, I'm sure you'll find the perfect sidekick.
How are Cooper and Lily responding to Winston?
Bugsy's Mom
Join Date: Nov 2006
Location: San Francisco, CA
Posts: 4,341
Submit Photo: 3
Photo Submissions 6 Times in 5 Posts
Beverly,
He is absolutely gorgeous and definitely looks like a small Hav, as he is rather big for a Maltese.
He is so luck to have found you. I am sending healing vibes to him.
---
-Julia
OHHHHH, Beverly...Winston is so utterly adorable...and he looks like such a happy little guy for all of his health issues.
I'm praying that all will work out for the good!
Senior Member
Join Date: Feb 2007
Posts: 4,302
Submit Photo: 1
Photo Submissions 4 Times in 3 Posts
Poor little guy! Has he been struggling with these problems his whole life do ya think? Hav or not I couldn't turn away from that sweet little face either! He looks Hav enough and has a lot of heart!
Posting Rules

You may not post new threads

You may not post replies

You may not post attachments

You may not edit your posts

---

HTML code is Off

---