Join Date: Dec 2007
Posts: 18
Submit Photo: 0
Photo Submissions 0 Times in 0 Posts
introducing myself
---
Hi all. I've been lurking here for a couple weeks and joined just a couple days ago. We aren't owners yet but have found a couple breeders in my state that I have been working with asking tons of questions and hope to have a pup by the middle of the year or so. Mother's Day would be fabulous in my opinion.....
We are a family of 5. I have three daughters, 14, 8, and just about 4 and of course a wonderful husband too. We recently moved and are settled into our new home and surroundings. I attend school online and work from home part-time. I got interested in getting a dog again when my best friend got a bichon frise and found that I didn't break out in hives, have runny eyes and nose and scratch to death when I was around her. Then out of the blue we were at a volleyball tournament for my oldest and this lady had a havanese and I fell in love!!!! I didn't get all her info but she answered all my questions and allowed me to drool on her fabulous dog so I came home and began my research about havanese breed....wow....fabulous dogs....so precious and loved by so many, which is great!!! We don't want a pet but an addition to our family!
I wanted to thank you all for such an informative, upbeat site. I have gotten so many questions answered already just from reading your posts, and from some of your websited so THANK YOU!! I look forward to chatting more and learning more about this great breed! I'm already excited to have another little member to make snacks for....
Tonya
---
Last edited by Soygal; 01-03-2008 at

01:29 PM

. Reason: oops, forgot my name....
Kubrick & Hitchcock's Mom
Join Date: Apr 2007
Location: New York, NY
Posts: 7,774
Submit Photo: 1
Photo Submissions 33 Times in 24 Posts
Hello and
to the forum Tonya! It sounds like you have had your heart stolen by a Havanese already and you don't even have one yet! What a promising start for MHS.
Please let us know when you find your little one. We love our puppy pics around here, if you haven't noticed that yet.
---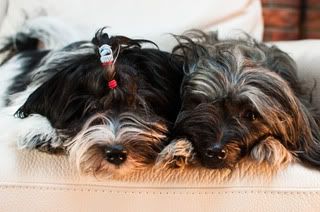 Visit
my blog

-----
Check out my
photos
-----
Photography (pets, people, weddings) -
TripleC Photography
Senior Member
Join Date: Jan 2007
Location: Toronto, ON, Canada!
Posts: 4,155
Submit Photo: 0
Photo Submissions 16 Times in 6 Posts
Tonya..

Welcome! Hope you get your new family member in the near future!!

Ryan
---
Senior Member
Join Date: Apr 2007
Location: Long Island, New York
Posts: 8,941
Submit Photo: 3
Photo Submissions 41 Times in 25 Posts
Welcome Tonya. If you think you're in love now, just wait. These little angels do steal your heart and sometimes addle your brain. There is much fun to be had here, so stick around.
---
<b>Just Milo and me, and . . . </b>Bailey makes three . . . until Ruby said, "hey, what about me?"
Geri, Milo, Bailey and HRH Princess Ruby Tuesday
If you're thinking of getting a puppy, click here
http://www.photoshow.com/watch/YK8AH4rw
Senior Member
Join Date: Feb 2007
Posts: 4,302
Submit Photo: 1
Photo Submissions 4 Times in 3 Posts
Welcome to the fuorum! This is a great place to hang out, see pics, hear stories and share all the agonys of waiting impatiently for your new Hav!
Jeanne
Join Date: Mar 2007
Location: SF Bay Area
Posts: 2,622
Submit Photo: 2
Photo Submissions 3 Times in 3 Posts
Hi Tonya, and
to the Forum! We're all in love with Havanese here, as you can tell. But take your time and find a reputable breeder who fully tests their breeding dogs. We have alot of information here, and you'll get any help you need. Your wait for one of these adorable dogs will be well worth it!
---
Jeanne (Mom to Maddie)
Izzy, Doc, and Kai's mom
Join Date: Jan 2007
Location: Monmouth, IL
Posts: 2,349
Submit Photo: 4
Photo Submissions 30 Times in 13 Posts
I can't say enough about the breed.....you will fall in love!
---
Doc
Senior Member
Join Date: Aug 2007
Location: N. Nevada
Posts: 1,665
Submit Photo: 25
Photo Submissions 18 Times in 13 Posts
Welcome to the forum
can't wait to see when you get your new little one
but as stated above do find a reputable breeder that does do their testing.
Good luck with your search for your new little Havanese!!
---
Heather
Caché Havanese
"What Lies Behind Us And What Lies Before Us
Are Tiny Matters Compared To What Lies Within Us."
Here are some links to help educate yourself in how to fight for your rights to continue to own and love your animals. Please do not be mislead by PETA or HSUS who is PETA in suits.
Tori's mom
Join Date: Feb 2007
Location: Sunny SoCal
Posts: 4,988
Submit Photo: 19
Photo Submissions 10 Times in 6 Posts
Welcome Tonya! Please keep us posted as you search for your baby. Don't be afraid to ask questions of us, or any breeder you're thinking of getting a pup from.

Here's a quote from one of the threads that may be useful to you during your search. It comes from Jan (JASHavanese)

"What do you ask a breeder? Here are some of the things I can think of off the top of my head.
What health testing has been done on the parents?
What are the names of the sire and dam so that I can go to offa.org and look up the results myself?
How are the puppies raised?
Are there any known health issues in your dogs?
Do you stand behind your dogs and if so, what is your policy?
If there is a genetic problem with the puppy, what do you do?
If for some reason I can't keep the dog, what do you do?

And what should you expect from a breeder? Here are my requirements:
Soaped pictures of the sire and dam
Soaped pictures of the puppy
A good and honest relationship
One who is willing to help you at any hour of the day
One who wants to see that puppy as it grows whether in person or pictures
The websites to the sire and dam's offa.org pages.
There are times health tests aren't posted yet so expect the breeder to show you the paperwork and feel free to ask why it isn't in the database yet."
Biscuit's mom
Join Date: Jul 2007
Location: San Francisco Bay Area
Posts: 2,518
Submit Photo: 2
Photo Submissions 7 Times in 5 Posts
Welcome, Tonya. Hope you find a wonderful Havanese to add to your family soon.. Ours has been a complete joy. My husband is also very allergic, and has no problem with our dog. All the best!
---
HAV A GREAT DAY ! ~~AMY & BISCUIT~~
and HEATH-Y, TOO !
Posting Rules

You may not post new threads

You may not post replies

You may not post attachments

You may not edit your posts

---

HTML code is Off

---