Senior Member
Join Date: Jul 2013
Posts: 110
Submit Photo: 0
Photo Submissions 3 Times in 3 Posts
A day in the life with 3 havs...
---
Thought I'd share some pics of life with our beautiful hav babies. We've recently expanded their space to the whole first floor and all is going great!! They still sleep in their ex pens at night, but are now free to roam throughout the day. Miggy still prefers to go potty outside, but the litter boxes are accessible and are used whenever the need arises. The girls seem to prefer them. They are all so smart, so happy and sooooo loving. They follow us around like a parade wherever we go!! And, I swear that they can understand me when I speak... or at least, they fake it well. Sometimes I will go on and on and they will tilt their little heads as if they are taking in ever word!! I just can't even put into words how much we adore them!! They are so amazing! Maybe we need just one more...........
Attachment 63441
Attachment 63449
Attachment 63457
Attachment 63465
Attachment 63473
---
Last edited by jmombo; 01-22-2014 at

09:39 AM

.
Senior Member
Join Date: Jul 2013
Location: Denver
Posts: 235
Submit Photo: 0
Photo Nominations 1 Time in 1 Post
Wonderful pictures. They're all adorable!!
Evelyn
Join Date: Apr 2010
Location: Chicago burbs
Posts: 4,652
Submit Photo: 4
Photo Submissions 30 Times in 28 Posts
they are just too cute for words! I'm so happy to hear that things are going smoothly for you. They are such a smart and loving breed as you have learned. I do believe there is always room for one more at your house!!!!
---
Senior Member
Join Date: Mar 2013
Location: Michigan
Posts: 133
Submit Photo: 0
Photo Nominations 1 Time in 1 Post
Oh so precious! How old are they now?
Senior Member
Join Date: Aug 2012
Location: North Carolina
Posts: 2,362
Submit Photo: 36
Photo Submissions 60 Times in 60 Posts
Senior Member
Join Date: Nov 2012
Location: Boston, Ma.
Posts: 153
Submit Photo: 0
Photo Submissions 2 Times in 2 Posts
Ruth (me) Chester (dog)
Join Date: May 2013
Location: St. Louis area
Posts: 887
Submit Photo: 16
Photo Submissions 8 Times in 8 Posts
Goodness, what a perfect little trio!!
---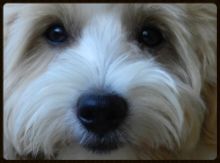 Hav to hav a Hav!!!
Ruth and Chester
(Chester's DOB - 4/04/13)
"Dogs are NOT stupid, they are smarter than you think."
Senior Member
Join Date: Aug 2013
Location: NC
Posts: 396
Submit Photo: 10
Photo Submissions 6 Times in 6 Posts
Just beautiful pictures... Absolutely love the one with your son. And that sweet sleeping face... Swooon! You're so lucky.
---
Traci & Ludo
*~*~*~*~**~*~*~*~*~*~*
The dog becomes your dream come true, the very thing you wanted.
- Maurice Sendack
Henry 2006-2018/ Kordelia
Join Date: Jun 2007
Location: NJ/NYC metro.
Posts: 4,165
Submit Photo: 11
Photo Submissions 27 Times in 27 Posts
Wonderful pics of cute fluffy havs, nice way to start the day.
LINDA
Join Date: Jun 2007
Location: PA
Posts: 6,496
Submit Photo: 3
Photo Submissions 36 Times in 33 Posts
Posting Rules

You may not post new threads

You may not post replies

You may not post attachments

You may not edit your posts

---

HTML code is Off

---