Jacqueline
Join Date: Mar 2010
Location: Oakland, CA
Posts: 1,090
Submit Photo: 6
Photo Submissions 13 Times in 13 Posts
My 1/2 hav saves me money
---
It's a local chain here in CA, Pet Food Express and now it's happened, three times.
I only go there to buy kibble. The first time, it was a new cashier who didn't know Ollie, and I said, hey, would you give me a discount if my dog can do math problems?
skeptical, the cashier said yes. after 3 math problems, I think one addition, subtraction, the multiplication, the cashier gave me 25% off.
It happened again, a couple of months ago. then today, one of cashier's recognized Ollie, even though he came to school today and was beat, the cashier asked if he could give Ollie a math problem. I said, if you give me a discount
I threw in the discriminating word task, I used their name badges, and asked which name they wanted ollie to learn. he killed it.
got the discount again.
So perhaps if your hav has a novel trick, it can save you some moola.
cheers.
| | |
| --- | --- |
| The Following User Nominates sprorchid Great Photo: | |
Awesome! That Ollie always cracks me up
Metrowest, MA
Join Date: Jun 2009
Location: Massachusetts
Posts: 23,696
Submit Photo: 6
Photo Submissions 300 Times in 298 Posts
Ruth (me) Chester (dog)
Join Date: May 2013
Location: St. Louis area
Posts: 887
Submit Photo: 16
Photo Submissions 8 Times in 8 Posts
Yeah!! These Havanese are sooo smart!!!
---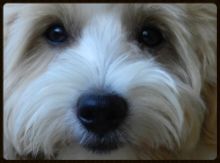 Hav to hav a Hav!!!
Ruth and Chester
(Chester's DOB - 4/04/13)
"Dogs are NOT stupid, they are smarter than you think."
You've got to teach that to Bama & Bear!
Posting Rules

You may not post new threads

You may not post replies

You may not post attachments

You may not edit your posts

---

HTML code is Off

---