Neutering Remorse
---
Hi all,

The official introduction with pictures is coming, but we have been in and out and so far unable to make the official post.

This is a long post because I just don't know how to make short posts. Our puppy Mambo is really the best puppy ever. I am sure everyone thinks the same of their puppy, but he is so smart and cute. He is doing much better with biting thanks to all your suggestions and he is even ringing the bell with pretty good precision to go out.

Given that we have the perfect puppy, now we are dealing with mixed feelings about the upcoming neutering process. I know that the idea is to neuter so the race is propagated from the best lines and all, besides all the benefits such as no marking, staying puppy like and all. However, we are feeling very troubled about ending his line with him possibly because he have early symptomps MHS but mostly because we would love to have a descendant of Mambo always in our lives (he is our first puppy). Life is not forever and some day he will be no more and it will be hard to find a puppy as good as him, a puppy from his line would be at least better than no puppy.

There is not really a question, just trying to find encourangement (we got him on a neuter contract so we WILL have to neuter him either way) and perhaps others that feel similarly and how you have dealt with these feelings. We still have 3 months before his neutering, but the neutering remorse is greater every day.
---
Patricia
Mambo's mama
Kubrick & Hitchcock's Mom
Join Date: Apr 2007
Location: New York, NY
Posts: 7,774
Submit Photo: 1
Photo Submissions 33 Times in 24 Posts
Patricia, I do understand what you are going through. With Kubrick I had the choice of neutering him or not as the breeder had wanted me to show him, but left it up to me as I wasn't sure whether or not it was something I wanted. I thought about it long and hard. And, needless to say, I got him neutered. I can try to explain why below.

I just have no time to show him. Basically, it would be an extra expense and something a lot more time consuming to take up my life (I have plenty of that already). Not to mention dealing with an intact dog was not something I was looking forward to - marking, aggression (possible), running away at the first whiff of a female in heat. Not that all intact dogs are like this, but I didn't even want to have the possibility of dealing with these things (marking can also happen with a neutered dog, though Kubrick, thankfully, has never done this).

As far as having little Kubricks running around. Well, I don't believe in breeding just for the sake of breeding. How many dogs are there out there in the world? Seriously, millions. Unless you're breeding because you plan on showing and want to get a show dog and then give the other siblings to good homes, there is no reason, to me, that is good enough to go into such an endeavor. So, to breed him in what I think is a responsible way, he will have to be good enough to be shown. His temperament will have to be excellent. Then he will need to be tested for hips, patellas, CERF, BAER, and any other tests I can't remember right now. Then, and only then, can you find a bitch to stud him to. At that point it's become extremely costly, not to mention time consuming. Plus, there's no guarantee that any puppies of his will be exactly like he is.

Basically, I understand what you are thinking, but everything that goes into breeding responsibly is a lot more work and money and time than what it may seem.
---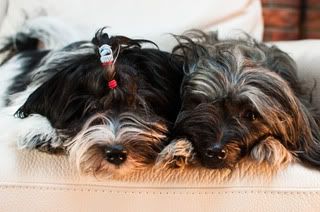 Visit
my blog

-----
Check out my
photos
-----
Photography (pets, people, weddings) -
TripleC Photography
Senior Member
Join Date: Jan 2007
Location: Toronto, ON, Canada!
Posts: 4,155
Submit Photo: 0
Photo Submissions 16 Times in 6 Posts
Very well said, Lina!

Ryan
---
Senior Member
Join Date: Feb 2007
Posts: 4,302
Submit Photo: 1
Photo Submissions 4 Times in 3 Posts
ok I started writing a lonnng post and then hit a spastic key and lost it. But -yeah! what she said LOL! Lina is right. It's a lot of work to breed and best left to serious breeders that have made room in their lives to learn all the job entails. There's so much more involved than just putting two dogs together! Those first few weeks with the puppies are time consuming and a great breeder puts a lot of effort into giving those young puppies the best start at becoming truly excellant dogs!
MHS hits many of us and the best part is, if and when you decide you want another puppy it will also be the best dog in the whole world! There are many, many dogs out there that are wonderful. Just ask any of us about ours. We ALL feel that way!
Gucci's mom
Join Date: Feb 2007
Location: Virginia Beach, VA
Posts: 9,378
Submit Photo: 1
Photo Submissions 12 Times in 11 Posts
Gosh, as much as I'd love another clone of Gucci, I doubt even if I opted to breed her, that would even be a guarantee, ya know? I don't think propegating necessarily guarantees a clone.

My kids, though they are mine...aren't JUST like me, they are uniquely individual and I think the same thing goes for dogs, they will take traits from the other side, sometimes MORE traits from one than the other.

You've probably fallen in love with the Havanese personality and charm, and if MHS does strike, you could always seek out a breeder with alot of experience and add to the family. Maybe even the breeder you got Mambo from will have a litter of siblings in a year or so with similar traits.

I didn't opt for early spay with Gucci, but that has nothing to do with breeding her, She won't be bred...but that's a whole another story.

Just try to look at it from a different light, neutering will help deter some problems like marking/humping/manhood, etc. and will help prevent any surprises, so to speak.

Kara
---
Super Moderator
click to join us: Havanese Forum on Facebook
You are all, of course, right. He is getting neutered one way or the other, don't get me wrong. It is not about cloning either, it is more like the end of an era feeling. It is silly to feel like that, I know there are tons of other dogs.
---
Patricia
Mambo's mama
Senior Member
Join Date: Apr 2007
Location: Long Island, New York
Posts: 8,941
Submit Photo: 3
Photo Submissions 41 Times in 25 Posts
I agree with what everyone here has said and I understand your feelings. I had many of them myself. I've thought how sad to have all the things that make Milo so special end with him, but truth be told, if he were breedable I wouldn't have him. His breeder kept him to show and breed, but an undescended testicle brought him into my life. He comes from a wonderful and beautiful (IMO) championship line, yet as his breeder told me, he was the mellow fella, so not all puppies from the same breeding have the same personality.

Then of course, there is the little matter of the contract. So my advice is to put the thoughts out of your head if you can and resolve to get another one down the road, possibly from the same breeder.
---
<b>Just Milo and me, and . . . </b>Bailey makes three . . . until Ruby said, "hey, what about me?"
Geri, Milo, Bailey and HRH Princess Ruby Tuesday
If you're thinking of getting a puppy, click here
http://www.photoshow.com/watch/YK8AH4rw
Senior Member
Join Date: May 2007
Posts: 1,829
Submit Photo: 0
Photo Submissions 13 Times in 13 Posts
i agree, my pup was not show quality either. and, one of his testicles hadn't dropped so we had to neuter or face a future with cancer. we love him for his bowed leg, his sweet personality, and the reality is, if we got another hav, i would go to the same breeder knowing i would get a beautiful pup just like the one i have.
Senior Member
Join Date: Nov 2006
Location: Massachusetts
Posts: 11,746
Submit Photo: 27
Photo Submissions 48 Times in 35 Posts
awww Patricia. Your post just shows how taken you are with your little Mambo-- who is absolutely adorable. I think especially since he is your first dog, let alone a Havanese, you are sure to feel smitten. I know both me and my DH were!!! Jasper was our first and my first dog ever and boy I didn't know how attached you could become to a fur ball. Since you have no choice as you say -- just enjoy your boy's puppydom-- 3 months will go so fast and the neutering really can save you a lot of trouble. My guess is (since you have festering MHS) there will be another Hav in your life in time and that Hav will also have a unique wonderful personality but perhaps very different than Mambo's. Enjoy Mambo as the unique one of a kind treasure that he is.

Oh and by the way--- welcome to the forum Patricia and Mambo.




---
Missy, Jasper & Cash
Join Date: Jan 2008
Posts: 16
Submit Photo: 0
Photo Submissions 0 Times in 0 Posts
Hi. I'm Mambo's "dad." As far as the remorseful feelings, it's just that we think we have the smartest puppy in the world! He learned to ring the bell in order to go outside VERY quickly (1-2 weeks), and he learned it without going through an "I'll ring it every 5 minutes" phase (which was an immense relief). Last night, he brought me his sweater, and THEN rang the bell (I always put the sweater on him before going outside when it is cold). When he finishes the food in his dish, and he is still hungry, he flips his dish upside down to protest. He has never ONCE gone potty in the house (or crate) - only peeing. When we replaced his water dish with a water bottle, he took to it immediately. I could go on and on and on... but he's just so bright!
It's funny that a lot of you mentioned an undescended testicle. Mambo also has an undescended testicle. We wanted to have him neutered before 6 months, but because of the undescended testicle, the vet is suggesting we wait as long as possible (up to 9 months of age) in order to make the surgery easier for him and Mambo (he said the worst place to find the testicle when doing the surgery would be in the thigh muscles). The breeder contract says we must neuter by 8 months, so we will have it done before then, even if the testicle hasn't descended. (We are also going to get him microchipped while he is under).
We know that Mambo isn't "show quality" simply because of his size (if nothing else). He is 15 weeks old today, and we took him to the vet this past Thursday (the 24th) to get his adult vaccines, a rabies vaccine, and a kennel cough vaccine. He weighed in at 6.8 pounds, and he's not even 4 months old! The vet said that his muscle tone is good, and that we don't need to worry about overfeeding.
I'll post some pictures of Mambo soon... in the meantime, I've got a few videos up on YouTube (10 videos actually). You can take a look at them here:
http://www.youtube.com/profile_videos?user=jamkarim&p=r
Posting Rules

You may not post new threads

You may not post replies

You may not post attachments

You may not edit your posts

---

HTML code is Off

---