Senior Member
Join Date: May 2007
Posts: 1,829
Submit Photo: 0
Photo Submissions 13 Times in 13 Posts
cozy crate?
---
i spoke with a behaviorist down her in florida, talked to her about my dog who had major SA issues, which we've cleared up but down here in florida, he's still adjusting so we take him with us where ever we go and have a dog sitter come sit with him at night when we go out to dinner. anyways, she suggested putting a crate in the kitchen to create a den like space for him. a space for him to go hang out in when we are gone, a place for him to feel secure. he's confined to the kitchen when we leave but he has windows to look out and lots of room to roam. he's been out of the crate since he was one, we crate trained him when he was a puppy. i'd like to find something that i can keep the door off or open all the time, but something cozy. everything i've seen looks cold, nothing cozy. can anyone recommend a cozy crate/den that their dogs love?!
Kubrick & Hitchcock's Mom
Join Date: Apr 2007
Location: New York, NY
Posts: 7,774
Submit Photo: 1
Photo Submissions 33 Times in 24 Posts
If money is not an issue, this is something that I was thinking of getting for Kubrick, though I don't think I will any more as he rarely uses his crate now anyway:
http://www.orvis.com/store/product_c...ubcat_id=12987
If your dog has no problems with being in a crate, a nylon crate is also nice and my aunt keeps her two dogs in it with no problems. They seem cozier, to me, than a wire one. Kubrick's crate right now is a plastic travel crate, but it's very small and pretty much only has room for him and one toy. He only uses it to sleep.
---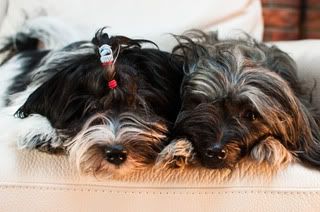 Visit
my blog

-----
Check out my
photos
-----
Photography (pets, people, weddings) -
TripleC Photography
Karen
Join Date: Nov 2006
Location: PA
Posts: 3,067
Submit Photo: 4
Photo Submissions 16 Times in 9 Posts
---
**Karen, Mom to Brady, Dugan, and Devon
I know that the all the Orvis products we've had experience with are all very high quality and good! We used them on our lab her whole life and we now use some of their smaller things on Norah. There a really great company and I highly recommend any of their "hidden crates" We had a wonderful one for our lab that fit into our window seat.
Also, when we first got Norah her crate, it looked cold and hard so we went out and bought a ton of fleece blankets that we switch around in it every so often. Norah likes to curl up under the blankets so we put 2 pieces of fleece in there. It's worked great for us!
I never have crated my dogs, as I was always afraid of them getting trapped or unduly left in the crate too long should I get delayed in returning...ie Tritia's recent experience with the thermostat going beserk...

I started by leaving them in an xpen with plenty of water and food, and now just leave them in our large family room when we are gone.
Biscuit's mom
Join Date: Jul 2007
Location: San Francisco Bay Area
Posts: 2,518
Submit Photo: 2
Photo Submissions 7 Times in 5 Posts
Oh, Karen, that soft crate looks so nice. Like a cabana at a resort!

Biscuit has the wicker one (see pic in Havs in the morning thread) and you can order from Orvis a nice liner, just like a baby's crib bumper, that comes up the sides. It is super cozy. He loves it in there.

I don't crate him during the day, however, only at night. He is fine at home alone, but if I'm going to be gone awhile, I gate him in the kitchen/family room/breakfast room, which is spacious.
---
HAV A GREAT DAY ! ~~AMY & BISCUIT~~
and HEATH-Y, TOO !
---
Last edited by Amy R.; 01-26-2008 at

11:33 AM

.
Senior Member
Join Date: Feb 2007
Posts: 4,302
Submit Photo: 1
Photo Submissions 4 Times in 3 Posts
I have one like this for work
http://www.muttropolis.com/products2...-Two-Piece-Set
but without the little bench next to it. With a nice thick cushion inside and another on top it acts like a den or puts R. up level with my desktop!
Here's an interesting thing for someone who is using a litter box for their Hav. I've never seen anything like this before.
http://www.muttropolis.com/products2...ver:-Espresso#
One of the additional views shows a doggies coming out and the table is used as a bedside table. Really though, who would want the litter box right next to the head of the bed???
Amanda
Join Date: Nov 2006
Location: South Carolina
Posts: 9,576
Submit Photo: 2
Photo Submissions 31 Times in 22 Posts
First, Is buddy the type of dog that would go into the crate on his own? My girls aren't... so it wouldn't matter if it is prettier. I do have soft sided crates with blankets, i like that so i can just wash them as needed. With the crate it is something, next time around, I am hoping to encourage the crate. My friend has 5 dogs and fees them in their crates and all she has to say is "go kennel" and they rush to them. They associate getting special bones, being fed, and being secure in their crate. When she is training and her dog has had enough, it will run into it's crate. Where as with Dora, I have to shove her into her crate. Well I only use it temporarily when I am training the other dog, or car rides (they are willing to go crate then!)
Karen
Join Date: Nov 2006
Location: PA
Posts: 3,067
Submit Photo: 4
Photo Submissions 16 Times in 9 Posts
Brady eats in his crate too and used to sleep in it when he was a puppy. He definately associates his crate with being in a safe place. I also leave the tv on when we are not home for him.

I just have to show off my litterbox (for my cats though). My 18 pound hav would never fit in there!
---
**Karen, Mom to Brady, Dugan, and Devon
---
Last edited by Brady's mom; 08-13-2010 at

02:31 PM

.
Cooper,Emma,Lily,Winston
Join Date: Oct 2006
Location: Lincoln,NE
Posts: 2,018
Submit Photo: 57
Photo Submissions 4 Times in 4 Posts
I know I posted this link before..it's certainly not for everyone or every house, but I think this "cave" is so neat! If it wasn't for the unbelievable price I would have a multi-chamber one for my pack. Grrrr if only I knew an artist!
www.scottie.ca
Beverly
---
"The greatness of a nation and it's moral progress can be judged by the way its animals are treated"
Mahatma Gandhi
Posting Rules

You may not post new threads

You may not post replies

You may not post attachments

You may not edit your posts

---

HTML code is Off

---